Services & Amenities
Fitness Facilities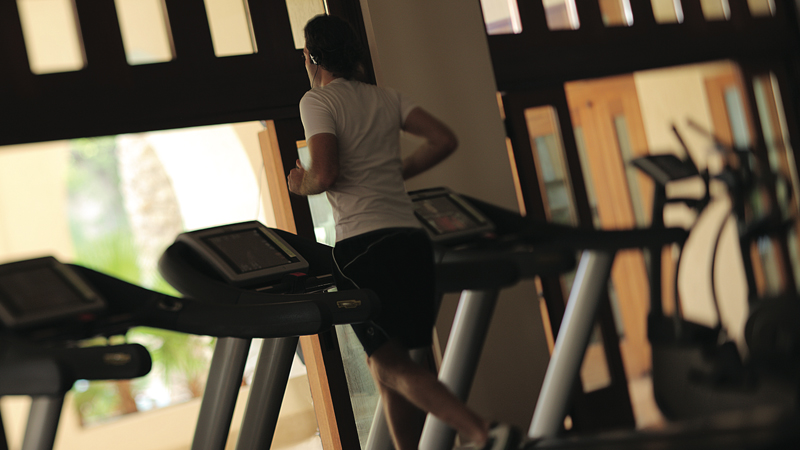 Note: Guests may access the fitness facilities through the gym entrance by using their room key after Spa hours (from 9:00 pm - 6:00 am). Towels, bottle water are available on a self-service basis during this period.

Keep up with your fitness routine while you're away from home, or start a new one. The Spa and Wellness Centre at Four Seasons Resort Sharm El Sheikh features state-of-the-art fitness equipment, including cardiovascular-training machines furnished with individual monitors and headsets. Available to guests 12 years of age and older, the Fitness Centre boasts hardwood floors and an extensive variety of weight-training machines and free weights.
Hours
Facility details
| | |
| --- | --- |
| Facility size (m2) | 880 |
| Facility size (sq.ft.) | 9,472 |
| Outdoor whirlpool | |
| Sauna | Men's and women's |
| Steam room | Men's and women's |
| Weight training equipment | |
| Certified trainers | Available upon request. Fee applies. |
Cardiovascular equipment and strengthening machines
| Type | Brand | Quantity |
| --- | --- | --- |
| Vario | Technogym | 1 |
| Treadmill | Technogym | 5 |
| Elliptical cross trainer | Technogym | 1 |
| Stepper | Technogym | 1 |
| Recumbent bike | Technogym | 1 |
| Upright bike | Technogym | 1 |
| Hip abduction | Technogym | 2 |
| Chest press, abs crunch, lat pulldown, leg extension, leg curl, shoulder press, multi power machine, cross cable machine, rowing machine, cardio waves machine | Technogym | 1 of each |
| Free weights | Technogym | Full range |
Sample fitness activities
Activity
Cost
Pilates
Complimentary
Yoga Nidra
Complimentary
Early Bird Yoga
Complimentary
Resort Circuit Training
Fee applies
Whole Body Workout
Complimentary
Fitness Ball Class
Complimentary
Absolutely Abdominal Class
Complimentary
Personal training sessions
Fee applies
Please contact the Spa for further details or to make an appointment for personal training sessions. All fitness and exercise classes require that you sign in at the Spa Desk prior to class.
Complimentary fitness classes are available on site and fitness instructors are also availability on weekly basis.
New at the Fitness Centre: Vario from Technogym
We're happy to announce the arrival of our new fitness machine, Vario from Technogym. Vario caters to an array of gym goers – those who want to lose weight, burn calories without exertion, improve coordination, prevent joint problems and move all the muscles in your body in a single training session. This advanced machine offers three different movements – step, elliptical and Vario – which you can change without ever stopping the machine or taking your feet off the platforms. Vario works when and how you want, accommodating your natural pace and training goals.

Additional amenities
Enjoy complimetary fresh fruit, flavoured and bottled water. Complimentary tea and coffee is available from 6:00 am to 10:00 am. Complimentary use of workout clothing is availble upon request.