All Food and Drink
The Team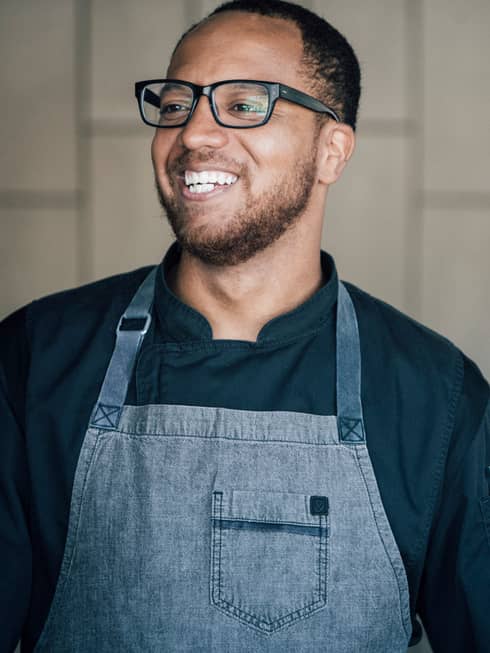 James Waters
Chef de Cuisine
A native of Philadelphia, Chef James grew up with a love for food and dining out. Encouraged by his grandparents to expand his palate at a young age, Chef James went on to receive an education in the culinary arts and positions at both Starr Restaurant Group on the East Coast and with Chef Daniel Boulud in New York City. An East-Coast transplant, he has found plenty to do in California to fuel his active side and says the bounty of seasonal ingredients here is a chef's dream.
"Working with local ingredients creates a very honest product; if you don't care for it, you can tell right away."
Events
Saturdays, 3:00 pm – 4:00 pm

Tequila Tasting

What a better way to learn about tequila than drinking it? Learn about the process of making tequila and different brands while sipping in a laid back, friendly environment. You can even learn the secret to Manley's famous Cadillac Margarita. Advance reservations required.

Call +1 (760) 814-8677 to reserve

Monday – Thursday, 2:00 pm – 5:00 pm

Happy Hour

Enjoy signature twists on classic pub grub at reduced prices for most of the afternoon at Seasons. House-made guacamole with charred tomatillo salsa and freshly made tortilla chips anchor the menu, complemented by specialties such as the "Chef's Whim" Ceviche.

April 12

Easter Brunch

Hop on over to Seasons for a delectable Easter Brunch bursting with seasonal ingredients and flavourful creations.

Call +1 (760) 814-8677 to reserve
Culinary Experiences
Professional kitchens are typically regarded as off limits, but in our kitchen, we want you to be part of it, to see that it's all about the ingredients – and let them shine.

James Waters

Chef de Cuisine
The most exclusive – and exciting – table in the house, offering the ultimate backstage pass for an interactive glimpse at how our chefs prepare Seasons ingredient-driven, New American cuisine.

Pull up a seat at Seasons Kitchen Counter for a close-up look at culinary magic. You'll get a front-row view of our restaurant's dynamic working kitchen while you enjoy a special five-course menu featuring the day's freshest seasonal ingredients.

Nothing complements a slice of pizza like ice-cold beer. Get creative as we show you how to make your own fresh-baked specialty pie – and then pair it with just the right pint.