All Food and Drink
The Team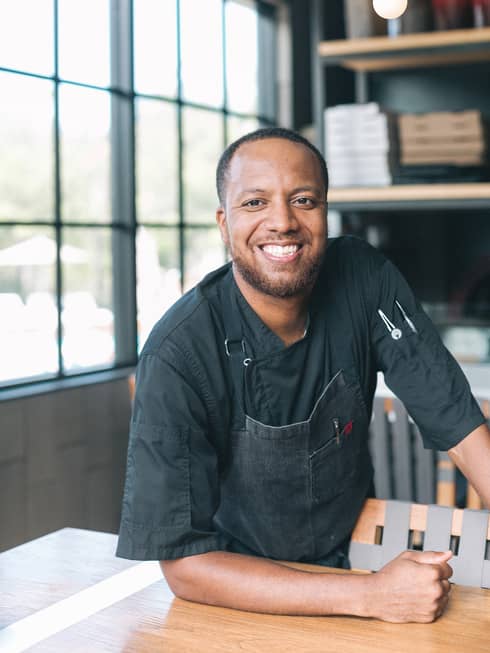 James Waters
Chef de Cuisine
A native of Philadelphia, Chef James grew up with a love for food and dining out. Encouraged by his grandparents to expand his palate at a young age, Chef James went on to receive an education in the culinary arts and positions at both Starr Restaurant Group on the East Coast and with Chef Daniel Boulud in New York City. An East-Coast transplant, he has found plenty to do in California to fuel his active side and says the bounty of seasonal ingredients here is a chef's dream.
"Working with local ingredients creates a very honest product; if you don't care for it, you can tell right away."
Events
Wednesdays 6:00 PM – 9:00 pm

Live Music

Local artists perform upbeat tunes every Wednesday night on the Veranda at Seasons Restaurant. Relax over handcrafted cocktails, local craft beers, and a wine list featuring the best California winemakers.

December 24

Christmas Eve

On the night before Christmas, Seasons will be offering a three-course Italian-inspired menu in addition to its regular à la carte menu. An escarole salad with pear, pecorino and Meyer-lemon vinaigrette is the delicious first course, followed by a hearty bowl of house-made spaghetti with lamb meatballs and marinara sauce. For dessert, indulge in a treat that would make Santa Claus jealous: fresh baked chocolate chip cookies and milk.

December 25

Christmas Day

Seasons will be pulling out all the stops on Christmas with a spectacular three-course fixed price menu. Lovingly crafted with sumptuous ingredients that reflect the holiday season, this deluxe meal from Chef de Cuisine James Waters and his team is a culinary masterpiece!
Culinary Experiences
Professional kitchens are typically regarded as off limits, but in our kitchen, we want you to be part of it, to see that it's all about the ingredients – and let them shine.

James Waters

Chef de Cuisine
The most exclusive – and exciting – table in the house, offering the ultimate backstage pass for an interactive glimpse at how our chefs prepare Seasons ingredient-driven, New American cuisine.

Pull up a seat at Seasons Kitchen Counter for a close-up look at culinary magic. You'll get a front-row view of our restaurant's dynamic working kitchen while you enjoy a special five-course menu featuring the day's freshest seasonal ingredients.

Nothing complements a slice of pizza like ice-cold beer. Get creative as we show you how to make your own fresh-baked specialty pie – and then pair it with just the right pint.