In June 2011, Baa Atoll was declared the Indian Ocean's first UNESCO Biosphere Reserve on account of its unique balance of man and nature, conservation and culture. Spanning 1,200 square kilometres (463 square miles) of pristine waters and comprising 75 islands (13 inhabited), it is home to the world's biggest known population of manta rays and one of the richest coral reef systems on Earth. Its nine core areas include the world-renowned manta feeding ground of Hanifaru Bay (just 30 minutes from Voavah) and the Baathala region (in which Voavah lies), famed for its marine diversity, exceptional corals, and nesting sites for green and hawksbill turtles. Snorkel with manta rays almost all year round just a short speedboat ride from Voavah (May to November in Baa Atoll and January to April in nearby Raa Atoll).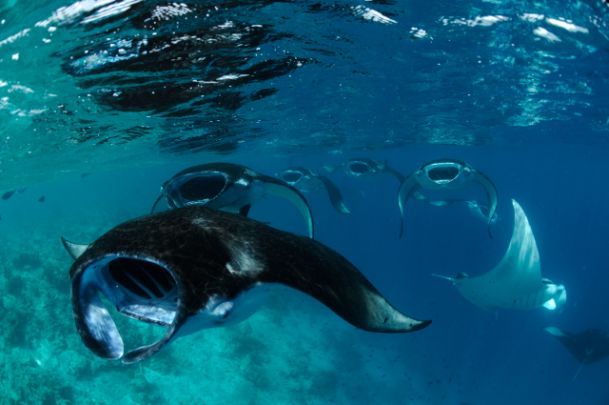 Improve your chances of seeing manta rays during your stay at Voavah by planning your trip to coincide with the following key-viewing dates, identified by our manta ray specialist as times when mass manta ray feeding sessions are most likely to occur.
Manta Hot Dates for 2018:
June 11 – 15
June 26 – 30
July 11 – 15
July 25 – 29
August 9 – 13
August 24 – 28
September 7 – 11
September 23 – 27
October 7 – 11
October 22– 26
November 5 – 9
November 21 – 25
Sightings are subject to weather conditions and the temperament of these gentle giants of the sea.
Biodiversity Conservation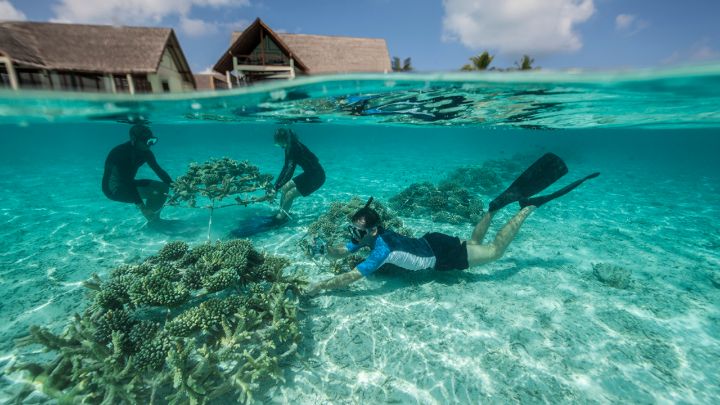 In partnership with local environmental consultancy Seamarc Pvt. Ltd since 1998, and with Maldivian Manta Ray Project (the founding project of The Manta Trust) since 2005, Four Seasons Resorts Maldives is committed to numerous conservation, cultural, health and education initiatives designed to help make the Baa Atoll Biosphere Reserve a world-class example of its kind.
Four Seasons Resorts Maldives support biodiversity conservation through:

Reefscapers – our pioneering coral propagation project, now the largest of its kind in the world
The Maldivian Manta Ray Project (founding project of The Manta Trust charity)

The Maldivian Sea Turtle Conservation Programme, including Head Start, rehabilitation and identification initiatives

The Fish Lab's fish-breeding programs

Support of nine protected marine sites within the Baa Atoll UNESCO World Biosphere Reserve, including Hanifaru Bay

Fishwatch and Sharkwatch Surveys (monitored by scientists at the renowned Darwin Institute, Australia)

In-house staff and guest conservation education programs
For more information, please visit marinesavers.com, the website of Four Seasons Resorts Maldives marine conservation team.


Cultural & Community Programs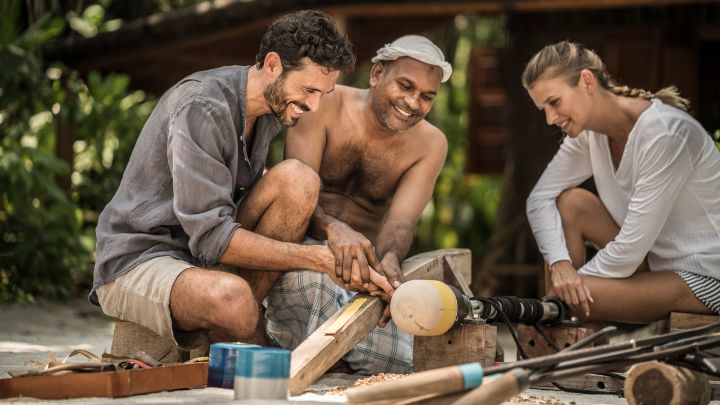 Four Seasons Resorts Maldives supports cultural and community sustainability through:
The Four Seasons Hospitality Apprenticeship Programme (the Maldives' only TVET-accredited qualification; recipient of the "President of Maldives Award for Human Resource Development in the Tourism Industry" three times since 2001)
Being the largest single customer of the Thulhaadhoo lacquerware artisans, the Maldives' last remaining lacquerware craftsmen
Promotion of bodu beru (big drum) performances on a local and national scale
Education and health outreach programs (from schools and clinics to natural mosquito control)
Poverty-relief programs, including support of local fishers and farmers