Community, charity, delicious food: These are some of the things that come to mind for Muslims who celebrate Ramadan. Approximately 2 billion people practice Islam worldwide and participate in the 30-day celebration of Muhammad's reception of the initial revelations of the Quran.
The Holy Month is marked with prayer and self-reflection – as well as fasting daily from dawn to sunset.
Every day, those who observe the holiday enjoy a suhoor, a pre-dawn meal, before fasting until sunset. Then, a communal gathering commences for the iftar, the larger evening meal to break the day's fast. For many, these meals are the highlight of the holiday and create memories that last a lifetime.
This year, Four Seasons has curated a menu of dining events and activities to help guests celebrate Ramadan and make memories with loved ones. Here's a taste of some of the experiences on offer – an iftar with a private chef, Ramadan tents and more.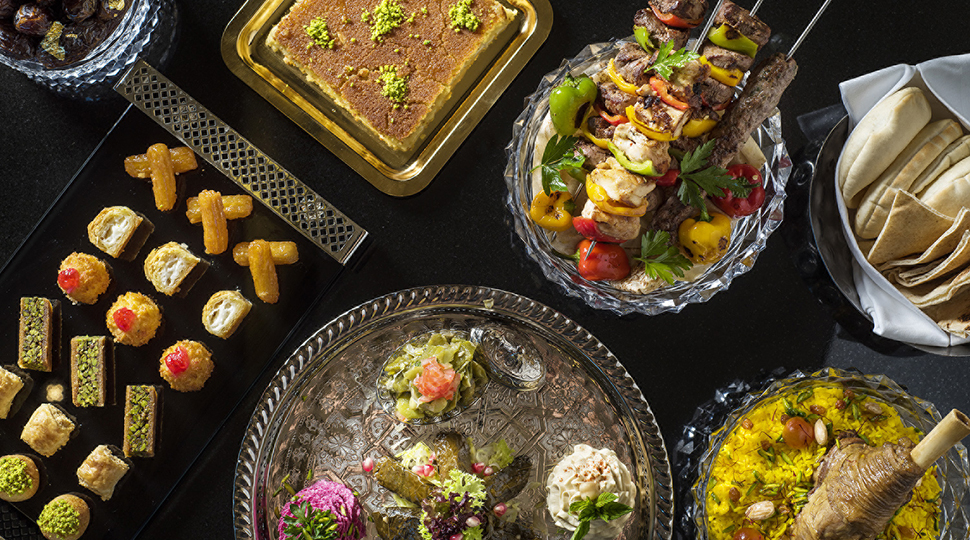 A sky-high suhoor in Dubai
Begin your day with a five-course suhoor feast served 32,000 feet above Dubai, thanks to a partnership between Jetex and Four Seasons Hotel Dubai at Jumeirah Beach.
"Dreaming up inspired experiences is a core passion for us," says Leonardo Baiocchi, Regional Vice President and General Manager at Four Seasons Dubai. "We are delighted to partner with Jetex throughout the Holy Month of Ramadan to create a suhoor experience that is nothing less than spectacular. With our trademark Four Seasons hospitality and the exceptional private aviation standards that Jetex is known for, we will be elevating luxury to a new cruising altitude."
The five-course meal, served daily, is curated by Executive Sous Chef Rami Nasser and includes a selection of mezze, Canadian lobster, lamb chops in traditional spices, and sea bass. Adding to the experience is a three-piece band playing traditional Arabic music as you dine.
Reach new heights in Dubai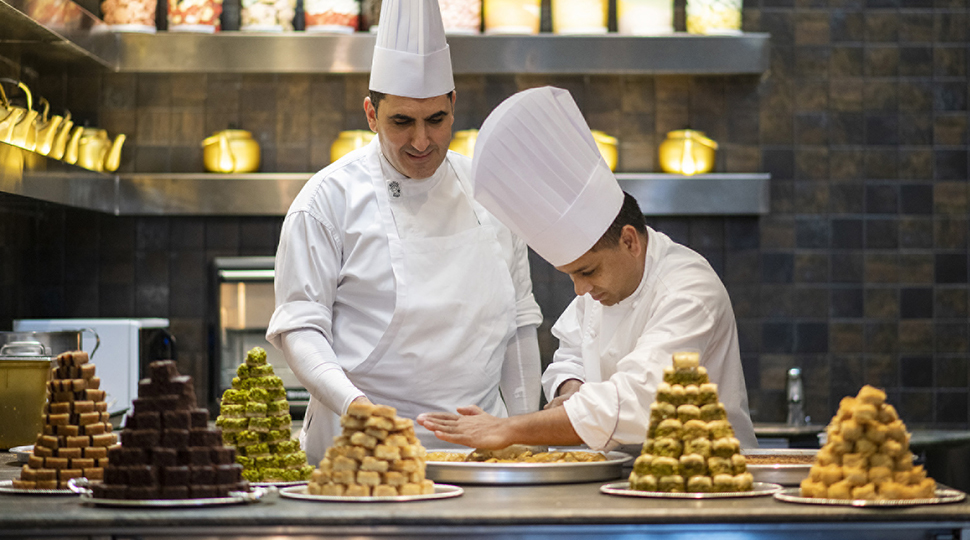 Celebrate with a chef in Riyadh
Break your fast in a Ramadan tent at Four Seasons Hotel Riyadh at Kingdom Centre featuring a family-friendly buffet, live cooking stations and a children's table with kid-friendly activities. To take your celebration to the next level, reserve a seat at the Chef's Table, where Executive Chef Stefano Andreoli will offer personalized recommendations based on your tastes, with a dedicated butler on hand to bring each course from the iftar buffet straight to your table.
"This year, guests will enjoy exceptional culinary creations with our rich buffet showcasing the diverse talents of our chefs and featuring an extensive range of Saudi and international dishes," he says. "Every dish has been created to surprise and delight our guests."
The menu includes more than 100 dishes spread across seven culinary islands, including Saudi ouzzi – a traditional lamb dish served with rice. End the meal with kunafa filled with cream, a popular iftar desert.
Mark the Holy Month in Riyadh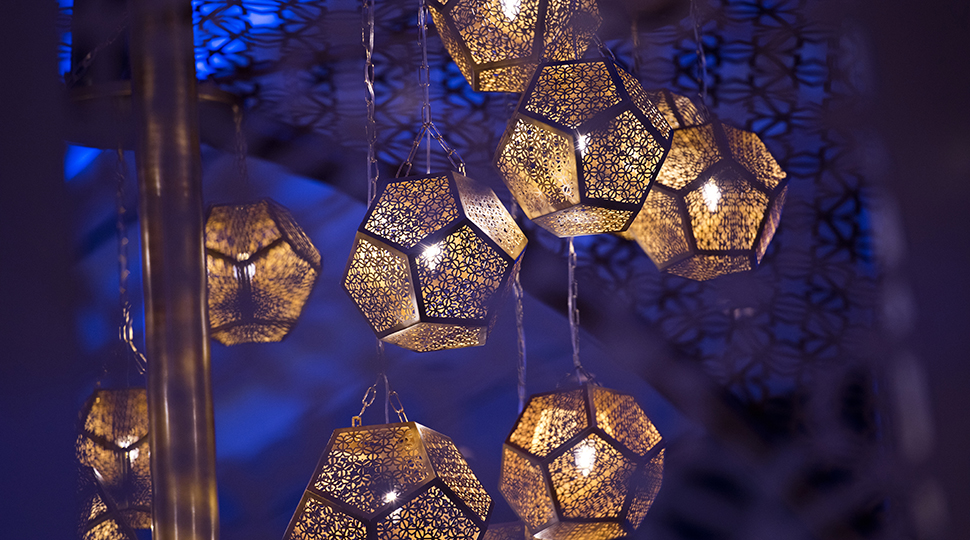 A glamorous iftar in Amman
There's room for everyone at the table at Four Seasons Hotel Amman, where the largest ballroom has been transformed into an iftar celebration. Break your fast under the crystal chandeliers as you and your loved ones sample dishes like kharoof – roasted whole lamb with rice, cucumber and yoghurt – hot and cold mezzeh, and katayaf, a sweet dumpling filled with cream and walnuts.
"Our live culinary stations will revive the traditions of unity and generosity during the Holy Month," says Chef Francesco Greco, who carefully crafted the menu with Executive Pastry Chef Anas AlQusairi to include traditional favourites and special dishes. "We wish a happy and peaceful Ramadan to everyone."
A bespoke menu is available for private Ramadan events in the ballroom. The Hotel also offers special iftar and suhoor menus for in-room dining during the Holy Month, as well as a lobster and Wagyu brunch at Olea to celebrate Eid Al-Fitr – the end of the monthlong Ramadan celebration.
Celebrate in style in Amman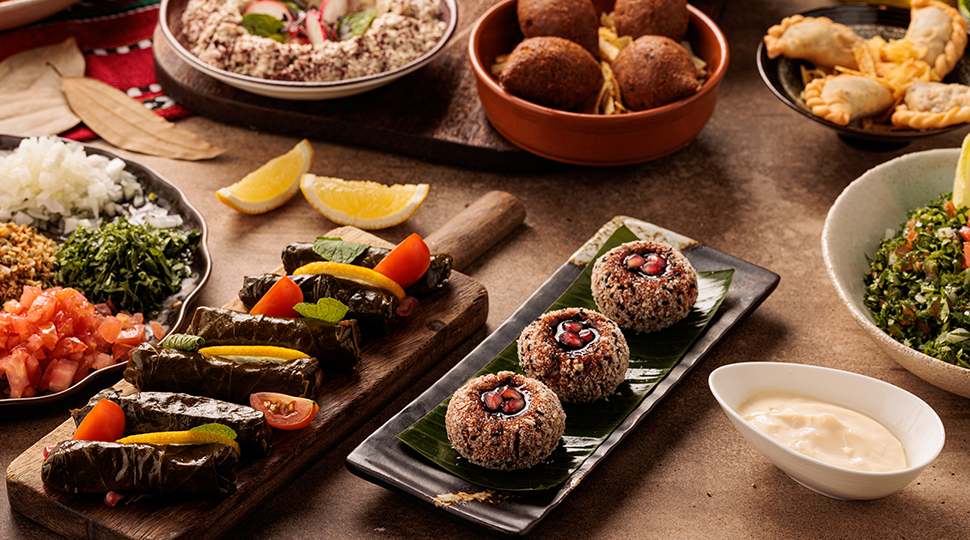 Connect in a majlis in Abu Dhabi
Honour the spirit of the Holy Month with meaningful moments that help you connect with friends and loved ones. Celebrate your time together with platters of Ramadan classics served to your majlis – a seating area designed to encourage people to come together.
"This is going to be my fourth Ramadan here in this exciting capital city, but my aim has always been the same: to bring people together," says Christian Buenrostro, the executive chef at Four Seasons Hotel Abu Dhabi at Al Maryah Island. "I could not be more excited to share my knowledge of international cuisine with the local community during a month that is exceptionally precious for them."
Mezze range from the traditional warak enab – grape leaves stuffed with meat and rice – to Italian platters including semolina-fried calamari and quinoa salad.
The celebration continues in the Hotel's Spa with treatments inspired by Ramadan. The Arabian Oud Escape includes a soothing oud oil massage, followed by an exfoliating Himalayan salt therapy treatment to relieve stress and fatigue. The session ends with a signature crystal massage on your face to refresh your mind and skin.
Gather with family in Abu Dhabi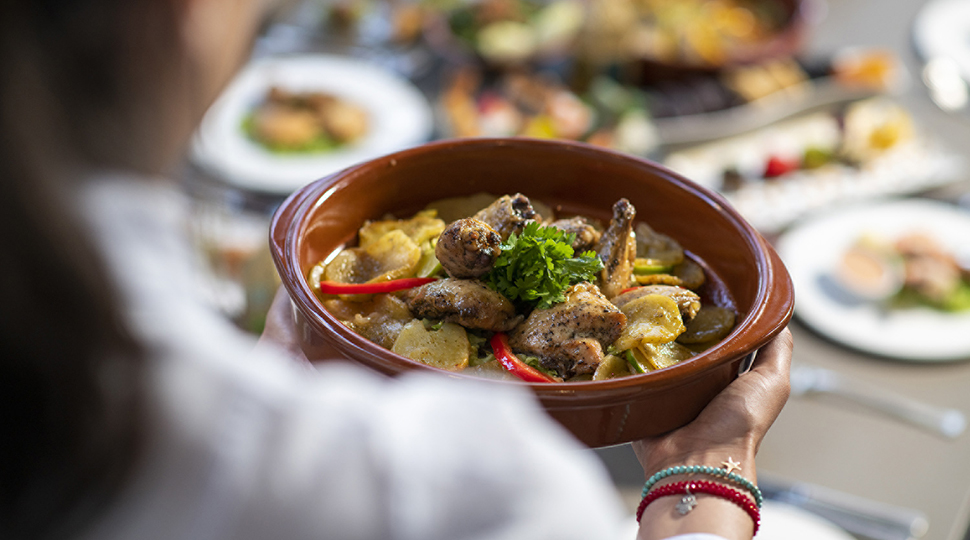 Embark on a culinary tour of the world aboard the First Nile Boat – a stationary yacht overlooking the Nile River – at Four Seasons Cairo at First Residence. Curated by Executive Chef Erwan Laurenceau, the iftar and suhoor menus at the ship's three restaurants include flavours from Lebanon, Greece, Italy, Asia and Egypt, with sweeping views of Cairo and the Nile as a backdrop.
"Egypt is one of the best places to experience Ramadan – while the city is quiet and reserved during the day, it awakens and re-energizes after the sun sets," says Laurenceau. "This year, I am proud to introduce a more varied Ramadan menu, which includes items such as chicken biryani, lamb murgh makhani, Thai shrimp noodles, and Greek-inspired salads and appetizers. Even pizza and risotto will be featured in this year's Ramadan buffets. Our varied offerings will be unlike any other in the city."
Looking to stay on dry land? Enjoy a family-style iftar under the stars at the poolside Aura, where Chef Ahmed Zoghbi is serving hot and cold mezze, grilled options, tagines and Arabian desserts. Subhoor feasts feature an à la carte menu served in Aura's private cabanas, set to live music.
YOUR JOURNEY BEGINS HERE
Where will you and your loved ones go next?