When I initially considered Bora Bora as a destination for my girlfriend getaway, I wasn't convinced it was for me. I knew this tropical Leeward isle, 225 kilometres (140 miles) northeast of Tahiti in French Polynesia, would be undeniably beautiful: crescents of sheltered private beach, lush jungles adjacent to islet-ringed turquoise waters, and a delicious sense of seclusion – all of which have long proved irresistible for honeymooners.
But I'm an unquenchable traveller and adventurer, and I want more than a downtempo beach escape. I want excitement.
I'm very glad I was wrong about Bora Bora.
When I ventured deep into the South Pacific with my up-for-anything travel partner, Coco, I was pleasantly surprised to find Bora Bora's islet-ringed lagoon brimming with adventures.
Underwater cycling on aquabikes
Upon first seeing the aquabike parked on the platform, I stifled a laugh. The snub-nosed, bubble-shaped submersible – acid-yellow in colour – looks like something from the Beatles movie Yellow Submarine.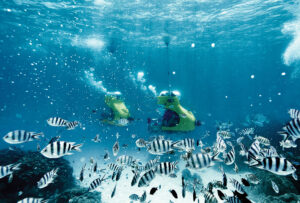 Perched on a white seat, we descend slowly as the hydraulic platform of the pontoon boat we rode out to the spot lowers us into the waves – the warm, tropical waters gradually creeping up to our bikini tops.
Once in the water, we spot the coral gardens looming ahead – tree-like elkhorn corals and cauliflower corals, dappled by shafts of sunlight piercing through the blue. Laurent and Francois, our other guide, point out a starfish 30 centimetres (1 foot) in diameter, a parrotfish hovering over an undulating welcome mat of hot-pink anemone, and what looks suspiciously like a shark shooting out from under a craggy outcrop and disappearing into the murk.
At one point, Laurent ties a mesh bag of bread to the front of our clear Perspex hood, and instantly a cloud of black-and-white-striped damselfish, angelfish and parrotfish surrounds us. I can feel them darting between us, tickling our bare legs and backs to snatch at the rapidly disappearing hunks.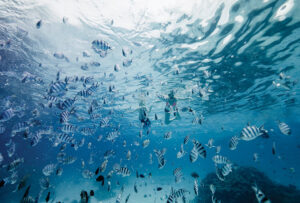 Aqua safari via helmet dive
As soon as we're back on dry land, Coco and I survey other opportunities for excitement, getting wind of another underwater adventure – aqua safari.
This enterprise involves donning cuboid yellow-and-white helmets that keep our heads completely dry as we descend a ladder to the sandy ocean floor.
My feet clad in rubbery boots, I walk in slow motion through craggy outcrops of coral and lengths of seaweed fluttering in the currents, feeling like a puppet as I carefully lift one foot and then the other, my hands buoyed and bobbing at waist level.
Four Seasons Resort Bora Bora
Snorkelling in Bora Bora's coral reefs
After the aqua safari, a more extensive – and more traditional – underwater tour to further our relationship with the area's colourful marine locals feels like a must.
Bora Bora's famed coral reef, which encircles the island and is accessible within 15 minutes by speedboat, has some of the best snorkelling in the world. Home to approximately 700 species of tropical fish, Coral Gardens is our first stop, followed by a few other choice locations known to the crew.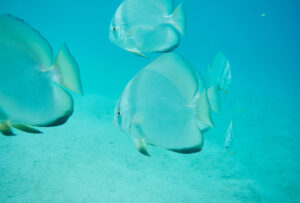 Slipping into the water, our guide coaxes curious moray eels from their hiding places and points out the distinctive diamond shapes of manta and eagle rays gliding through the blue. I give chase, torpedo-like – my arms held flat against my sides, my legs kicking determinedly. But these elusive phantasms of the deep are more than a match for my fins and glide serenely out of sight.
"We usually see reef sharks and blacktip reef sharks," says our skipper, once we flop back on board the motorised outrigger. "If you're lucky, you may see a turtle or dolphins—but only if you're lucky, my friends."
Island cruises and fresh seafood
We learn that Bora Bora's outer ring of reef and motu (small reef islets) makes its calm lagoon waters ideal for exploration by kayak or paddleboard, and private boat tours abound. You can book a 23-foot Jeanneau Cap Camarat 715WA motorboat, a trimaran, a catamaran, a pontoon boat or an aluminium Quintrex boat perfect for a small group, and most excursions include a picnic on a private beach.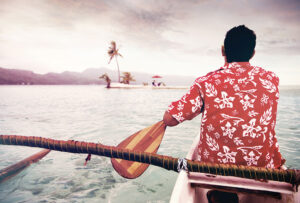 Coco and I decide on a morning Hobie Cat cruise around the island, including a beach feast of poisson cru, French Polynesia's de facto national dish of fresh raw tuna marinated with lime juice and mixed with sliced onion, parsley and creamy coconut milk, washed down with a flute of Veuve Clicquot.
Swimming with sharks
I saved the biggest thrill for last.
Adventurous streak notwithstanding, I get the willies at the idea of being a few metres away from sharks in a feeding frenzy, so I opt for a purely observational excursion. Even so, there's something about dipping into cooler, deeper water and being surrounded by dozens of these sleek, mysterious animals that makes my breath catch in my throat.
Immediately, I spot a large lemon shark below. Three metres (10 feet) long, she meanders slowly through the depths, striped continuously by the black and grey bodies of reef sharks cruising above her. As I take a deep breath and dive down, I see another, and another. Coco and I are enmeshed within a sliding grid of curving, muscular bodies.
Suddenly, one shark breaks towards us, and a single thought leaps to mind: "It's coming straight for me!" But as I kick upwards to gulp for air, one of the Polynesian guides dives down to embrace the shark's dorsal fin. The creature lances downwards again, its passenger in tow.
The diver catches a ride for a few moments before slowly turning to join us back up top. I remember that the Tahitians have a long-standing relationship with their environment and the animals within it.
"Ia orana!" he says in greeting, beaming from ear to ear, as he breaks the surface. Green tattoos extend along his back and legs, merging with an emerald-hued sarong. I can only stutter in reply.
I climb onto the boat, and though my knees are knocking, I'm exhilarated by the experience. You only live once, right? On the cruise back towards a restorative coconut-rum cocktail and volcanic-stone massage at the Spa, I'm grateful I've had the chance to spend part of my turn on Bora Bora.
YOUR JOURNEY BEGINS HERE
Start planning your getaway to Bora Bora