Discover the art of cooking authentic Vietnamese cuisine from our talented chefs. Each ingredient is hand-picked from our organic garden and prepared to intricately enhance the balance of flavours and textures. Each day, our chefs will take you on a different culinary adventure, introducing unique tastes along the way at various pit stops, from a local vegetable village to one of the many age-old markets in town.
Hours
The Nam Hai Cooking Academy

Tuesday to Sunday

8:00 am – 12:30 pm

The Junior Academy

Daily

4:00 pm – 5:00 pm
Discover Vietnam's Palate
Tour our herb and vegetable gardens, which grow more than 43 seasonal varieties for the academy.

Chef Trang customizes day- and week-long programs to immerse everyone in the culture behind Vietnamese cuisine.

Even the little ones can try their hand at crafting favourite Vietnamese dishes during an hour-long course.

Embark on a daily multisensory excursion to discover centuries-old cooking techniques and unique local produce.
Meet the Team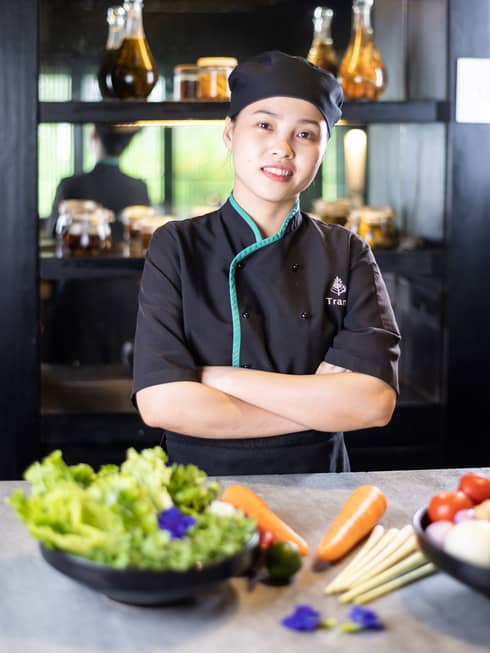 TRAN THI HUYEN TRANG
Chef
Growing up in the highlands of Vietnam where rich resources of fresh produce are easily found, Chef Trang has been crafting Vietnamese dishes using fresh ingredients from the surrounding farmlands since she was a girl. With constant encouragement from her mother and grandmother – from whom she learned the art of Vietnamese cooking – she realized her true calling in life was to become a chef and enrolled in a culinary school in Hoi An. There, she enriched herself with professional culinary skills before starting her career in a professional kitchen at age 20.
"Vietnamese cooking is characterized by a perfect blend of fresh ingredients, stimulating textures and distinct flavours that reflect a combination of five fundamental tastes – sour, bitter, sweet, spicy and salty. It's a pleasure for me to share this unique fare with the world."