Choose from single-day to week-long courses and discover the nuances of Vietnamese cuisine, which embodies healthy, seasonal cooking with its intricately balanced flavours and textures.
Hours
The Nam Hai Cooking Academy

Every day

8:00 am – 12:30 pm

The Junior Academy

Every day

3:00 pm – 4:00 pm
Discover Vietnam's Palate
Tour our herb and vegetable gardens, which grow more than 43 seasonal varieties for the academy.

Every Cooking Academy day begins with an immersive trip – to the Tra Que vegetable village, the Phuoc Hai fishing village or nearby paddies.

Chef Huynh Van Hien customizes day- and week-long programs to immerse everyone in the culture behind Vietnamese cuisine.

Even the little ones can try their hand at crafting favourite Vietnamese dishes during an hour-long course.
Meet the Team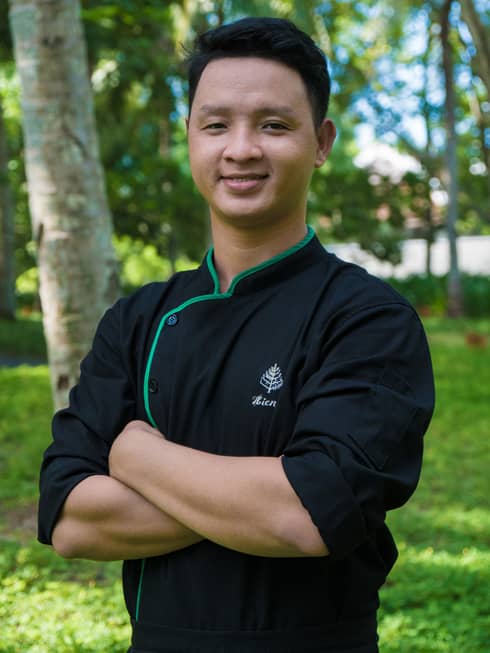 Huynh Van Hien
Chef
Chef Hien is a passionate custodian of Vietnamese cuisine who has been making life better with flavour since the age of 16. Growing up in a village outside Danang as the son of a fisherman and a seafood market vendor, he was gutting and preparing fish from a young age. Chef Hien is completely immersed in his craft and likes nothing more than seeing others enjoy his food and inspiring them to create their own edible masterpieces.
"Vietnamese cuisine is yin and yang. It's all about balancing – spicy ginger with sweet duck or strong lemon or white basil in soups but milder sweet or red basil in salads."
Events
Tuesdays, 6:30 pm – 9:30 pm

SSAM at The Nam Hai Cooking Academy

Smoky grilled meats and vibrant vegetables vie for attention next to pickled radish with an array of chef's favourite side dishes, all enhanced by taste-tingling dipping ssamjang. Choose from beef, pork and chicken alongside sizzling seafood.