Food brings people together, especially here in Greece. Let us take your event to the next level with creative food and beverage experiences – everything from a Greek Taverna Night experience to interactive coffee breaks and extraordinary dinners. Our chefs leverage their relationships with local farmers, fishermen and suppliers to deliver the highest quality menus, reflecting the freshest local flavours.
EVERYTHING YOU NEED
From slow-roasted meats to vibrant salads, fresh seafood and savoury shareable plates, our chefs love infusing each menu with the rich flavours of Greece, tailored to your group's tastes.

Your guests can choose from eight unique options for dining and drinks, including our signature seafood restaurant, Pelagos; our stylish Italian trattoria, Mercato; beachfront Taverna 37; and our Latin American grill, Helios.

Details

All four restaurants – Pelagos, Helios, Taverna 37 and Mercato – can be fully privatized for events, providing a variety of options for indoor and outdoor dining throughout the property.

Details

Our outdoor function spaces let you make the most of our idyllic Greek climate and panoramic views of the Aegean. Whether your event takes place on an elegant terrace, in our event garden or in a seaside restaurant, we offer endless possibilities for creative décor and entertainment.
"Supporting people and challenging them is the way to ensure they'll deliver the quality Four Seasons guests expect."

Michael Gunnar Eberhardt

Director of Food & Beverage
The Team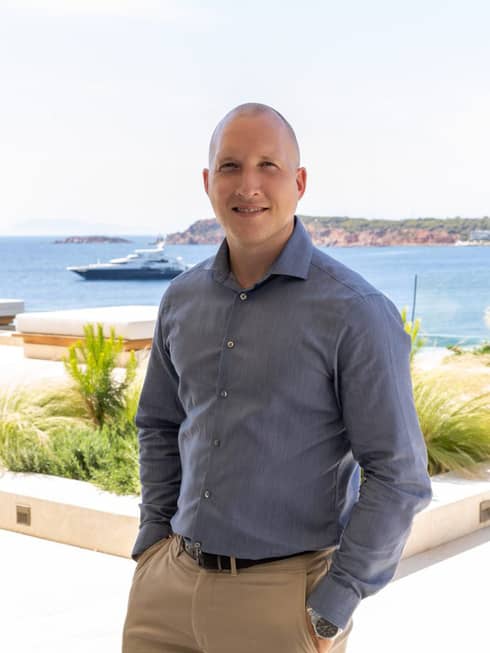 Michael Gunnar Eberhardt
Director of Food & Beverage
With eight outlets plus banqueting for more than 500 people, there's always something on Eberhardt's plate. He's keen on training, whether it's delivered one-on-one, through formal programming, or on the fly. His management style is to deal with everyone in a patient and open way, and is always willing to listen as well as learn.
"Supporting people and challenging them is the way to ensure they'll deliver the quality Four Seasons guests expect."