Please note: At this time, breakfast is available to all in-house guests through In-Room Dining or at The Foyer Lounge.
All Food and Drink
The Team
Executive Pastry Chef ANAS AL QUSAIRI
Anas Al Qusairi has been making life sweeter at Four Seasons Hotel Amman since 2008. Since 1993, he knew he wanted to be a chef, and he made his dream a reality. Anas makes a mean mohalabia, a traditional Middle Eastern milk pudding that is the perfect light dessert after a heavy meal. To balance his sweet side, his favourite condiment is hot sauce, and his guilty pleasure snack is pumpkin seeds. Naturally, his favourite cooking show is "Cake Boss."
"Baking is fun, so when I bake, I love my surroundings to be bustling with energy. I prefer to work with music playing and in the company of lots of people."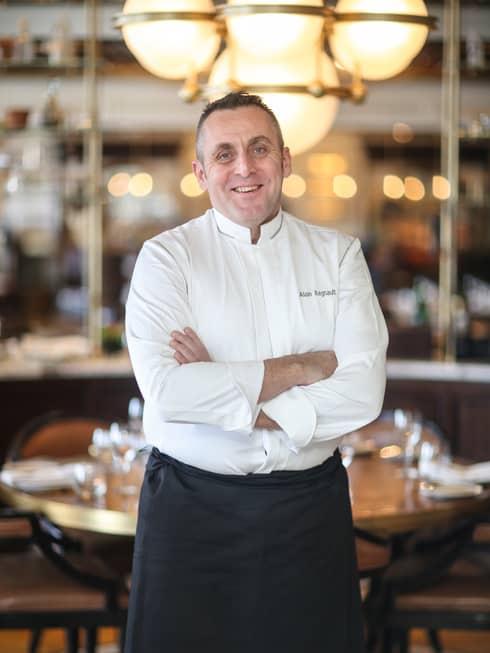 Chef de Cuisine Alain Regnault
With 30 years of experience as a Chef in Europe and the Middle East, Chef Alain infuses modern flavours and flare while maintaining La Capitale's tradition of classic French dishes. Chef Alain uses inspiration from his grandmother's cooking to create special recipes and dishes for guests of La Capitale, including: Foie Gras with mango chutney on brioche toast, sea bass with a basil crust and for dessert, soufflé with Dulce ice cream.
"I love to discover new gastronomic delights and destinations. As the Chef de Cuisine at La Capitale, I am very excited to introduce our guests to my Neo Brasserie style of cooking and especially my passion for pastries and chocolate."
COOKING CLASSES IN LA CAPITALE BRASSERIE | TUESDAY, OCTOBER 22

From 12:00 noon to 3:00 pm, experience hands-on cooking classes. Join our team of culinary experts as they share their favourite recipes and techniques for international classics, French cuisine, Jordanian fusion and mouth-watering pastries. For reservations (recommended), please call 06-550-5555 or 079-711-1080.