Off the Resort Lobby, lit with glowing Italian onyx and massive hand-blown glass chandeliers, Ty Lounge invites guests to enjoy signature drinks and classic cocktails in front of the fireplace or on the ocean view terrace around the fire pit. Featuring wall to wall Persian hand-knotted carpets, rondel glass, artfully hand-painted walls and ceilings, the Lounge stirs up feelings of the Spanish Colonial revival of the 1920s for a guest lounging in the leather and nail head chairs. Ever present staff offer a sizeable menu of Spanish tapas by candlelight. Wines include a thoughtful selection of hard-to-find Spanish wines by the glass along with fine local vintages.
Happy Hour
There's plenty to be happy about at Ty Lounge every Monday to Thursday from 4:00 pm to 6:00 pm. Specials on drinks and small plates – including USD 9 cocktails, USD 9 featured wines, USD 5 beers and featured tapas for USD 8 to 12 – offer a great excuse to kick back after a long day and take in some of Santa Barbara's most beautiful oceanfront views.
Live Entertainment
On Wednesday and Saturday evenings from 6:00 pm to 9:00 pm, the sounds of live Spanish guitar provide a beautiful accompaniment to tapas and beach sunsets. The talented Chris Fossek, who specializes in flamenco guitar, performs Wednesdays and Saturdays.
Spend Friday evenings enjoying the live bands or DJs between 7:00 and 10:00 pm.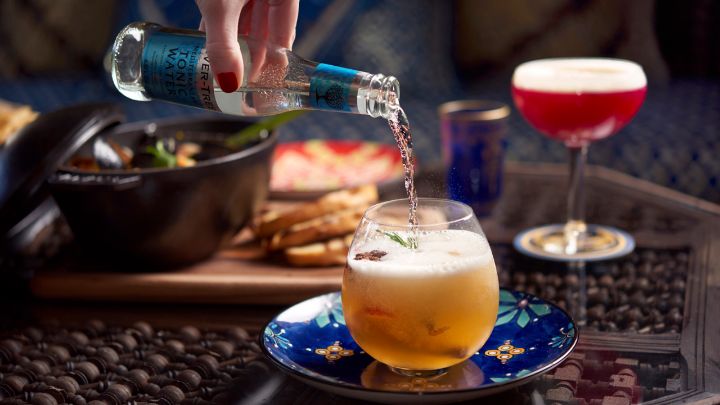 Luna Terrace, the newest addition to recently renovated Ty Lounge, offers an exclusive and eclectic outdoor event space at the Resort. Available for parties of up to six guests, the Luna Terrace evokes an essence of Tangier with traditional Moroccan furnishings. Located off Ty Lounge's main seating area, Luna Terrace invites visitors and guests alike to enjoy several Elite Experiences* including a Moroccan feast dinner and Casablanca brunch.
Menu highlights include a Moroccan mezze featuring yogurt herb dip, charred eggplant dip and warm, homemade hummus. Enjoy plates of whole, roasted cauliflower, Moroccan chicken skewers, grilled lamb kefta and vegetable tagine. The Casablanca brunch features Moroccan staples like shakshouka eggs, tagines, amlou and baghrir.
*All experiences must be reserved in advance and prices may vary based on number of guests and availability. To reserve an Elite Experience in Luna Terrace, please contact the Concierge Desk at extension 8542.
service hours
| | |
| --- | --- |
| Service | |
| Monday – Thursday | 3:00 pm – 11:00 pm |
| Friday | 3:00 pm – 1:00 am |
| Saturday | 1:00 pm – 1:00 am |
| Sunday | Noon – 11:00 pm |
| Tapas | |
| Every day | 3:00 pm – 10:00 pm |
| Happy Hour | |
| Monday – Thursday | 4:00 pm – 6:00 pm |
| Entertainment | |
| Wednesday and Saturday | 6:00 pm – 9:00 pm |
| Friday | 7:00 pm – 10:00 pm |
Quick Reference
Location
Adjacent to the lobby

Indoor seating
70
Outdoor seating
40
Attire
Resort casual