Earth is often referred to as "the blue planet" for its oceans, yet humans spend most of their time of terra firma. Get out onto the blue side with these aquatic adventures designed to offer the best water-sports holidays from Hawaii to the Maldives.
Modern-day thrill-seekers and adrenaline junkies know that life-changing adventures can be found both on and off solid ground. With hotels and resorts located in some of the most remarkable aquatic landscapes around the world, Four Seasons can expose venturesome travellers to some of the most inspiring (and unusual) marine adventures around – from "flying" underwater in Hawaii to spearfishing for octopus in Mexico.
Meet manta rays in Hualalai
The waters around Four Seasons Resort Hualalai are home to a variety of creatures – green sea turtles, spinner dolphins, manta rays, reef fish, corals and more. Learn more about the island's marine life with a private interaction with Kainalu, the Resort's resident spotted eagle ray who lives in King's Pond among over 90 different species of fish. Feed him shrimp and mussels as you get an in-depth understanding of his habits, history and species. Looking for a more adventurous marine expereince? "Fly" through the waters around the Resort with the Subwing watersport board as a boat pulls you along.
Catch your next meal in Mexico
Four Seasons Resort Punta Mita, México, brings new meaning to the concept "hook and cook." Through the Resort's new Octopus Catch & Cook programme, guests embark on a thrilling culinary experience that includes diving and spearfishing.
After arriving by boat in Bahía de Banderas—an underwater wonderland where stingrays, tropical fish and even dolphins mingle in colourful coral reefs and underwater caves—guests will free-dive in search of octopus. Back at the Resort, an expert chef helps prepare a variety of signature dishes with the freshly caught prize. A delicious three-course lunch of octopus salad, grilled octopus and dessert rounds out the afternoon.
Defy gravity in the Maldives
For the ultimate aquatic adventure, thrill-seekers need look no further than Four Seasons Resort Maldives at Kuda Huraa. The Resort's Water Sports Centre provides action-packed activities for all ages, from wakeboarding to shark safaris. Get your adrenaline pumping from new heights when you try the X-JetPacks. Equipped with the latest hydro-flight technology, these jetpacks enable the brave to fly freely through the air in any directions and dive as far as 5 metres (16 feet) below the surface. Expert tips and training will even have you mastering tricks and turns before your session ends.
Glide through the ocean in Bora Bora
A French Polynesian paradise, Four Seasons Resort Bora Bora also helps guests experience the island's natural adventures, from sport fishing to shark feeding. Explore the beauty of the South Pacific below the surface during a submarine scooter dive: The Seabob is a motorised device that allows you to glide through Bora Bora's colourful lagoons, mastering the curves and turns of the ocean's bottom along the way. Exotic fish and other marine life linger nearby as you enjoy a fast-paced underwater ride. Surfacing periodically, then going under for as long as you can hold your breath, you'll be immersed in a high-speed world, enjoying the sea with dolphin-like agility.
Try yoga on the water in Maui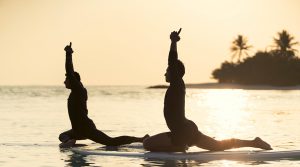 Yogis know that the practice of yoga requires mental and physical strength. Four Seasons Resort Maui at Wailea puts a contemporary spin on this ancient art with its latest wellness offering, Stand-Up Paddleboarding (SUP) Yoga.
Island views create an idyllic backdrop as you paddle out into warm tropical waters for the latest water challenge. During each morning class, you'll use the ocean's calming waves to steady your breathing, focus your mind and test your body's strengths with poses suited for any skill level. "Practicing yoga on the water demands an increased focus," says SUP Yoga instructor and expert Amber Lee. A true test of balance and flexibility, SUP Yoga is designed for fitness fanatics and adventure-seekers alike.
Additional reporting for this story done by Kelly Neubeiser.
Your Journey Begins Here
Select a destination and start exploring