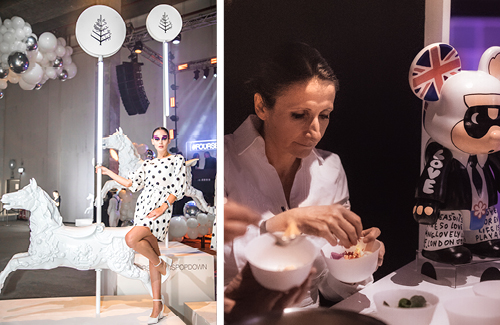 A bar reimagined as a moving carousel. Giant playground swings. A chic white bouncy castle. These were among the magical elements of the world I stepped into at Four Seasons Pop Down London, held October 3 and 4 at the spacious Hawley Wharf Basement in the city's Camden Town neighbourhood.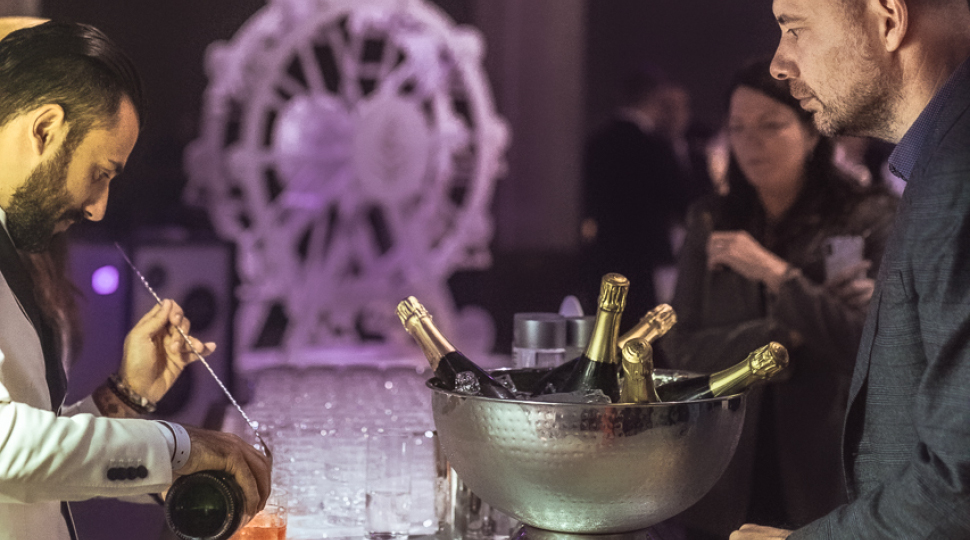 With an "Underground Playground" theme, 15 Four Seasons chefs and mixologists from around the world – seven of them Michelin-starred – created boundary-pushing dishes and drinks inspired by their childhood memories. As the backdrop to their gastronomic creativity, Four Seasons staged a make-believe world offering an unexpected journey of the senses.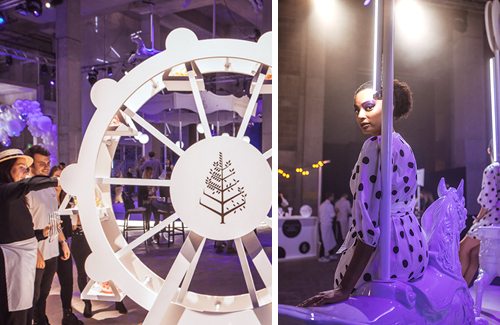 This being a Four Seasons event, the whimsical mood was seen through a sophisticated lens. Here was Ivan Arena, bar manager at Four Seasons Hotel London at Park Lane, concocting a cocktail composed of marshmallow-infused tequila, balsamic vinegar, blackberry and almond, topped with cotton candy. Here was Michelin-starred chef Anne-Sophie Pic of Le Dame de Pic at Four Seasons Hotel London at Ten Trinity Square, whipping up pasta parcels filled with gruyère, vacherin, mushrooms, woodruff, sobacha and hazelnuts. And here was Sophie Larrouture, mixologist at Le Bar des Bergues at Four Seasons Hotel des Bergues Geneva, conjuring ginger ale and sloe gin cocktails paired with sour strawberry and tarragon lollipops.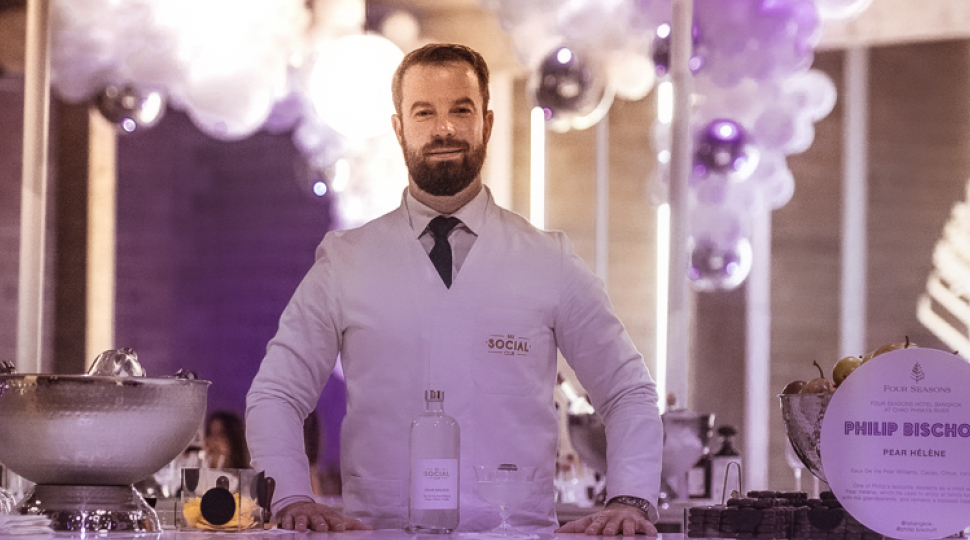 Deftly placing a skewer of cotton candy atop a cocktail glass, Arena told me that his signature drink, Forever Young, was inspired by the balsamic vinegar that he'd "drink from the bowl" as a child in Sicily when his mother made a salad. He infused the cocktail with sweet blackberry and almonds to evoke his grandmother's homemade jams. Arena's idea is that those sipping the unique creation would "go back in time."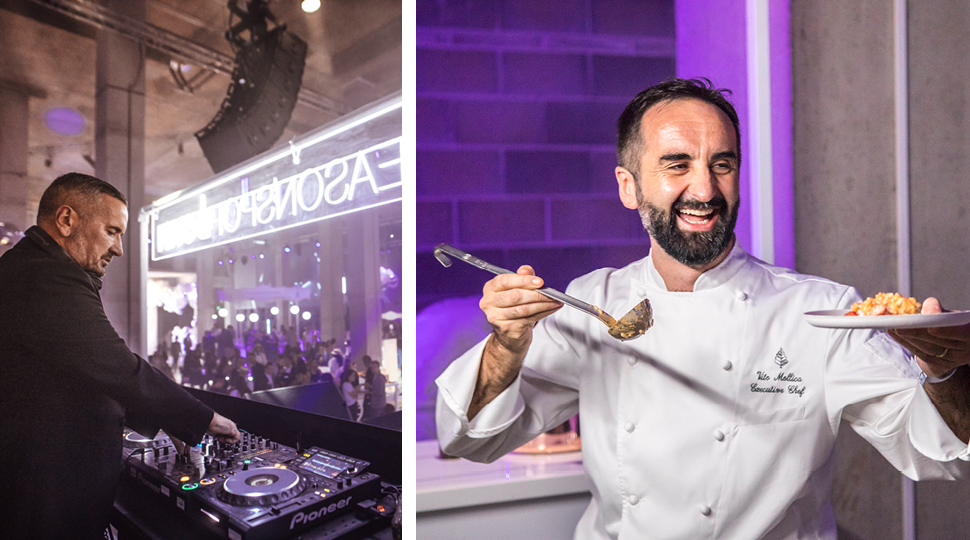 Over the booming bass of UK veteran DJ Fat Tony's set, Chef Pic said that her dish was inspired by berlingots – pyramid-shaped hard candies that she ate as a child in France. "I wanted to have a very unique dish in relation to childhood, with a lot of flavours that are very important to me," Pic said.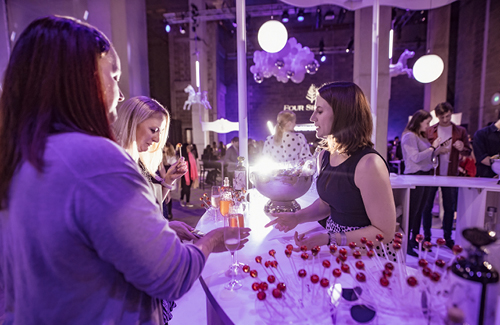 Candy was also the touchstone for mixologist Larrouture in creating her Once Upon a Time cocktail. "The inspiration is a candy that I used to eat when I was a kid: slightly sour strawberry candy. So I made this lollipop," said Larrouture, who was holding court from her bar at the centre of the gently rotating carousel. "The flavour is strawberry, but for an adult palate, you have a tarragon flavour also. You suck the lollipop and are back in your childhood, and I meanwhile make you a drink that is slightly spicy – sloe gin and ginger ale." The idea, she said, is to play and experiment with this fusion of tastes that are sweet, sour and pleasantly surprising.
Larrouture marvelled at her fellow creators' craftsmanship. "Everybody has really looked inside their childhood memories. We are all adults now, but everyone has inside them the childlike passions that we are sharing today."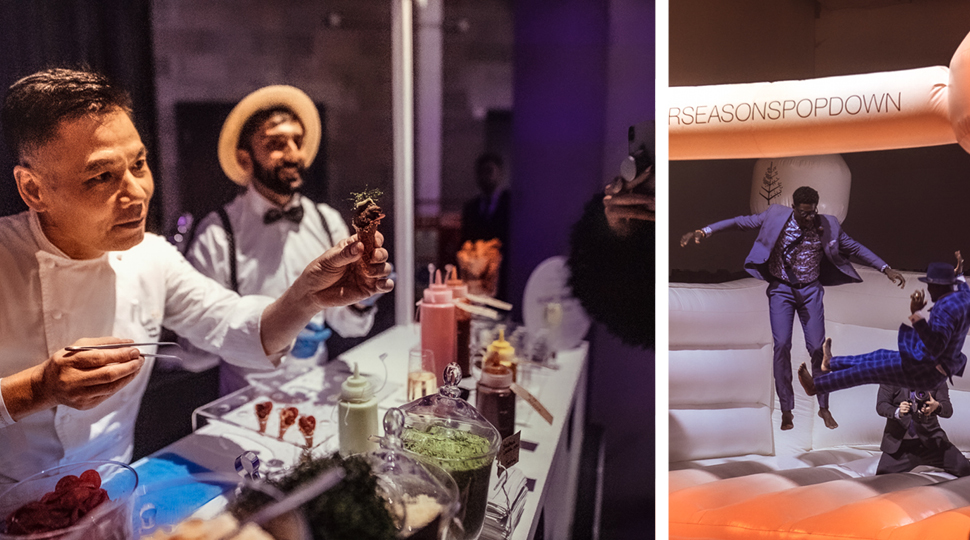 Each Four Seasons master craftsperson delighted the senses in their own inimitable way. Tony Truong, head chef at Mei Ume at Four Seasons Hotel London at Ten Trinity Square, was crafting what looked like miniature ice creams but were in fact savoury red bean waffle cones filled with strips of pork ribs and topped with carrot and wasabi. Truong took his cue for the dish from the spare rib "lollipops" that his mother made for him as a child in Vietnam, where she had a restaurant. "My mum was in despair because I couldn't hold a chopstick properly," said Truong with a grin.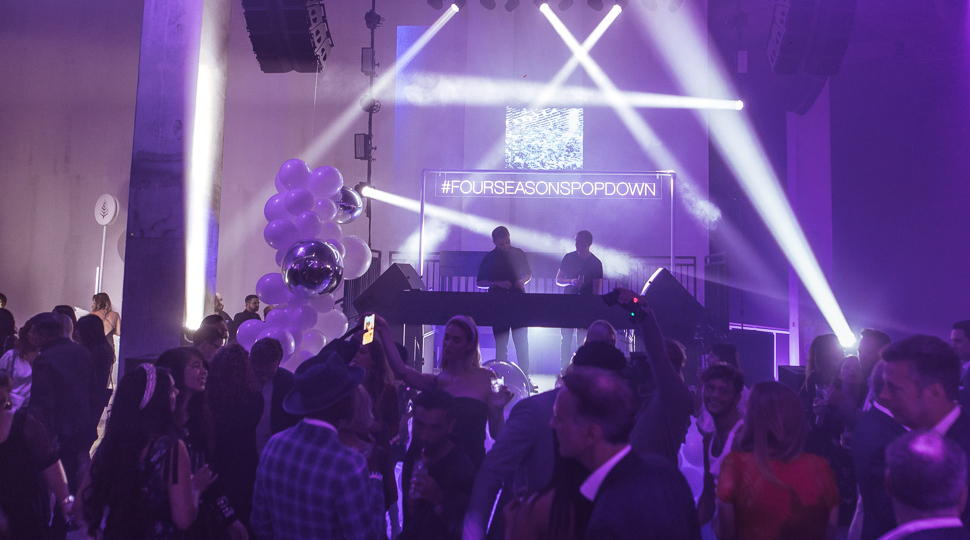 Guests continued to sample the dishes of one master creator after another, as the atmosphere picked up a notch when EDM duo Disclosure took to the decks and crowds flocked to the dance floor.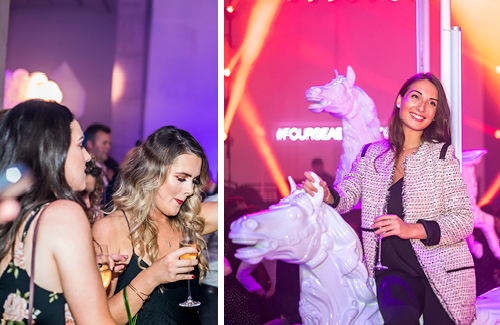 The following night, the same venue was transformed again, into an immersive cinema showing the Tom Hanks film Big, sending us on a nostalgic trip to the 1980s. Four Seasons elevated the cinema experience to a luxurious heights with leather armchairs and deck chairs draped with cosy blankets under clusters of silver and white balloons. The concessions were special, too: Food carts served up the dishes and sips that the Four Seasons chefs and mixologists had debuted the previous evening, and waiters in boater hats were on hand with trays of classics such as popcorn and ice cream.
The perfect sweet end to this two-day feast for the senses.