"Staying on the water" takes on a literal meaning for guests of Four Seasons resorts in Bora Bora and the Maldives, where hotel rooms come in the form of thatched-roof villas standing on stilts over placid seas. Step inside one of these iconic bungalows, and you'll find breezy indoor-outdoor spaces, overwater hammocks, private plunge pools, floor windows for watching marine life and views that seem to go on forever.
What else makes a stay on the water so wondrous? We turned to a few of our guests, who documented the things they loved about their overwater-bungalow stays on Instagram, to find out.
1. The walk to your room is stunning
No elevators or confusing corridors here. At Four Seasons Resort Bora Bora, wooden boardwalks stretch into the Pacific Ocean, connecting white-sand beaches to the private one-, two- and three-bedroom Beachfront Villa Estates, many of which have private plunge pools. With the stunning backdrop of towering Mount Otemanu, it's no wonder the walk inspires guests to capture its beauty.
Explore your private paradise
2. Exploring requires little more than a swimsuit
The best way to explore Bora Bora and the Maldives is by water, and overwater bungalows offer prime access at Four Seasons Resort Maldives at Landaa Giraavaru. Encounter wildlife while snorkelling, swimming, kayaking or paddleboarding in the restful waters around your villa. Surfers might prefer a stay in a Water Villa at Four Seasons Resort Maldives at Kuda Huraa, where they'll find excellent waves, while sailors and kitesurfers can search for perfect breezes.
3. Your neighbours are always up for a visit
Bora Bora's barrier reef and coral gardens make it one of the most diverse marine ecosystems on the planet. Sea turtles, rays and colourful reef fish inhabit the waters that surround the bungalows at Four Seasons Resort Bora Bora. Many of them make their way to the Resort's Lagoon Sanctuary, which serves as a critical research and conservation point for marine biologists from WiseOceans, as well as a prime snorkelling spot for guests.
The UNESCO-protected waters of Baa Atoll, in the Maldives, are also ecologically diverse, with the largest known population of manta rays in the world and a significant coral reef system. This video from Four Seasons Resort Maldives at Landaa Giraavaru offers a glimpse of the sights you'll behold when accompanying one of our instructors on a snorkelling adventure.
Explore an underwater kingdom
Four Seasons Maldives Private Island Voavah is the world's first exclusive-use UNESCO retreat. Make yourself at home in a Two-Bedroom Water Villa, stilted over the fish-filled lagoon – you might spot hawksbill sea turtles, manta rays, dolphins and other marine animals swimming around your overwater villa.
4. The view from your backyard is endless
Shades of blue stretch for miles in the Maldives, as @levi.levo discovered during his recent stay. Water villas at each of the three Maldivian Four Seasons properties offer technicolour views of the Indian Ocean, from sunrise to sunset. In Bora Bora, towering Mount Otemanu, turquoise waters and quiet lagoons are best appreciated from the deck or private plunge pool of an overwater bungalow.
5. Your morning dip is steps away
Wake up. Jump in. When you're living on some of the world's most beautiful water, there's no better way to start the day. Instagrammer @maximevelly captured a morning plunge into the lagoon in Bora Bora. The mood in his photo: Pure joy.
6. Breakfast arrives by boat
Overwater bungalows in Bora Bora and the Maldives are accessed by wooden walkways, but occasionally visitors come by boat. Breakfast at Four Seasons Resort Bora Bora is delivered ceremoniously in a Polynesian canoe. While your table is set with fresh flowers, hop aboard for a short paddle around the lagoon.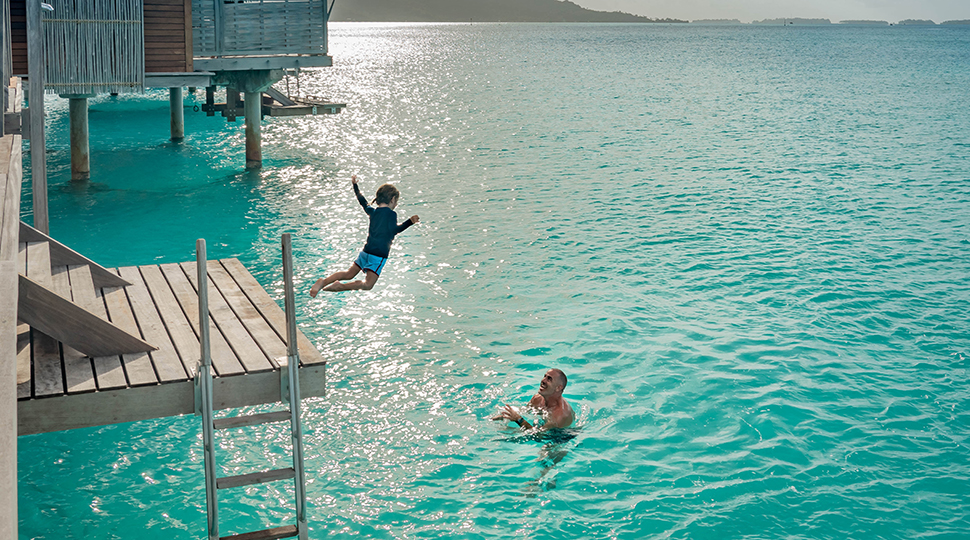 7. Clear, warm waters make for kid-friendly fun
Even the youngest travellers can enjoy the watery worlds of Bora Bora and the Maldives, thanks to the vibrant oceans and lagoons that surround each villa. In Bora Bora, overwater bungalows are equipped with glass floor panels for a glimpse of the marine life swimming below, and parents can take young kids into the Resort's tranquil lagoon to get an even closer look. Older children can get more hands-on with their aquatic neighbours, through Kids For All Seasons programs and marine conservation projects.
8. You can relax anytime, anywhere
Spending the day in your hotel room isn't a travel faux pas when that hotel room is an overwater bungalow. Plunge pools, wide decks, overwater hammocks and steps that lead straight into the ocean are just a few of the features that make relaxing in your room an authentically local experience. Take in a day of sea breezes and water exploration, and get a front-row view of the sunset, all without leaving your villa.
9. Ultimate privacy comes with limitless views
Four Seasons Maldives Private Island at Voavah is all yours to discover. The seven-bedroom resort features water and beach villas, along with a private luxury yacht and your own personal staff. Spa services, sailing, boating, diving, surfing and snorkelling are all within easy reach, and the Indian Ocean views are exclusively yours to enjoy. What's missing? Everyone else.
YOUR JOURNEY BEGINS HERE