For golf enthusiasts, living on a golf course is the ultimate dream. But even if golf is not your sport of choice, being surrounded by sprawling green spaces and the amenities that come with a golf course community can be enticing. What's more, those perfectly tended lawns offer more than just beautiful views. Property values are typically higher for golf course homes, and tend to retain that value over time. Social opportunities and family activities abound, with on-site amenities fostering connection through restaurant experiences, sports offerings and nature adventures.
Four Seasons Private Residences give you the opportunity to access to some of the best golf courses – and golf instructors – in the world. Located in idyllic destinations like Cabo Del Sol, Belize and Las Vegas, these unique communities put championship-level courses right at your doorstep, along with a breadth of off-the-course amenities the whole family can enjoy.
Play on a masterpiece in Cabo Del Sol
When you look out onto the awe-inspiring mix of desert, mountain and sea found at the southern tip of Mexico's Baja Peninsula, it's easy to see why Jack Nicklaus called this the "best piece of golf property I've ever seen." He was of course talking about the location for his highly acclaimed Cove Club Course, which has been recognized as one of the world's Top 100 golf courses by Golf Digest.
The 9-hole reversible course is the centrepiece of the exclusive Cove Club, where owners at Four Seasons Private Residences Cabo San Lucas at Cabo Del Sol gather to experience one of the area's most swimmable beaches, sea- and farm-to-table dining, an abundance of land and water sports, and exclusive access to the course itself. Feel like going straight from the beach to the golf course? No problem. And no need to pack your shoes either – you can play barefoot. Be sure to keep an eye out for the specially equipped VW Kombi cruising the course offering up signature refreshments, or stop by the Bambi Airstream located feet from the waves on the 8th tee box for some freshly grilled catch-of-the-day, famous Cove Wagyu beef sliders, tequila and pony beers, adding to the authentic experience in Cabo Del Sol.
For both avid golfers and those who are new to the sport, one of the most rewarding things to do is to spend some time with Cove Club's renowned golf instructors, Erik Evans and Carly Schneider. Having worked with tour players, professional athletes and corporate executives, they are among the top PGA Teaching Professionals in the world. With personalized instruction, have fun, knowing you're in good hands while taking your game to the next level.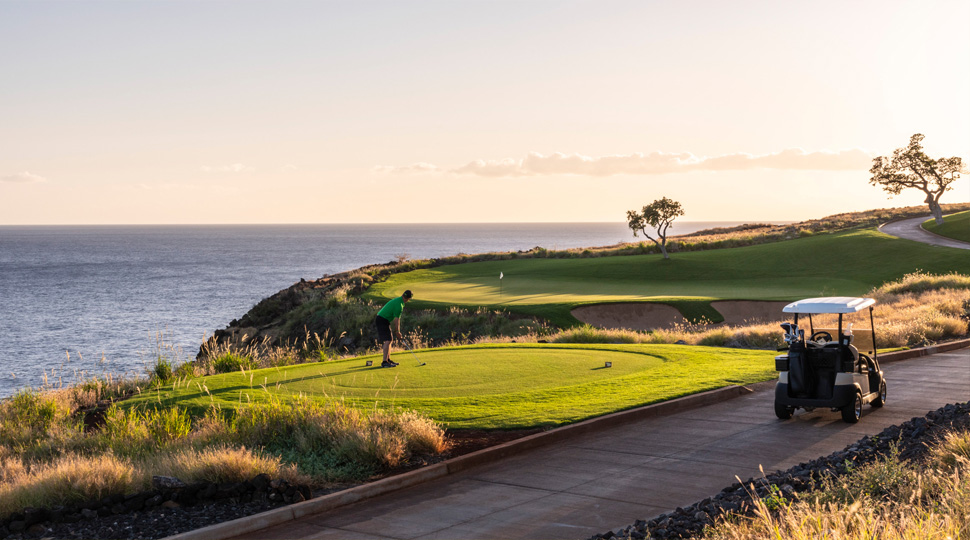 Horizon-to-horizon views in Belize
"I can't think of anywhere else in the world you can do what you're doing in Caye Chapel," said Greg Norman, champion pro-golfer and co-designer of the White Shark Golf Course at Four Seasons Private Residences Caye Chapel, Belize. "The owners today should consider themselves extremely lucky; they bought a piece of paradise."
Caye Chapel is a one-of-a-kind paradise. This private island resort and residential community offers six miles of pristine coastline surrounded by brilliant blue water, coral reefs and world-class dive sites, including the Great Blue Hole. It's also the very first private island in the Americas managed by Four Seasons, and as such, features signature services and an abundance of exclusive amenities. Residents of Caye Chapel will have access to an organic farm and restaurant, a dedicated adventure centre for kids, a full gym and sports complex, an open-air theatre, Fabien Cousteau's on-site Nature and Conservation Center and a Golf Academy, just to name a few.
For the White Shark Golf Course – which takes its name from Norman's own moniker "the Great White Shark" – Norman is designing a 9-hole course that meanders from horizon to horizon, highlighting stunning ocean views at every turn. "You want to make a player going on a golf course you design to remember every hole," said Norman. "At Caye Chapel, it's the Caribbean Sea, it's the barrier reef system, it's that fantastic change of water colour as you look out as the sun moves from the east to midday to the west – everything changes with the light."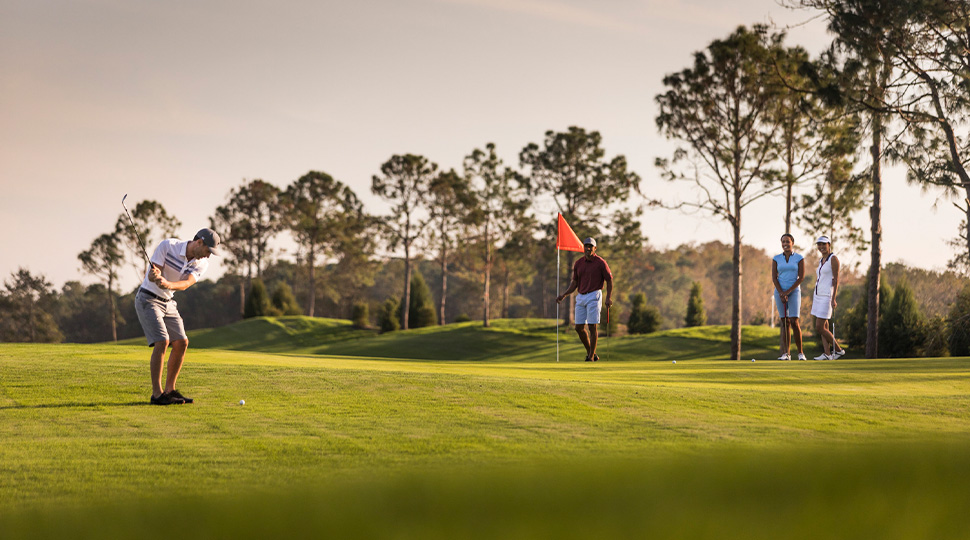 A sense of belonging in Las Vegas
For many golfers, the sense of comradery and connections made while on the course are another major draw of the sport itself. Residential communities with golf courses at their core often share this focus on social connection. Just 15 miles from the Las Vegas Strip in Henderson, Nevada, MacDonald Highlands is one of those communities. Four Seasons Private Residences Las Vegas – the latest addition to the Four Seasons collection of standalone Private Residences – will soon welcome MacDonald Highland's newest residents into the fold.
Residents at Four Seasons will have the opportunity to gain exclusive access to the members-only championship 18-hole golf course, swim, tennis and an array of indoor and outdoor activities at the nearby DragonRidge Country Club. And that's in addition to the abundance of resort-style amenities that owners already have at their disposal.
Entertain friends with a chef-curated dinner on your residence's private terrace or with a family picnic in one of the multi-level pool's cabanas. You can also invite your fellow golfers to join you for a round at DragonRidge, then break down the day over light bites and sundowners. A favourite of pro players and amateurs, this course invites golfers of all skill levels to try their hand at its scenic mountainside holes offering panoramic views of the glittering Las Vegas Strip.
Peace of mind both on and off the course
Just like the best golf courses, all homes require attention and care. Whether it's your primary or secondary residence, when you live with Four Seasons, you can come and go knowing full well that your home is in excellent hands. From maintenance and housekeeping when you're away to securing tee times, dinner reservations and stocking your kitchen with your favourite items when you're back, you'll always have a dedicated residential team on call for your every need. It's worry-free homeownership at its most intuitive.
See what it's like to live with Four Seasons