Tel.
+57 (1) 325 7900 – RNT No. 42831
FOUR SEASONS HOTEL BOGOTA
UNFORGETTABLE
MEETINGS AND EVENTS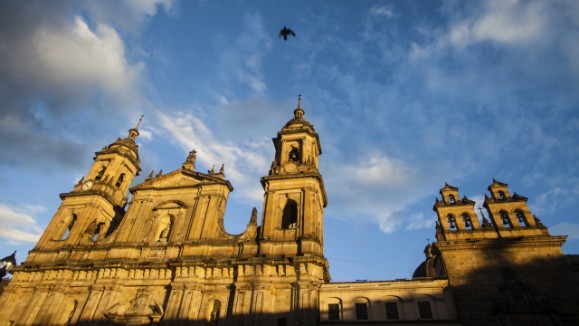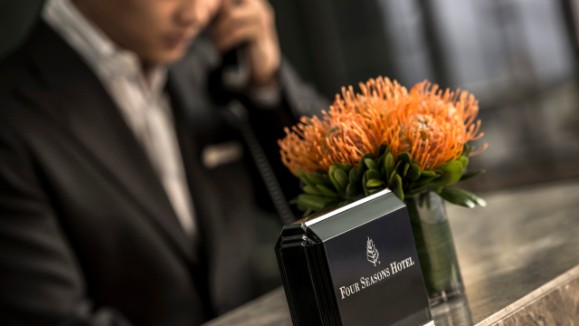 Take your group out for a Bogota tour. Explore the various museums, shopping districts, architecture and scenery.
Our experienced and friendly front desk team helps plan and execute every last detail of your event.
For exclusive meetings, private dinners or an intimate Bogota wedding gathering in the heart of the exciting Zona T, Four Seasons Hotel Bogota is the city's small meeting specialist, with flexible space and our world-renowned service.
| | |
| --- | --- |
| | Total Space |
| 2 | Private function rooms |
| | Largest function room |
| 12 | Seats in Private Dining Room |
Located in the hip, upscale Zona T neighourhood, Four Seasons Hotel Bogota offers the ideal home base for travelling groups or those looking to host an intimate event. The Candelario Room offers 34 square metres (366 square feet) of space for meetings or private dinners for up to 12 guests, while the cozy Usaquen Room (measuring 18 square metres or 194 square feet) can host social events for up to eight people. The Hotel also has one outdoor venue area. Groups travelling to Bogota for business will love the Hotel's close proximity to area attractions, as well as the modern and light-filled guest rooms and suites.
Peak Condition

Here at Four Seasons, your guests can stay at the top of their game with opportunities to relax and work out.

Social Scene

Host a cocktail party or business dinner in the Hotel.

Meeting Planning

Experienced Four Seasons support is on-site to promptly devote personalized attention to your small meeting or event.
From El Dorado International Airport (BOG)
Travel Time: 40 minutes
Distance: 9 miles/14.4 kilometres
Services provided by the Hotel
Limousine service can be arranged by the Hotel for an additional charge.
OFF-SITE ACTIVITIES
Walking distance of the Hotel
Ciclovia
Explore Bogota by bicycle, roller blades or foot during Ciclovia, the city's weekly open street programme. This is when over 120 kilometres of Bogota's main streets are closed to automobiles and open to bicyclists, walkers, skaters and runners. The Ciclovia is organized on Sundays and public holidays from 8:00 am to 2:00 pm.
Within walking distance of the Hotel
Zona T
The Hotel is surrounded for some of the best Bogota boutiques, cafés and nightlife.

Within a 15-minute drive of the Hotel
Catch a Soccer Game
Take part in Colombia's most popular sport. Head to El Campín stadium most Sunday afternoons and Wednesday nights to watch a fútbol game. El campín is home of the two most important bogotanian teams (Santa Fe and Millonarios). Our Concierge would be pleased to assist you with tickets and transportation.

Within a 30-minute drive of the Hotel
Hike Mount Monserrate
Hike to the top of Mount Monserrate for a prime view of the city – from more than three kilometres (1.9 miles) up! For those looking to enjoy the scenery with more ease, a cable car routinely runs up and down the mountain. It is not unusual to see locals climbing the mountain on their knees as a religious pilgrimage up to the Church of "El Señor Caído" (Fallen Lord).
Within a 30-minute drive of the Hotel
Tour the Gold Museum (Museo del Oro)
Discover the world's largest collection of gold objects at the Gold Museum, featuring goldwork artifacts from the pre-Hispanic population.
Within a 30-minute drive of the Hotel
Tour Museo Botero del Banco de la Republica
This intimate museum showcases the works of famous Colombian figurative artist and sculptor, Fernando Botero. Opt for an audio tour while taking in the paintings and sculptures, and stop to enjoy a coffee in the museum's quaint courtyard. The museum also displays works by other internationally known artists.
Within a 2-hour drive of the Hotel
Coffee Plantation Tour
In Colombia – one of the world's leading coffee-growing countries – discover how beans go from field to cup just 45 miles away from the city. In the little town of Fusagasuga, you can visit the Hacienda Coloma Coffee plantation, learn about the history of Colombian coffee, see the coffee-making process and learn to distinguish good coffee from bad. This colonial house and its beautiful surroundings is opened seven days a week. Our Concierge would be pleased to schedule the visit and arrange transportation for you.
Month
°F
Highs/Lows
°C
Highs/Lows
January
68/43
20/6
February
68/45
20/7
March
68/47
20/8
April
67/49
20/9
May
67/49
20/9
June
66/48
19/9
July
65/47
19/8
August
66/47
19/8
September
67/46
19/8
October
67/47
19/8
November
67/47
20/8
December
68/45
20/7
WEATHER
Bogota enjoys pleasant, moderate temperatures all year round.
Of the 64 guest rooms at Four Seasons Hotel Bogota, almost half are suites. For exclusivity, accommodations are arranged in three towers with just 4 to 7 per floor. Polished décor details include custom-tinted wooden floors and hand-knotted carpets, furnishings in natural fibers and materials, complemented by original art. Sophisticated neutrals and luxurious accents evoke a sense of space, openness and light.

GUEST ROOMS
| | Number | Size | Location | View | Beds | Bathrooms |
| --- | --- | --- | --- | --- | --- | --- |
| Grand Premier Room | 22 | 34 m2 (366 sq.ft.); One room with 33 m2 (355-sq. ft.) terrace | 2nd to 8th floors | Neighbourhood or street views | One king bed, one queen bed or two queen beds | One full marble bathroom |
| Deluxe Room | 8 | 30 m2 (323 sq.ft.) | 2nd to 5th floors | Surrounding neighbourhood views | One queen bed | One full marble bathroom |
| Superior Room | 5 | 27 m2 (291 sq.ft.) | 2nd to 5th floors | Surrounding neighbourhood or street views | One queen bed | One full marble bathroom |
SUITES
| | Number | Size | Location | View | Beds | Bathrooms |
| --- | --- | --- | --- | --- | --- | --- |
| One-Bedroom Premier Suite | 6 | Two suites with 62 m2 (667-sq. ft.), two suites with 66 m2 (710-sq. ft.) and two suites with 71 m2 (764-sq. ft.) | 6th to 7th floors | Surrounding neighbourhood or street views | One king bed | One full marble bathroom with oversized shower |
| One-Bedroom Suite | 6 | One suite with 46 m2 (495 sq.ft.) and 25 m2 terrace, two suites with 53 m2 (269-sq. ft.) and three suites with 58 m2 (624-sq. ft.) | 3rd to 8th floors | Surrounding neighbourhood or street views | One king bed | One full marble bathroom with oversized shower |
| Four Seasons Executive Suite | 16 | 36 m2 (388 sq.ft.) | 2nd to 5th floors | Surrounding neighbourhood or street views | One queen bed | One full marble bathroom with oversized shower |
SPECIALTY SUITES
| | Number | Size | Location | View | Beds | Bathrooms |
| --- | --- | --- | --- | --- | --- | --- |
| Penthouse Suite | 1 | 115 m2 (1,238 sq.ft.) | 8th floor | Surrounding neighbourhood or street views | One king bed | Bathroom and powder room |