Signature Experiences
Sokasi Cooking School
"In Balinese food, the magic is in the spice paste."
– SENIOR SOUS CHEF, Wayan Sutariawan (SUTA)
Unlock another layer of Bali's rich culture and experience the deep connection - both practical and spiritual - that Balinese have with food by joining a hands-on class at Sokasi, our new riverside cooking school. Set amidst herb and vegetable gardens, this open-air 100% bamboo facility embraces the environment of our Sayan Valley and the diverse produce of the island.
Join our chef for a guided tour of the local market – an insider opportunity to learn about and select exotic fruits, vegetables and spices – as well as our own on-site gardens. Choose from two distinct culinary themes and take home a new expertise. Our Balinese class showcases traditional dishes normally reserved for important ceremonies and festivals. Meanwhile, our plant-based class features healthy and light cuisine inspired by Ubud as the centre of healing and wellness in Bali. Please book at least 24 hours in advance.
For more information, call 62 (361) 977577 or email concierge.balisayan@fourseasons.com.
"Every day, the Balinese make offerings to the gods that always contain an element of food, whether a few grains of rice on a canang, a piece of banana, tower of fruit for a gebogan or whole chicken. No meal is taken for granted."
– SENIOR SOUS CHEF, Wayan Sutariawan (SUTA)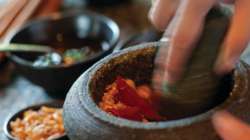 Masakan Bali
Learn the rituals, techniques, ingredients and customs behind local cuisine. After a market tour with our chef, you will return to Sokasi for a class on six of Bali's favourite dishes, culminating in a flavoursome lunch of your making.
Daily market tour: 8:00 am to 9:00 am
Cooking class and lunch: 11:00 am to 2:00 pm
My Body is a Temple
This plant-based wellness menu has been designed in collaboration with our team at Sacred River Spa. Nutritious and delicious, it will introduce you to local ingredients and ancient recipes like jamu, traditionally used for herbal medicine, using produce fresh-picked from our own gardens.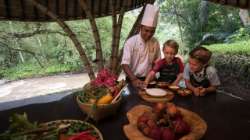 Junior Chefs
Our team at Pici Pici Kids' Club will inspire a love of cooking at any age with a selection of fun and easy recipes.
The club is open from 9:30 to 10:00 am daily and is complimentary for children 12 years and under.
Ubud Suckling Pig
No visit to Bali would be complete without trying the local favourite, babi guling (suckling pig). Watch our master roasters prepare this and other ceremonial dishes at Sokasi as part of an exclusive 7-course Balinese Chef's Table dining experience by the river.
Available Mondays, Wednesdays and Fridays by private reservation only.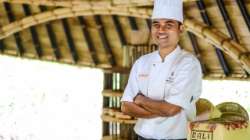 Meet Chef Suta
"When I was 15 years old, I went to live with my auntie and my first job was grinding the base genep. Every day I had to grind the spices for different dishes; fish, chicken or pork. I used to want to be a policeman, but this changed my path towards cooking."
–Suta, Senior Sous Chef.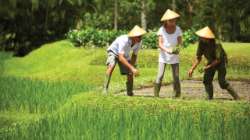 Farmer's Life
For the Balinese, rice is essential to every meal and is a gift from the gods. Get back to nature with a Day in the Life of a Balinese Rice Farmer. Start with a trek and breakfast, get into our on-site ricefields to plant and thresh, then refresh with a spa ritual before a typical farmer's lunch.
"The name Sokasi is derived from sok nasi (literally "rice basket"), which is made from woven bamboo and usually hand-painted. The Balinese traditionally use sokasi to serve cooked rice and to carry fruits, flowers, leaves and food to the temple to make offerings. You can find brightly-coloured varieties of sokasi at local markets, they make great souvenirs to take home."
– SENIOR SOUS CHEF, Wayan Sutariawan (SUTA)