Like many Philadelphia-area residents, Greg Vernick grew up spending summers "down the shore." His parents have a place in Margate, an Absecon Island town where the population quintuples during the summer. There, between the bay and ocean, Vernick's love of the sea and seafood was born. "There's nowhere I'd rather be," says the chef-owner of Vernick Food + Drink and chef-manager of Vernick Coffee and Vernick Fish at Four Seasons Hotel Philadelphia at Comcast Center.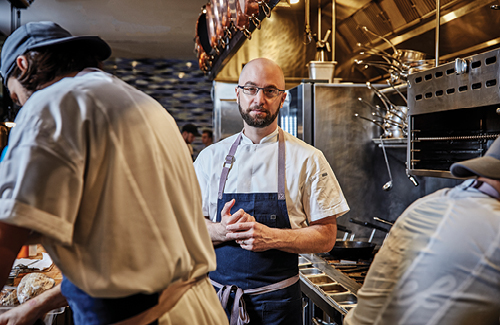 Forty miles south of Margate, in Cape May, New Jersey, the V-shaped mouth of the Delaware Bay decants into the Atlantic Ocean. In the brackish backwaters, a resurgent oyster industry thrives. "Sweet Amalias – they're the best," Vernick says. The farmers raising these small but plump and sparklingly clean oysters deliver 250 of them once a week to Vernick Fish, and, he says, "Once we're out, we're out."
The chef keeps the supply chain tight at Vernick Fish, where sustainable seafood is top of mind. Sometimes that means working directly with small producers like Sweet Amalia Oyster Farm. Other times, it means relying on a company like Island Creek Oyster Co., which distributes its own and other farms' oysters, turning six trucks on the road into just one. Sometimes it's a trade-off: carbon emissions for access to sustainable species such as abundant Galician sardines (tinned in olive oil and served with house-baked sourdough) and New Zealand's Ōra King salmon (gently smoked tartare with quail egg and Parmesan). Other times, it's as straightforward as sourcing porgy and bluefish from the mid-Atlantic, but comes with the added challenge of convincing diners that fish with a poor reputation can be delicious in the right hands.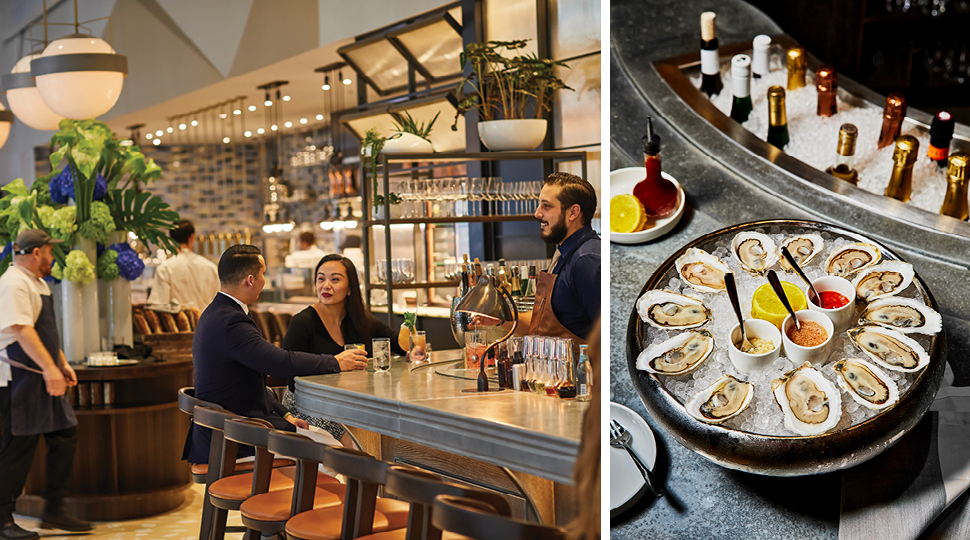 As the organic and local food movements have become more central to quality restaurants, sustainable seafood is catching on across Philadelphia. Jersey oysters like Stormy Bays, Rose Coves and High Bar Harbors adorn the raw bar menus of Oyster House in Center City and Aether in Fishtown.
At East Passyunk's sister restaurants Laurel and In the Valley (also known as ITV), "Top Chef" winner Nicholas Elmi serves line-caught Atlantic albacore tuna, an overlooked but tasty alternative to overfished Pacific species. The choicest belly cut is cured and diced for creative crudos and tartares, and the scraps and trim are transformed into robust tuna Bolognese for house-made rigatoni.
"'Sustainable' is a big word with many meanings," Vernick says. "I think the answer is to find balance. With fish, things are so fluid. You have to be nimble."
By the time the sun comes up over the Delaware River and canines start romping around the grassy space across from Fiore Fine Foods, Justine MacNeil has already been at work for two hours. As part of the growing local contingent of all-day dining rooms, Fiore opens at 8:00 am every day, its handsome bar stacked with her anise-sugared morning buns, almond-ricotta cookies, schiacciate (a Tuscan flatbread jewelled with olives) and other Italian-inspired baked goods that glisten in the sunlight.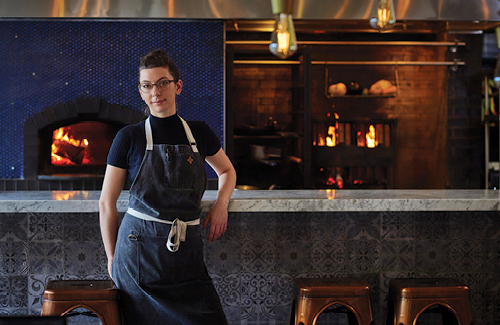 MacNeil, formerly a pastry chef at Del Posto in New York, relocated to Philadelphia with her chef husband, Ed Crochet. When they decided to open Fiore Fine Foods in Queen Village, the morning-till-evening hours were a key part of the plan.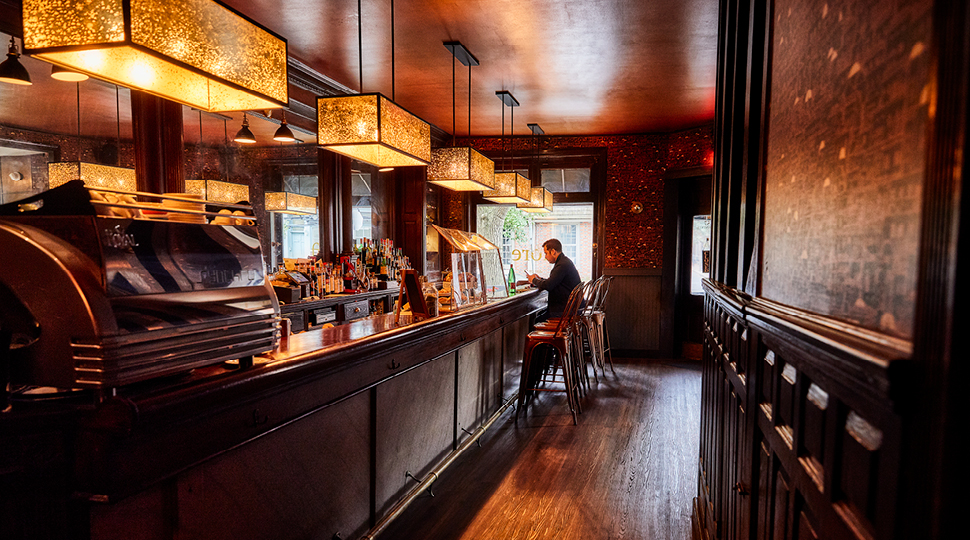 "If you're paying rent all day, you might as well utilize the space," she says. But the benefits are not only financial. "In my romantic idea, it's a way to bring all facets of the culinary field to the table – bread, pastry, coffee, alcohol, savoury – and having all these different programs gives us a way to work with our friends who have expertise in these areas."
While all-day concepts are plentiful these days in other locales, they're a relatively recent phenomenon in Philly, where breakfast and lunch were long the domain of casual cafés or Center City power restaurants. Ambitious indie spots tended to stick to dinner hours, until Hungry Pigeon, a plant-filled hangout a few blocks from Fiore, made the scene in 2016 serving three meals a day. MacNeil and Crochet arrived in town not long after Hungry Pigeon debuted, and then came Suraya, a glittering Lebanese palace in Fishtown that opened with a market and an all-day café in 2017 and added a dining room and garden the following year. "We were like, 'All right, so people want this,'" MacNeil says.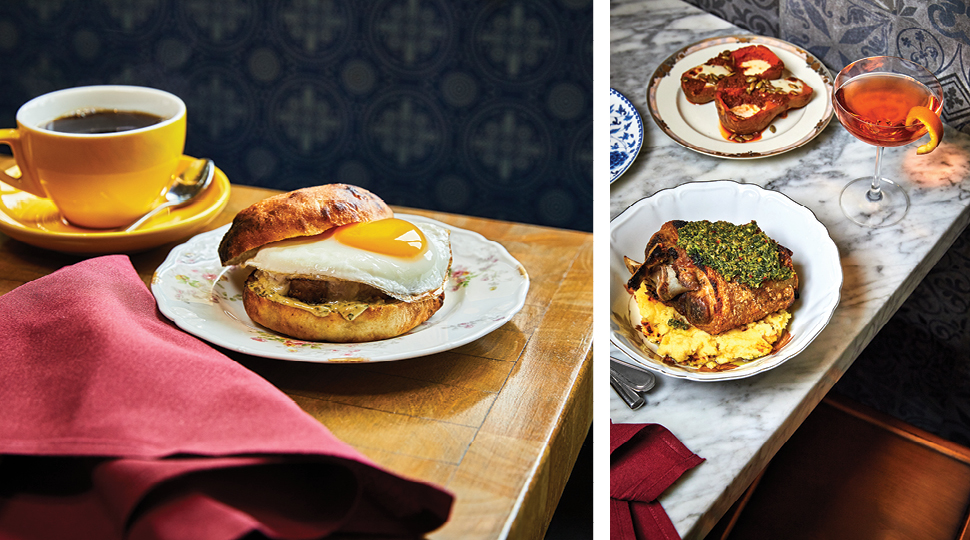 Given how quickly her pistachio cornetti disappear, people clearly want breakfast, which can also include a fennel sausage, egg and fontina sandwich and a pizzetta layered with pears and stracchino. Crochet, a veteran of Philly restaurateur Stephen Starr's organization, fires up his wood-burning oven and grill for lunch and dinner, sinking pork shanks into polenta and serving caramelized kalbi-style short ribs with fermented porcini. As the sun sets, the light flooding Fiore's window-wrapped dining room takes on a lilac tint. The pooches reappear, out for their evening strolls. MacNeil and Crochet serve the last guests, clean up, kill the lights, and do it all again the next day.
Philly has long been a pasta town. Italian immigration, with numbers swelling in the early 1900s, has had an enduring influence on its culinary DNA; today the metro area ranks behind only New York in Italian American population. Michael Vincent Ferreri, who grew up in an Italian American household in Rochester, New York, adopted Philly as his hometown when he moved here in 2011. After honing his pasta-making skills at some of the city's best restaurants, he moved to Res Ipsa in the Rittenhouse neighbourhood, where he's dedicated himself to crafting unusual pastas. Dinner in this cosy café might involve lorighetti, which look like braided basket handles; culingioni, potato-filled bundles from Sardinia; or strascinati, a Pugliese cousin of orecchiette. Ferreri and his team make them all in-house with semolina milled weekly at Green Meadow Farm in Lancaster, Pennsylvania.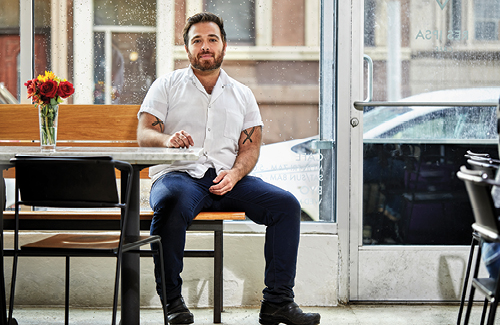 "I think the size of the restaurant speaks very pleasantly to what we're doing, because I could make something, run it on special, and I'll only need five or six orders of it," Ferreri says. "So some of the pasta shapes that are a little bit more involved, that take a little bit more time – even just to learn, let alone to physically make – we can make and serve people things that you wouldn't normally be able to get in most restaurants in America." The shapes take diners deeper into pasta-making traditions that vary not just from region to region in Italy, but from town to town.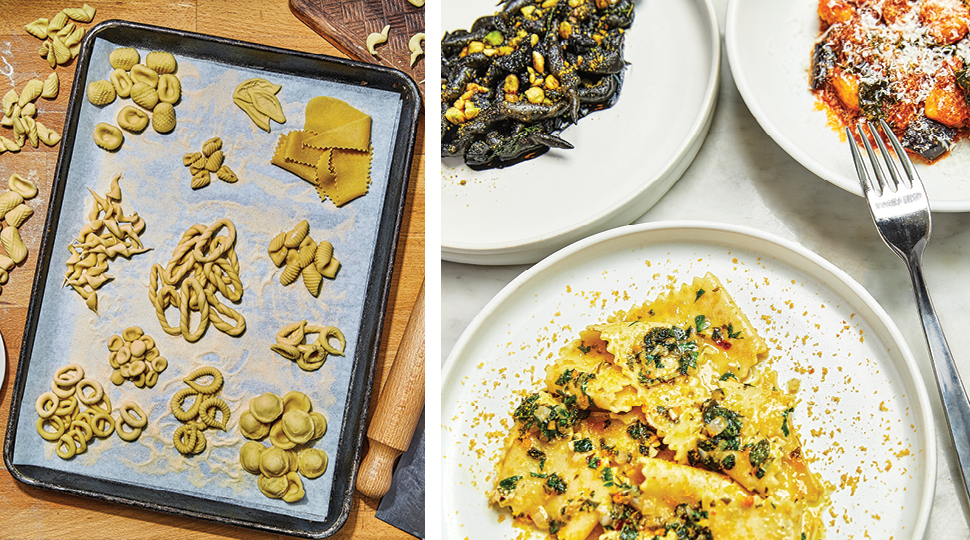 Pasta exists on a spectrum in Philly, from superb basics, like gumdrop-size potato gnocchi with emerald pesto at Mr. Joe's Café and buttered bow ties kissed with lemon and poppyseed at Musi, to the esoteric shapes Marc Vetri makes at his Vetri Cucina with fresh flour milled on site from whole local grains. The key, Ferreri says, isn't whether the pasta is fancy: "It should be very comforting, and it should be very homey. For me, that's what pasta is all about."
Chloe Grigri is "perpetually dehydrated," she says, draining a glass of water at Le Caveau, her new bar in the Bella Vista neighbourhood. Located above Good King – the 6-year-old French tavern she owns with her father – Le Caveau is all lace curtains, cosy tables, exposed brick attractively crusted with plaster, and wine bottles in colour-blocked rows of vermilion, blond, apricot, plum and pale pink. She's been tasting all the wines in the yearlong lead-up to the bar's late 2019 opening. Hence the dehydration.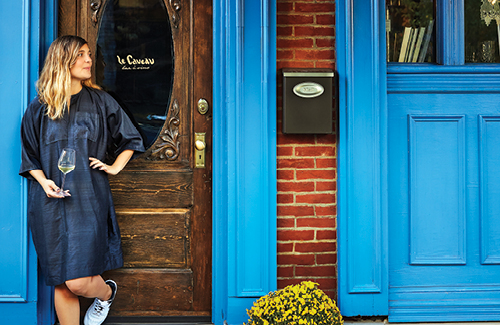 Most of the labels Grigri has curated for Le Caveau are natural, made from organic grapes and without additives. "Natural wine is what wine has always been," she says; the style predates modern technology and chemically altered agriculture. When she began skewing Good King's selection towards natural winemakers five years ago, the movement was nascent in Philly. Now it's in full bloom, with restaurants like Walnut Street Café in University City and Friday Saturday Sunday in Rittenhouse creating lists around natural bottles, and retailers like Tinys in Port Richmond and Bloomsday Café in Society Hill dedicated to the stuff. "Natural wine has pushed itself to the forefront in such a way that there is no restaurant that isn't doing it in some capacity," says Grigri, who can claim a good portion of the credit for that state of affairs.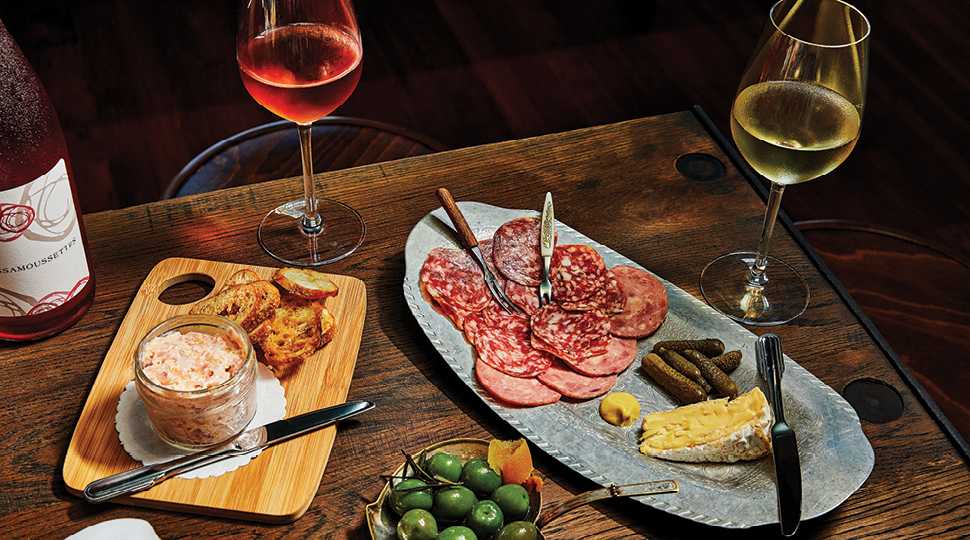 Complemented by cheeses, charcuterie, and simple bar snacks like olives and nuts, about 15 wines are available by the glass at Le Caveau, but intimate clusters of tables invite patrons to linger over full bottles of crushable Gamays and cult grower Champagnes the way Grigri does when she hangs out at bars à vins in France. "I've been strategically holding back certain hard-to-come-by wines for over a year," she says – and now it's time to pop some bottles.

The local culinary scene reached new heights with the opening of star chef Jean-Georges Vongerichten's Jean-Georges Philadelphia, one of four noteworthy dining outlets at the new Four Seasons Hotel Philadelphia at Comcast Center.
The express elevator rises 60 storeys into the sky, taking you to the lobby of Four Seasons Hotel Philadelphia at Comcast Center and its JG SkyHigh lounge. An onyx staircase flanked by whispering twin waterfalls leads down to the 59th floor, where Jean-Georges Philadelphia's 40-foot (12-metre) windows look out over the shoulders of skyscrapers, the city resembling a giant green-and-grey picnic blanket below. Executive Chef Nick Ugliarolo sips a turmeric latte and surveys the view: "Pretty beautiful, right?"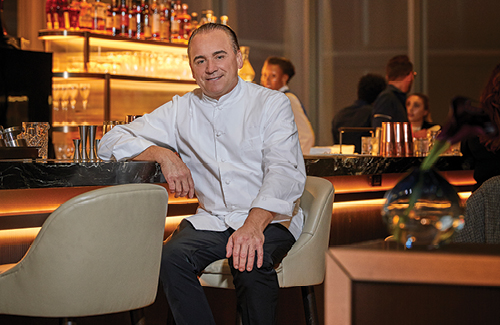 This vista welcomed the Connecticut native and five-year veteran of the Jean-Georges group when he relocated from New York to helm this flagship restaurant. "None of this was here," he says, gesturing to the dining room's glowing island bar, upholstered mid-century chairs and towering flower arrangements, "but from the view alone, I knew this was going to be awesome."
If the visuals are what people come for, the food is why they come back. Ugliarolo says the menu balances Jean-Georges classics – "I could eat the black bass with sweet-and-sour jus every day," he adds – with his own creations, including the amuse-bouche that gets things started. Serving three meals a day, the restaurant is as well-suited to a Gruyère cheeseburger as it is to Ugliarolo's seven-course tasting menu. Chef Jean-Georges Vongerichten, the master behind the menu, says he's "thrilled to be joining this culinary community."
At street level, indoor-outdoor Vernick Fish from James Beard Award–winning local Chef Greg Vernick specializes in dishes ranging from classic (his signature Dover sole meunière) to inventive (uni-and-caviar French toast). Or stop by Vernick Coffee Bar for breakfast, lunch and coffee, either to go or to enjoy in a 40-seat communal dining space.
Whether you dine upstairs or downstairs, count on sterling service, says Ugliarolo. "People know they're in good hands and they're going to be taken care of."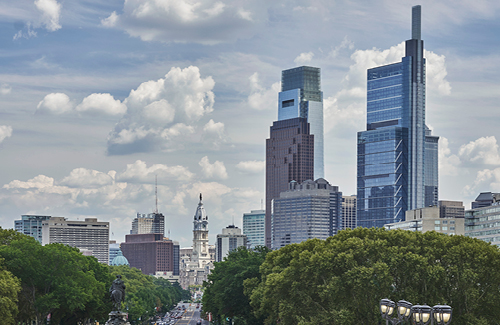 YOUR JOURNEY BEGINS HERE
Discover a new side of Philadelphia.