If you've seen one Four Seasons hotel or resort, you haven't seen them all. Each of our more than 100 properties reflects its own sense of place, innovation and style.
Through our international collection of awe-inspiring lobbies, dynamic restaurants and bars, re-energizing fitness and spa facilities, impressive event spaces, and perfectly appointed rooms, Four Seasons delights with design.
Here, marvel at some of our creative spaces, then get a behind-the-scenes look at the design process.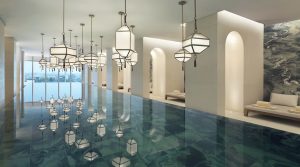 A pool and spa that reflect tranquillity
At Four Seasons Hotel Kuwait at Burj Alshaya, the design for the pool, spa and fitness section was driven by the theme of peacefulness mixed with a specific sense of place. The glowing lanterns create a warm reflection in the pool (recently named the best indoor swimming pool in the Middle East by Prix Villageiture), and archways and alcoves create semiprivate, intimate lounging areas for guests.
"The fitness areas emphasize light, air and volume," says Didier Jardin, General Manager at the Hotel. "In spas, dimmer lighting and quiet spaces are really conducive to relaxation."
The grotto oasis aspect of this design by Yabu Pushelberg evokes a calming and inviting aura. "The Hotel was designed with a refined, well-travelled and culturally informed guest in mind and has a distinct connection to place in its design elements," says co-founder Glenn Pushelberg.
Celebrating eccentricity at the bar
It was the independent child prodigy Margot Tenenbaum, from the 2001 U.S. film The Royal Tenenbaums, who inspired the renovated bar at Four Seasons Hotel Atlanta. Bar Margot celebrates interesting people, individualism and eccentricity.
"The way you make a place 'happening' is with a strong sense of narrative and of place," says Will Meyer, partner of Meyer Davis, which co-led the 2015 renovation.
Those familiar with the film will instantly feel transported into the world of Margot Tenenbaum upon entering the restaurant and bar. Throughout the velvety-rich space, tokens from the cult classic film adorn the walls, window ledges and bookshelves.
The Hotel completed a dramatic transformation of its meeting and event space this year. In collaboration with Hirsch-Bedner Associates, the total 17,436 square feet (1,620 square metres) has been revitalized to fuse the Hotel's majestic opulence with the latest technology.
Four Seasons Hotel Atlanta
Neighbourhood chic meets rustic nature in the design of Castanyoles, at Four Seasons Hotel Bogotá Casa Medina. The Spanish restaurant and tapas bar, designed by local Saul Sasson, integrates warm colours, Spanish tiles and modern furnishings underneath a stunning glass atrium roof.
The restaurant – named for the traditional handheld percussion instruments also known as castanets – was designed to reflect the way people dine today.
"Castanyoles is the ideal spot to share a Spanish bite or a handcrafted cocktail," says Mark Bingle, General Manager of the Hotel. "We have an amazing space that allows for indoor dining with open-air elements, enhancing the elegant atmosphere."
Four Seasons Hotel Casa Medina Bogota
At Four Seasons Resort Los Cabos at Costa Palmas, it was the nearby ocean that fuelled the design team's creation of livable luxury. The guest rooms incorporate oversized relaxation areas that seamlessly flow onto outdoor ocean terraces.
"We call our guest rooms 'sanctuaries,'" says Borja Manchado, General Manager at the Resort. "It's about welcoming guests and giving them the best night's rest they've ever had."
TAL Studio designed the guest rooms. "Four Seasons guests value artistry, craft, authenticity, cultural context and sincere hospitality that is truly anticipatory of their needs, and these values inform our design," says studio founder Todd-Avery Lenahan.
Modernizing history in the lobby
Long ago, the entrance of Four Seasons Hotel Gresham Palace Budapest included a horse-and-carriage drop-off. During renovations, the design team, led by Richmond Intl., enclosed the drop-off in a labour of love to expand the lobby.
Now, guests can spend the afternoon sipping craft cocktails and savouring an exciting blend of Asian and Hungarian cuisines at MÚZSA, the Hotel's newest lounge. A raised piano platform adds a touch of theatre in the bar area, in contrast to the more intimate lobby.
Four Seasons Hotel Gresham Palace Budapest
Meeting rooms that drive productivity
Given the purpose of a meeting room, it's important that the design motivates and invigorates. At Four Seasons Hotel Seoul, LTW Designworks followed through.
The meeting and event spaces are designed to encourage productivity and pleasure; the cosy sitting area and plush sofas evoke a residential feeling.
"Korean architecture is always conscious of the delicate relationship between a place and its environment, and strives for a harmonious interplay," says Su Seam Teo, an LTW partner.
YOUR JOURNEY BEGINS HERE
What incredible space will you discover next?