An extension of the renowned THEBlvd Restaurant, the new THEBlvd Privé is a hidden hideaway offering California-inspired fare, fanciful cocktails and decor reminiscent from when the private cobblestone boulevard was created in the 1970s. Illuminated by gas lamps imported from a castle in Edinburgh, dine outdoors exclusively five days a week.
Hours
Temporarily closed

Wednesday – Friday

11:30 am – 2:30 pm

5:00 pm – 10:00 pm

Saturday & Sunday

9:30 am – 3:00 pm

5:00 pm – 10:00 pm
The County of Los Angeles Public Health Order requires all restaurant patrons to wear face coverings, as well as only allows people from the same household to share a table.
Signature Dishes
Roasted Acorn Squash Winter Salad

Kale, Quinoa, Cranberry Dressing

Char-Grilled Branzino, Chermoula, Petit Salad, Barbecue Lime

Turmeric-Tahini Sauce, Almond Streusel, Pomegranate

Snake River Farm Beef Filet

Truffled Gnocchi, Roasted Greens, Peppercorn Sauce

Jalapeño, Ponzu Soy, Lime
Meet the Team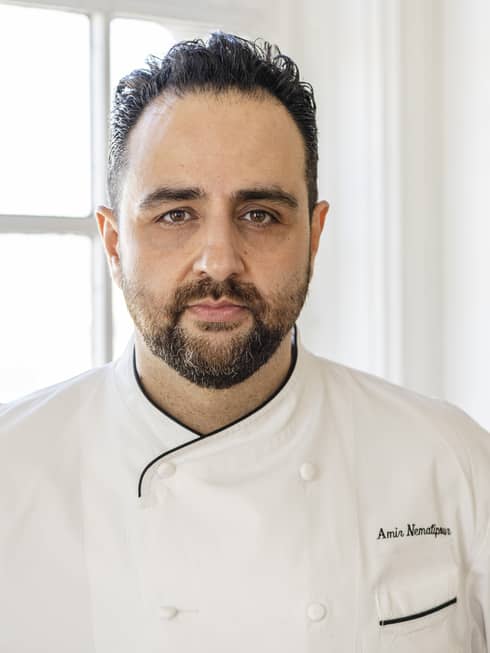 Amir Nematipour
Chef
Born in Tehran and raised in Amsterdam, Amir Nematipour's passion for food first began at the age of 5, when his grandmother introduced him to Persian cuisine. After graduating from the International Cooking School and the Hoge School Van Amsterdam, Nematipour completed his apprenticeship at the Le Meridien Amsterdam. He joined Beverly Wilshire in 2016, and uses classic techniques to produce an array of fresh seasonal dishes while never losing the love and passion behind the plate. He is actively involved in setting up a non-profit company with other local chefs to deliver leftover food from hotels and restaurants in Los Angeles to homeless shelters.
Victor Triebel
Restaurant Manager
Victor Triebel got his first taste of the food and beverage industry in 2005, when at the age of 14 he interned in a creperie in his hometown of Versailles, France. In 2009, he accepted a three-month internship at the legendary Four Seasons Hotel George V, Paris, where his passion for luxury hospitality was born. He moved to the U.S. in 2012 and joined Four Seasons in 2014 as the Room Service and Pool Manager, where he added a DJ and poolside ice cream cart and a surprise treat to every room service order. Since 2017, he has been the general manager of THEBlvd Restaurant, where he implemented experiential cocktail carts and created a see-and-be-seen dining experience on the patio overlooking Rodeo Drive.