Family
Kids For All Seasons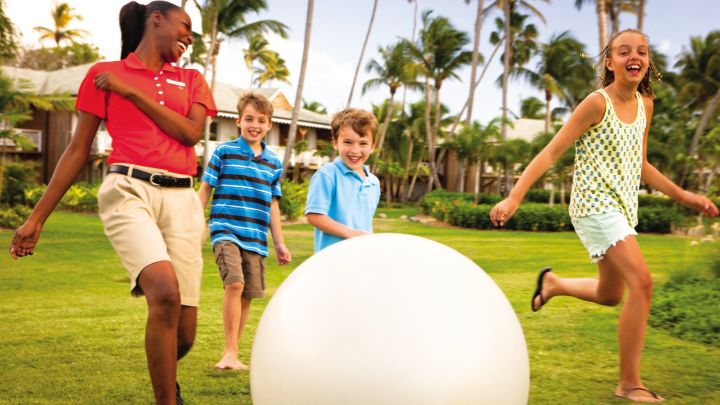 Our Kids For All Seasons program includes supervised recreational, creative and educational activities for guests' children. A nominal fee will be charged to the parents' room for the optional supervised lunch or dinner.
Program details
| | |
| --- | --- |
| Age group | 3 to 9 years |
| Time of year | Year-round |
Hours
| | |
| --- | --- |
| Every day | 8:30 am - 5:30 pm |
Sea Turtle Education Program
The Kids For All Seasons Centre at Four Seasons Resort Nevis has partnered with one of the world's oldest sea turtle survival leagues to provide an eco-tourism program for youths that focuses on Nevis' endangered sea turtles.
Younger guests can enjoy sea turtle educational activities designed by the experts at the Caribbean Conservation Corporation (CCC). A variety of indoor and outdoor activities include turtle tales under the tree, turtle watch beach walks, arts and crafts, postcard drawing contests, interactive games, puzzles and videos.
During the turtle nesting season on Nevis, which runs from June through October, children ages three to nine participating in the Kids for All Seasons turtle education program will receive a sea turtle adoption certificate and CCC membership as a memento.
Turtles up for "adoption" are among a select group of local turtles that are satellite-tagged with transmitters, for scientific research purposes. The children will then have the unique opportunity to continue an Internet-based program at home or at school – they will be able to track the migratory patterns of their Nevisian turtle via on-line maps.