Hours
| | |
| --- | --- |
| Spa Facilities | 8:00 am – 6:00 pm, daily |
| Spa Services | 8:00 am – 6:00 pm, daily |
The Spa at Four Seasons Resort Nevis has its very own herb garden, which pays homage to the organic bounty of Nevis that stems from the island's fertile, volcanic soil. For centuries, Nevisians have honed the art of natural therapies by practicing plant remedies.
The garden's plants are used in certain spa treatments and rituals, and in tea services for guests before or after their treatments. Guests can relax in the outdoor Spa gardens surrounded by aromatic plants and two hydrotherapy pools, including a volcanic stone Jacuzzi and a Japanese-inspired cold pool. A burbling fountain – fashioned out of an antique sugar copper – and native, gingerbread-trimmed massage cottages honour the island's rich cultural history.
In the Spa garden, you will find medicinal plants such as lemongrass, basil, rosemary, sage, aloe and other seasonal herbs. As the garden's herbs are also used to make Bush teas, the concept is deeply connected to the mission of THÉMAÉ Paris products and treatments, which embrace the leaves of four teas as the foundation of their spa and skincare line.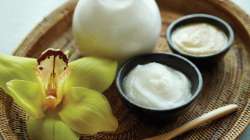 Caribbean Fusion Massage
Revitalise your mind with a full-body massage and drift away in the warmth of a mix of lemongrass and coconut milk combined with the gliding of warm basalt stones.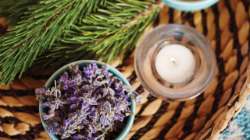 Four Seasons Nevis Naturally Massage
Enjoy a head-to-toe customised treatment, which utilises aromatherapy and specialty herbs from our Spa Herb Garden, to alleviate your body and mind and elevate you to a heightened sense of well-being.