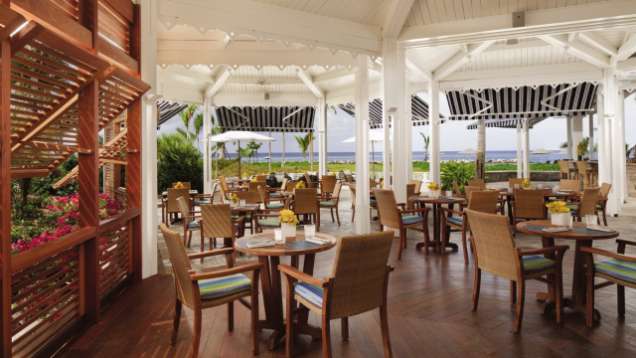 Cabana's location near the beach and between two pool areas makes it a popular daytime destination for sunbathers and swimmers. The restaurant includes a sit-down bar.
Specialties
Cabana offers a wide variety of culinary delights under the headings Share It, Toss It and Fire It, highlighting delicious appetizers to share, salads and wood-fired pizza along with a great selection of delicious burgers and sandwiches. A must on the lunch menu are the ahi tuna tacos served with wasabi mayo and sesame seeds. Cleanse your palate with our delicious selection of ice creams and sorbets after lunch.
Welcome to Nevis
For select dates in June, Cabana Restaurant will be featuring a "Welcome to Nevis" dinner special. If you are interested, please make a reservation with the Concierge.
View menu
Quick Reference
Location
Near the pools and the beach

Outdoor seating
130, plus 14 at the bar
Attire
Beach casual
hours
Lunch
12:00 noon – 4:30 pm
Sunset Drinks & Snacks
4:00 pm – 6:30 pm
Please note: Hours of operation may vary seasonally. Contact the Resort for further details.