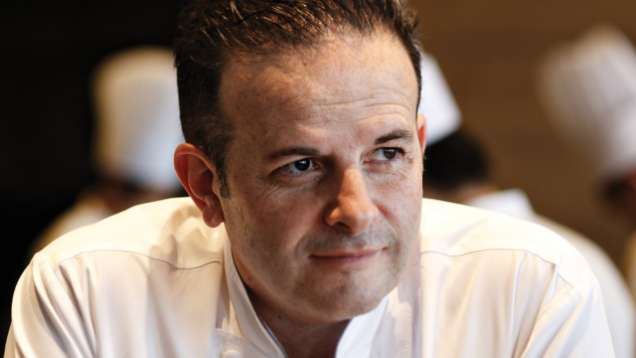 Four Seasons Tenure: Since 2013
First Four Seasons Assignment: Current
Employment History: La Chèvre d'Or, Eze, France; Dar Ennassim Fabrice Vulin and El Karmoussa Fabrice Vulin, Marrakech; Restaurant Hotel du Parc des Eaux-Vives, Geneva, Switzerland; Maison-Pic, Valence, France; Saint Clair le Traiteur, Paris
Birthplace: Briancon, France
Languages Spoken: French and Arabic
Beginning his appointment as Caprice Chef de Cuisine in December 2013, Fabrice Vulin - whose name is drived from the Latin faber, or craftsman - arrived in Hong Kong from the turquoise shores of the Côte d'Azur, bringing with him a distinct design on traditional French cuisine with a compelling Moroccan flare. He joined Four Seasons Hotel Hong Kong from his most recent station as executive chef at Le Château de la Chèvre d'Or in Eze, South of France.
Hailing from Briançon in the French Alps, Vulin grew up as the only brother to three girls and the son of a professional athlete, a family-ranking he today credits as the reason for his fierce competitive streak and constant strive for perfection - both of which have brought him to his stature in today's culinary world. Vulin's thirty-year career history is richly varied with stints in many restaurants, scattered throughout with frequent podium placements in gastronomic competitions and receiving culinary awards.
At the age of thirty, his first head chef role found him running the kitchens of Hemingway's favourite Parisian café, La Closerie des Lilas. Vulin continued in places of note across Paris until the millennium turned, when he moved to the famed three Michelin-starred Maison-Pic in Valence as head chef. After three years he moved closer to home in Geneva where he was appointed executive chef at Restaurant Hotel du Parc des Eaux-Vives, ultimately earning them two Michelin stars in his final year.
Finding himself eager to travel and be influenced by a city he loved, Vulin took up opening his own restaurant in Marrakech, Morocco, where he spent four years (2006 until 2010), establishing an independent French restaurant as well as a stand-alone Moroccan restaurant, both to much acclaim. When the position became available at La Chèvre d'Or "between sea and sky," Vulin felt the opportunity too good to pass up and so returned to France with his wife and three children, where his talent was recognized by elevating the restaurant to a two Michelin star status at the next announcement.
Eventually moving even further afield, to Hong Kong to join Four Seasons at the world-renowned Caprice, was not a difficult decision for Chef Fabrice Vulin: "The fortuity of this placement is for me, a remarkable one that will allow me to bring a new style to an audience who are both well established in the understanding and tastes of French cuisine but equally eager to learn and see more. I am excited, at the same time, to see where the fascinating diversity of Hong Kong takes the expression of my style."
One thing diners at Caprice will be certain of is that Fabrice Vulin lives up to his name of being a true craftsman.