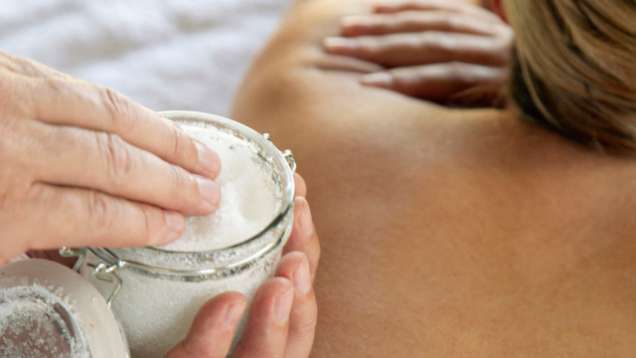 Ruby red grapefruit glow
Perfect after a flight or as a dewy-skin addition to any massage, this stimulating and uplifting treatment exfoliates and rejuvenates the skin with sea salt and red grapefruit essential oil.

Coconut cream pie body polish
Using pure cane sugar, coconut butter and vitamin E, this southern twist on our most popular scrub exfoliates, hydrates and soothes even the driest skin. Recommended for anyone who enjoys a gentler scrub.

Pecan body buffing
Anti-oxidant-packed crushed pecans are used to gently exfoliate and soften the skin. A warm rain Vichy shower and a deep forest oil massage complete this refreshing service.

Red River mud wrap
Perfect for detoxifying and revitalizing the body, this wrap uses red river mud to deliver mineral nutrients to the skin. A light massage completes this soothing, hydrating treatment.

Natural agave body glaze
Using soothing extracts of cactus, aloe vera and vitamin E, this massage and wrap combo hydrates, protects and soothes. Excellent relief for sunburned skin.

The toned ranger
This firming and contouring treatment assists in the breakdown and elimination of cellulite. Seaweed extracts and mineral-rich mud are applied and worked deep into the skin with a heated wrap. A powerful marine firming and contouring serum is applied to lift and tone the skin. Add our Skinny Bath prior to your treatment for a Toned Ranger boost.

Four Seasons ritual
Inspired by the seasons, this treatment has it all. Starting with a winter-mint scrub, sea minerals are used to exfoliate the skin before a spring rosemary and lavender soak helps you relax and de-stress. Next, our summer papaya oil custom massage melts away muscle tension, and our fall clove scalp treatment rounds off the luxurious experience.

Organic body softness
This delicious treatment starts with dry brushing and an oatmeal loofah exfoliation, followed by steamed towels and a warm cocoon wrap. Melted kari nut shea butter is then massaged into the skin for a hydrated, dewy finish. This combined massage and body treatment is great for all skin types.

baths
Soothing jets and steaming water enhance the effects of your treatment, either before or after your service.
Therapy bath
This customized bath is great for anyone who is travelling, tired, jet lagged or needing to feel renewed in a short amount of time. Choose one of the following:
Relaxation – French Lavender Blend
Rejuvenation – Rosemary
Winter relief – Eucalyptus

Old fashioned cowboy soak
Relax in true Texan style while enjoying a local Shiner Bock beer. This bath uses deep aromatherapy oils to relieve muscle aches and pains.

Hot toddy
Our most popular bath treatment immerses you in a warm, milky soak to soften the skin while melting away tension and soreness. This bath comes with a complimentary beverage of your choice.

Note: Prices and treatments are subject to change without notice.