Award-winning dining destination, One-Ninety Restaurant serves up ocean-fresh seafood and masterfully grilled meats. For an Oriental experience, indulge in a selection of classic Cantonese cuisine, including Chef Alan Chan's signature double-boiled soups and Cantonese roast at Jiang-Nan Chun. Wrap up your evening at One-Ninety Bar and Terraza with handcrafted libations such as our signature Singapore Sangria, complemented by an resort-style outdoor terraza.
One-Ninety Restaurant & Jiang-Nan Chun: Listed in Singapore's Tatler Best Restaurants 2016 and Wine & Dine Singapore's Top Restaurants 2016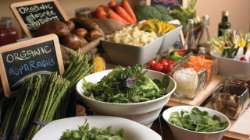 Events and Promotions
Find out more about our upcoming and ongoing events and promotions in
our restaurants and bar. Stay tuned to keep abreast with the latest
happenings.
Take-away Cakes
Satisfy your sweet tooth with exquisite cake creations by our talented
Pastry team. Handcrafted to perfection, these unique cakes are available for takeaway. Call our Gift Shop at Tel: (65) 6831 7242 to find out more.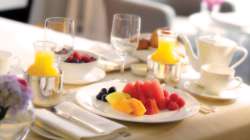 IN-ROOM DINING
For a fine-dining experience in Singapore within the comfort of your guest room or suite, select from an extensive menu featuring items from the Hotel's award-winning restaurants.
All prices quoted are subject to 10% service charge and applicable government taxes.