Senior Sous Chef Nicholas Owen introduces newly remodelled One-Ninety, Singapore's definitive fine dining destination for wood-fired steaks and seafood. In Jiang-Nan Chun, Chef Alan Chan and his team present a menu of classic Cantonese cuisine for the discerning palate. And at One-Ninety Bar and Terraza by Javier de las Muelas, relax with traditional afternoon tea and evening cocktails.
Taste by Four Seasons
Get inside tips and recipes straight from the culinary experts – and see what our own chef cooked up! – at Taste by Four Seasons.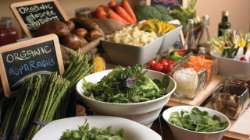 Events and Promotions
Take a look at upcoming events in all our restaurants and lounges, including the Weekend Oriental Brunch at Jiang-Nan Chun.

Take-away Cakes
Satisfy your sweet tooth with exquisite cake creations by our talented Pastry Chef Yoshihide Hamamoto. Handcrafted to perfection, these unique cakes are available for takeaway. Call our Gift Shop at Tel: (65) 6831 7242 to find out more.
All prices quoted are subject to 10% service charge and applicable government taxes.