Newly Renovated
Jiang-Nan Chun
The newly-revitalized Jiang-Nan Chun embodies the concept of "Xiang Le Zhu Yi" or "the principle of enjoyment and happiness," which implies that food has the ability to transcend the body's appetites to fulfill the aspirations of the mind and soul – making how and why you eat as important as what you eat.
Only the most exalted flavours would reach the tongue of one's guests, and premium ingredients and special preparation are used to seduce the palate. Experience the beauty of Jiang-Nan with its elegant interiors and furnishings that is evocative of the paradise-like region.
To make a reservation, please call (65) 6831 7220 or email us.
| | |
| --- | --- |
| Lunch (Daily) | 11:30 am — 2:30 pm |
| Dinner (Daily) | 6:00 pm — 10:30 pm |
Quick Reference
Location
Second floor
Attire
Smart casual
Indoor seating
78
Private dining rooms
4
Private dining room capacity
8 – 12 persons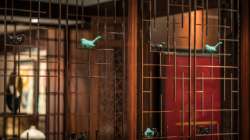 REFINED DÉCOR
Evocative of the verdant Jiang-Nan region, the restaurant's interior is inspired by the beautiful architecture of the river villages. Elements such as fishermen baskets, rich wool carpets, medical cupboards and bird figurines are placed throughout the restaurant to reminisce the paradise-like region of Jiang-Nan.
EXQUISITE CUISINE
Driven by the concept of "Xiang Le," which propounds that only the most exalted flavours should reach the tongue of one's guests, 'Xiang Le' dishes such as Signature Peking Duck, Superior Bird's Nest in Thick Chicken Broth and Braised Two Head South African Abalone are handcrafted to perfection.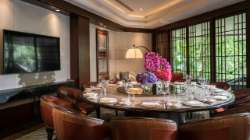 INTIMATE DINING
Named after well-known flora and fauna in China (known as "Four Gentlemen"), host your private dining experience at Spring Orchid 春兰, Summer Bamboo 夏竹, Autumn Chrysanthemum 秋菊 or Winter Plum Blossom 冬梅, some of which are fitted with 65-inch TV sets. Select from a plethora of set menus catered for the perfect business meal or private social gathering.
OPENING SPECIAL – 25% OFF PEKING DUCK
For a limited time period, enjoy 25 percent off our Signature Peking Duck at our newly renovated restaurant. Fired in a customised wood-fired oven, taste its succulent meat and aromatic crispy skin. Immerse in a 'Xiang Le' experience as our Chef personally carves the duck in front of you and for the final touch, caviar is served on the side, for an intimate blend with traditonal flavours of the duck. Advance reservation is required and mention "Peking Duck 25 percent" during reservations.
Only available for dine-in and valid until June 30, 2016. Not applicable on blackout dates, including public holidays and the eve before public holidays. Promotion cannot be used in conjunction with any other promotions, offers or privileges.
Other terms and conditions apply. Usual price SGD 98++.
June 18&19, 2016
Honour Dad with an oriental fine dining experience at the newly renovated Jiang-Nan Chun. Chinese Executive Chef Alan Chan and team has crafted an exquisite 6-course menu (SGD 148) available over two days for lunch and dinner. Savor classics such as Double-boiled Soup with Sea Whelk, Maka, Dried Scallops and Pork Ribs, as well as delectable new dishes such as Deep-fried Boston Lobster with Almond and Crispy Rice. Top the experience by ordering three glasses of wine curated by our wine experts, available only at SGD 65.

To make a reservation, please call (65) 6831 7220 or email us.
View Menu
May 23 – June 12, 2016
In celebration of Dragon Boat Festival, relish homemade glutinous rice dumplings specially prepared by Chinese Executive Chef Alan Chan and team. Savor classics and new flavors, one of which incorporating Jiang-Nan Chun's signature mesquite wood smoked duck. Ranging from SGD 12 to 26 per dumpling and crafted in limited quantities, place your orders early to taste Jiang-Nan Chun's homemade goodness.
To make a reservation, please call (65) 6831 7220 or email us.
View Menu
SPRING EXCLUSIVE – WHITE ASPARAGUS SET MENU
Welcome the dawn of spring by relishing freshly imported white asparagus at Jiang-Nan Chun. Creatively used in soups, mains and desserts, savour its fresh flavours in a curated five-course set menu (SGD 138) prepared by Executive Chef Alan Chan and team.
To make a reservation, please call (65) 6831 7220 or email us.
View Menu