Newly Renovated
Jiang-Nan Chun
The newly-revitalized Jiang-Nan Chun embodies the concept of "Xiang Le Zhu Yi" or "the principle of enjoyment and happiness," which implies that food has the ability to transcend the body's appetites to fulfill the aspirations of the mind and soul – making how and why you eat as important as what you eat.
Only the most exalted flavours would reach the tongue of one's guests, and premium ingredients and special preparation are used to seduce the palate. Experience the beauty of Jiang-Nan with its elegant interiors and furnishings that is evocative of the paradise-like region.
To make a reservation, please call (65) 6831 7220 or email us.
| | |
| --- | --- |
| Lunch (Daily) | 11:30 am — 2:30 pm |
| Dinner (Daily) | 6:00 pm — 10:30 pm |
Quick Reference
Location
Second floor
Attire
Smart casual
Indoor seating
78
Private dining rooms
4
Private dining room capacity
8 – 12 persons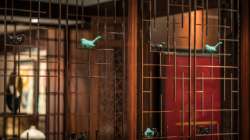 REFINED DÉCOR
Evocative of the verdant Jiang-Nan region, the restaurant's interior is inspired by the beautiful architecture of the river villages. Elements such as fishermen baskets, rich wool carpets, medical cupboards and bird figurines are placed throughout the restaurant to reminisce the paradise-like region of Jiang-Nan.
EXQUISITE CUISINE
Driven by the concept of "Xiang Le," which propounds that only the most exalted flavours should reach the tongue of one's guests, 'Xiang Le' dishes such as Signature Peking Duck, Superior Bird's Nest in Thick Chicken Broth and Braised Two Head South African Abalone are handcrafted to perfection.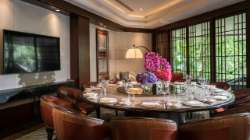 Private Dining Rooms
For a bespoke dining experience in an intimate space, dine in Jiang-Nan Chun's refurbished private dining rooms, complemented with personalized service and decadent menu selections.