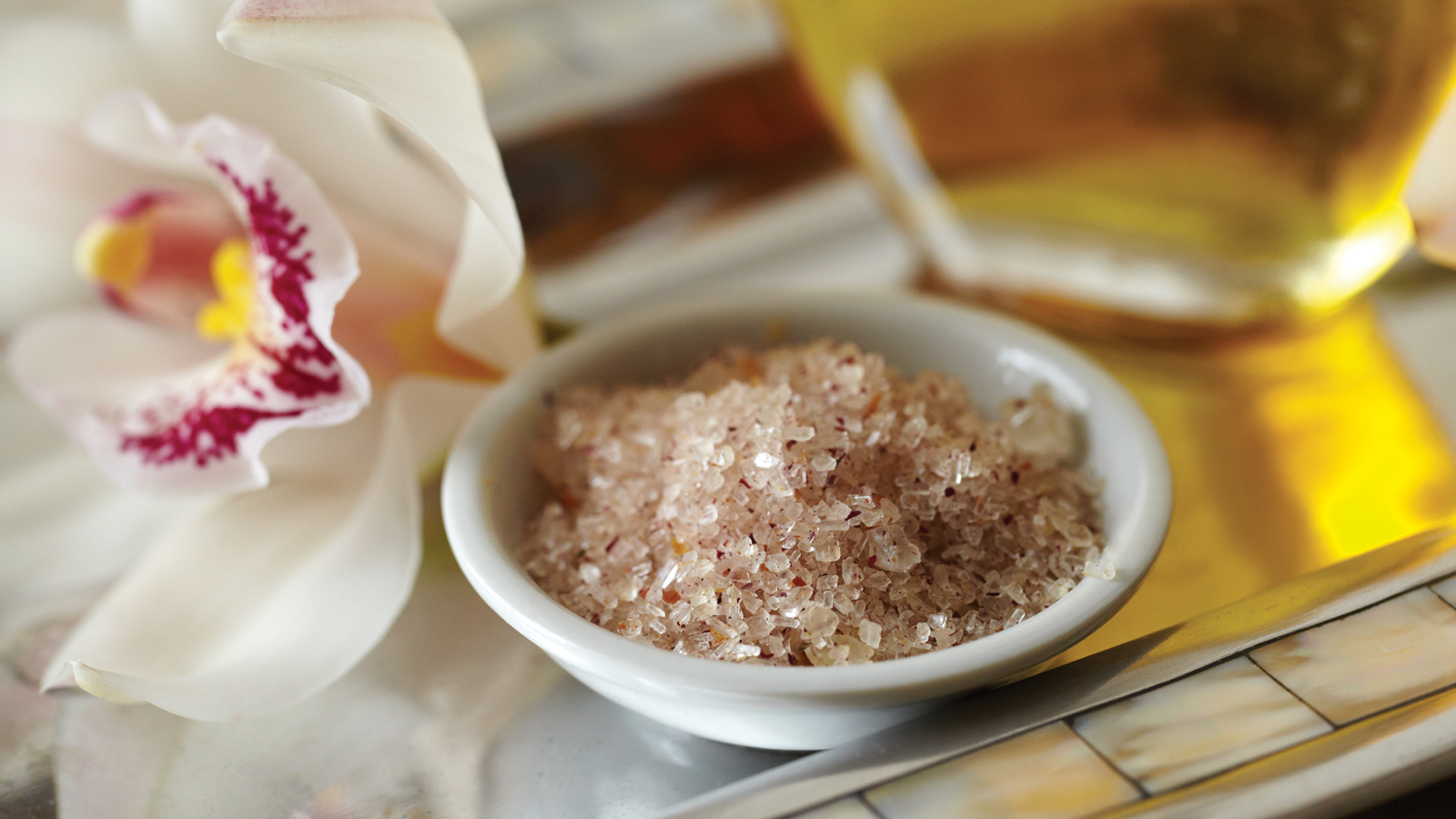 The Snowbird Ruby Red Grapefruit Scrub
Canadians are famous for flocking to the South when winter comes, giving them the affectionate name Snowbirds. Why wait for winter when you can experience the scents of Florida year round? This gentle foaming body scrub buffs away dry skin cells, leaving your body smooth, silky and radiant. The freshness of Ruby Red grapefruit essential oils combined with ground walnut shells produces a rich and luxurious lather for the perfect exfoliating treatment that nourishes the skin. It's absolutely delicious!
60 minutes – CAD 180
Natural Honey and Milk Gentle Scrub
While known for her skincare regimen, even Cleopatra would be jealous of this treatment! Rich emollient oils meet the warm, inviting aromas of honey in this deeply hydrating scrub. A blend of rice and lotus plants provides a unique body buff treatment, while the active oil complex leaves skin soothed, toned and rejuvenated.
60 minutes – CAD 180
Luxury Spray Tan Treatment
The ultimate skin glamification – experience 4-10 days of tan and instant perfection while your skin is hydrated with organic botanicals.
The Vita Liberata spray tan treatment is available in three shades and instant or gradual "Invisi" option. Suits all skin types and skin tones.
To achieve optimal results, please follow these guidelines:
Shower and exfoliate 24 hours before tanning with an oil-free
product.
Hair removal (shaving/waxing) should be done at least 24 hours
prior to tanning.
Avoid moisturizing for 24 hours prior to tanning as residue can
remain on the skin even after showering.
On the day of your tan, avoid wearing makeup, deodorant or
perfume, body oils or lotions.
Disposable underwear is provided or guests are invited to bring their own bathing suit/underwear that is not stainable.
15 minutes – CAD 95
Two is always better than one
Combine the benefits of a scrub and a wrap. The scrub helps remove dull, dead skin cells that naturally build up on the body. In turn, this allows for maximum absorption of the wrap's natural and essential nutrients. Create your own experience by selecting any scrub and body wrap.
120 minutes – CAD 345

To assist with the booking of the specific scrub and wrap, please call Spa Reservations directly at (416) 963-6006.
Treatment Enhancements
Add one or more of these enhancements to any of the treatments listed above. All are offered only as add-on options to full spa treatments.
Instant Anti-Puffy Eye & Wrinkle Treatment
Infused with hyaluronic acid, this gel mask with extreme decongestive properties instantly helps reduce signs of fatigue. Immediately hydrated, the eye contour area is fresh, visibly smoothed and more rested.
CAD 25
Eco-Paraffin
Enjoy a truly healthy and nourishing hand or foot treatment using eco-friendly paraffin. It is a rich blend of jojoba and coconut oils with shea butter, vitamin E and essential oils.
CAD 25
Scalp Massage with Moroccan Oil
Restore healthy, smooth and strikingly shiny hair. Moroccan oil revives over-processed hair damaged by environmental factors and chemical procedures. For maximum benefits, leave it in your hair after the treatment.
CAD 25