Whether it's baby's first vacation, or the kids' vacation time, we have plenty of activities to keep them occupied while you're staying with us.
Kids for All Seasons
A special program of activities in which the Resort transformed into a playground.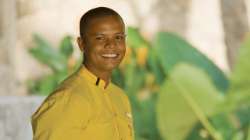 At Your Service
A multilingual Concierge brimming with unique ideas and activity suggestions, all of them fun and age-appropriate.
Complimentary for kids
A children's Kids For All Seasons t-shirt
Childrens' amenities placed bedside each night
Child-sized bathrobes
Babysitting services
With 24 hours' notice, we can arrange reliable babysitting services for your little ones. We will do anything possible to accommodate requests with shorter notice. Please note that an hourly fee applies. For more information, please contact the Concierge.