My Four Seasons
Dive and Dine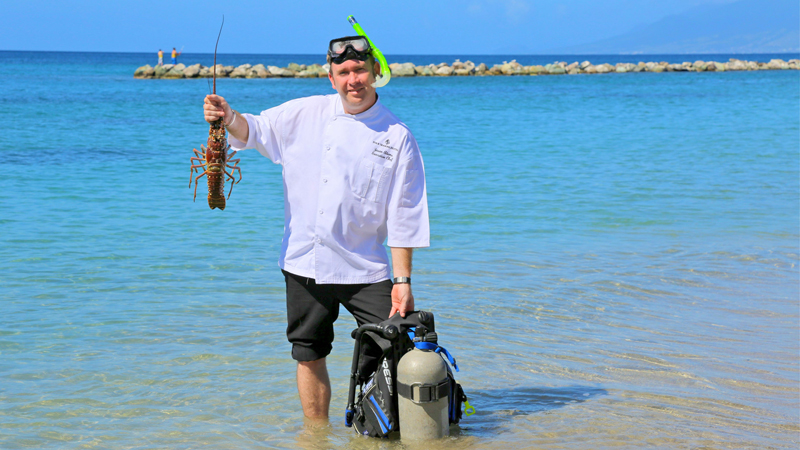 Most destinations have reputations for being outdoor adventure hotspots where you can indulge in everything from sailing and surfing to hiking and horseback riding. But Four Seasons Nevis, West Indies, takes an excursion to a whole new level under the sea with their
Dive and Dine program.


Here's how it works: Nevisian dive master Ellis Chadderton of Scuba Safaris and Four Seasons Nevis Executive Chef Jason Adams or Kai Autenrieth (both of whom are certified divers) take guests out in the morning to "secret" dive spots where they know there are lots of Caribbean spiny lobsters. Once guests are in the water, they attempt to catch their own lobster Nevisian style, like the locals do using a handmade lasso.
That's right - guests lasso their own lobsters. "It's such an adventurous experience," says Four Seasons employee Tara MacIntyre. "I've seen guests get really competitive as they face the challenge of foraging for their own food." And MacIntyre adds, "it's so popular, it was recently featured on the Travel Channel."

"

But the fun doesn't end with the thrill of the lobster chase. Guests get to bring their own prized "catch of the day" back to the Resort (only one per guest, and provided they are large enough and are not females with eggs) where chef Kai gives a lesson in grilling them.


"The beach barbeque is the grand finale to this perfect day in paradise," says MacIntyre. Chef Jason exchanges his wet suit for his chef whites and meets guests back on the beach. He invites the divers to take their turn at the grill, where he teaches them how to make a glaze sauce using locally grown ingredients that are in season. Local flavours to enhance the fresh lobster range from mango to passionfruit and papaya. There is also coconut sorbet on hand to cleanse the palate between courses.


Now that is what you call a truly unforgettable culinary experience.


Other Four Seasons Stories