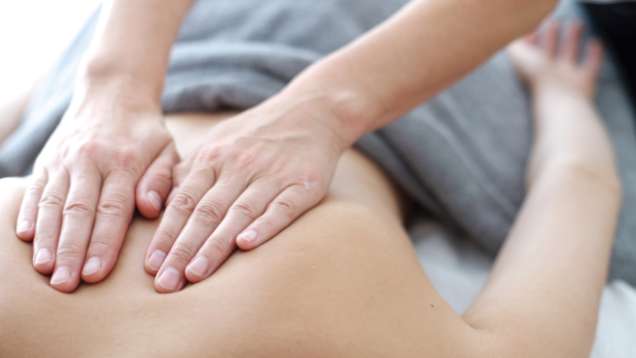 Kundalini Back Massage
Kundalini, the female goddess of awareness believed to take the form of a coiled snake, is the dormant energy in the base of the spine. When awakened, this dormant energy travels up the spine to the third eye, increasing energy and spiritual enlightenment. The Kundalini back massage uses a blend of neroli, cardamom, jasmine and patchouli essential oils, combined with ancient massage techniques, chakra healing and Himalayan salt and herb poultices, deeply soothing, relaxing and balancing the whole of the body's nervous system.

Manipura Vital Energy Massage
Manipura, meaning beautiful jewel in Sanskrit, refers to the solar plexus (navel) chakra, the centre of the body's fire and sun energy that ignites health and restores vitality. This treatment begins with a Himalayan Salt Scrub to purify, detoxify and stimulate the lymphatic system and cleanse the energy body to help release toxins and free one from fatigue. A vital body massage follows to reconnect the positive flow of energy, restoring balance and leaving the mind, body and spirit full of renewed energy.

Ku Nye Massage
This Tibetan massage uses a blend of five essential oils to balance and purify each of the body's five elements, restoring a harmonious flow of energy and vitality. Hot Himalayan salt poultices infused with marigold and lavender soothe and energise the body's meridian energy channels, with specific attention being paid to the back, chest and legs.

Chakra Crystal Four Hands
A synchronised massage – two therapists work in harmony using alternating massage strokes. This holistic experience is enhanced with warm crystals that deeply relax and balance the chakras.
Swedish aroma
A massage designed to relax muscles and increase blood circulation through long strokes, pressure and friction. A choice of our exclusive signature aromatherapy massage oils based on the elements – earth, water, fire, air and space – help to reduce stress and tension.
60 Minutes – THB 4,600
90 Minutes – THB 5,700
120 Minutes – THB 6,800
Chi nei tsang
This ancient Chinese technique focuses on internal organ chi transformation. A powerful internal organ massage performed on the abdomen aids digestion, detoxification, internal cleansing and the release of vital energy.
Detox vital
Designed to detoxify the body, this invigorating massage targets problem areas using a special warming balm made of chilli, orange and grapefruit.
Deep therapeutic
Focusing on problem areas, this deep-pressure massage promotes the recovery of injured and strained muscles while increasing flexibility and range of limb motion. These targeted techniques are ideal after a vigorous exercise session or for guests who are frequent massage recipients.
60 Minutes – THB 4,600
90 Minutes – THB 5,700
120 Minutes – THB 6,800
Feet exclusive
This foot massage uses strokes and pressure points to release blockages in the body and restore natural energy.
Samui Back and Shoulder
This massage, focused on the back and shoulders, uses medium to strong pressure to relieve tension in tight areas.
Note: Prices and treatments are subject to change without notice. Prices are subject to 10% service charge and 7% government tax.