For generations, Thais have planted special herbal gardens: hidden havens of wellness inspired by trusted family remedies. The Secret Garden Spa draws on the wisdom of these ancient traditions. Sheltered from the bustle of busy cities and hectic schedules, it's a sanctuary of purity devoted to healing body and being. Welcome to nature's nurturing embrace.
Stop. Breathe. Relax.
Here at The Secret Garden Spa, we combine the tranquility of our surroundings with the pure natural goodness of plants and herbs grown right here at the resort.
Hydrating, nourishing coconut features prominently, while many treatments include poultices made from our own unique blend of herbs: a 'secret' mix of lemongrass, turmeric, tamarind, ginger and more that helps relieve pains, stimulate blood circulation and nourish the skin.
Hours
| | |
| --- | --- |
| Spa treatments | 9:00 am – 9:00 pm |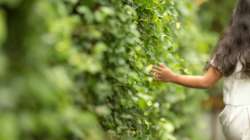 Kids' Secret Spa Garden
Our fun treatments for little ones use all-natural products that are kind to young skin.