Chinese Wellness Ritual
An exquisite Asian therapy that takes place on a heated marble table within the steam room.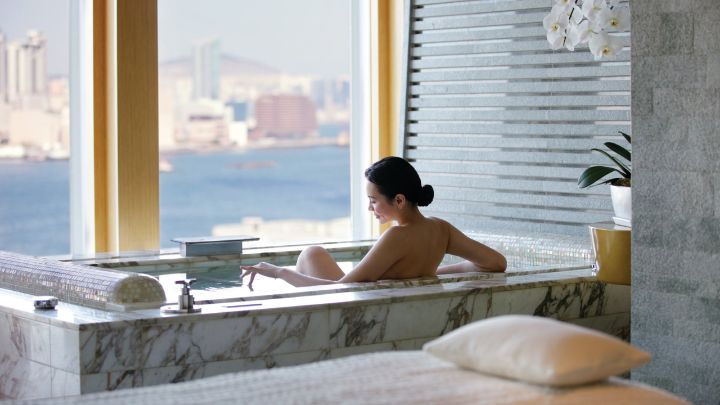 Pamper yourself or someone special with a day of indulgent spa treatments at the Spa at Four Seasons Hotel Hong Kong. Our spa packages are carefully designed and delivered, providing the ultimate in elegant escapism. Customized packages can be designed for special occasions or groups, adding even more enjoyment to memorable events.
DOUBLE SERENITY
Perfect for couples, friends, and mothers and daughters to experience together, this decadent experience begins with a mood-setting bubble bath and a glass of champagne. Relaxed and cleansed, choose your full-body scrub – gentle oatmeal, detoxifying salt, brightening pearl or exotic marine – then enjoy our signature Four Seasons Fusion Massage. This deeply comforting and skin-softening journey will leave you feeling soothed and serene.

Weekday: HKD 4,900
Weekend: HKD 5,400
Chinese Wellness Ritual
An exquisite Asian therapy that takes place on a heated marble table within the steam room, this treatment begins with a warming scrub using cinnamon, honey and rice to prepare your body. Warm rice milk is then poured along your spine and over your shoulders before an indulgently warm poultice, dipped in a creamy honey mixture, is smoothed over your skin, opening the meridian channels. This rich cocoon is washed off under a steamy monsoon rain shower, and your treatment ends with a reviving full-body massage. This treatment can also be performed dry on one of our spa beds.
Weekday: HKD 3,600
Weekend: HKD 3,888
COMPLETE ORGANIC CLEANSE
Designed to help increase energy levels while ridding your body of the effects of external pollution and internal toxins, this treatment starts in a private steam room on a heated marble table, where you'll receive a full-body polish using an organic salt and eucalyptus scrub. The mixture dissolves away before a heating mask of vitamin-rich fucus seaweed clay is painted onto your body. As the ingredients nourish your skin, your therapist delivers a refreshing facial cleanse and mask. The heated portion of this treatment ends with a monsoon rain shower. Finally, relax on our luxurious spa bed during a soothing full-body massage and uplifting head massage.
Weekday: HKD 3,000
Weekend: HKD 3,400
Contouring detox experience
A deeply effective firming treatment, this detoxifying journey is ideal for those suffering from the excesses of the good life, water retention and frequent flying. An energizing salt scrub boosts your circulation, then an application of specially prepared spirulina and green clay, performed in the steam room, detoxifies and re-energizes the body. Your skilled therapist then applies a snug wrap of bandages and our Bodyslim thermal blanket to generate warmth and stimulate water release. To expel any remaining toxins from your newly toned body, a relaxing massage provides the finishing touch.
Weekday: HKD 2,600
Weekend: HKD 2,900
Botanical Cure
A natural solution for the fast paced urbanite, this holistic ritual begins with wrapping you in an infusion of organic healing herbs while being cocooned in a heat blanket to sweat for 15 minutes. Your body is then scrubbed with a re-mineralising organic honey and sea salt mixture to lift dirt and toxins. Standing in the treatment room's private steam shower, the remaining herbs and infused warm water are then poured over your body in a spiritual bath. Left in the steam and without washing off the herbal cleanse, you will enjoy lomi lomi nui massage facing down on the treatment bed. This intensely powerful form of massage requires intense training and can only be performed by expert therapists who have not only the technical skills but a deep sense of spiritual care and well-being.
Weekday: HKD 4,000
Weekend: HKD 4,300
Note: Prices and treatments are subject to change without notice. Prices are subject to a 10% service charge and vary from weekday to weekend.