Indulgent beauty and spa journeys to bring total relaxation for all, including the little ones.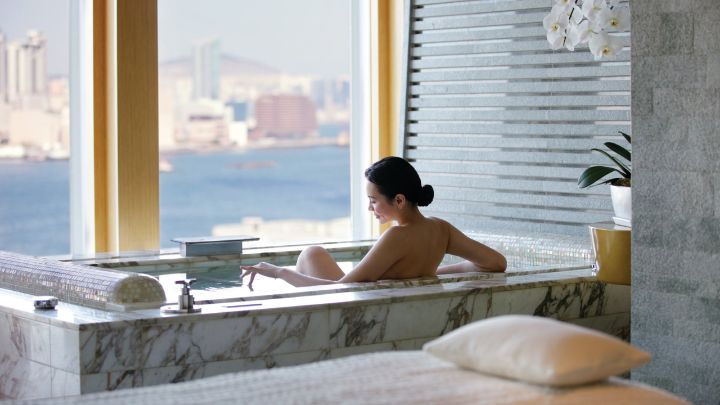 Pamper yourself or someone special with a day of indulgent spa treatments at the Spa at Four Seasons Hotel Hong Kong. Our spa packages are carefully designed and delivered, providing the ultimate in elegant escapism. Customized packages can be designed for special occasions or groups, adding even more enjoyment to memorable events.
DOUBLE SERENITY
Perfect for couples, friends, and mothers and daughters to experience together, this decadent experience begins with a mood-setting bubble bath and a glass of champagne. Relaxed and cleansed, choose your full-body scrub then enjoy our signature Four Seasons Fusion Massage. This deeply comforting and skin-softening journey will leave you feeling soothed and serene.

Monday – Thursday: HKD 5,700
Friday – Sunday: HKD 6,200
Chinese Wellness Ritual
An exquisite Asian therapy that takes place on a heated marble table within the steam room, this treatment begins with a warming scrub using cinnamon, honey and rice to prepare your body. Warm rice milk is then poured along your spine and over your shoulders before an indulgently warm poultice, dipped in a creamy honey mixture, is smoothed over your skin, opening the meridian channels. This rich cocoon is washed off under a steamy monsoon rain shower, and your treatment ends with a reviving full-body massage. This treatment can also be performed dry on one of our spa beds.
Monday – Thursday: HKD 3,800
Friday – Sunday: HKD 4,100
COMPLETE ORGANIC CLEANSE
Designed to help increase energy levels while ridding your body of the effects of external pollution and internal toxins, this treatment starts in a private steam room on a heated marble table, where you'll receive a full-body polish using an organic salt and eucalyptus scrub. The mixture dissolves away before a heating mask of vitamin-rich fucus seaweed clay is painted onto your body. As the ingredients nourish your skin, your therapist delivers a refreshing facial cleanse and mask. The heated portion of this treatment ends with a monsoon rain shower. Finally, relax on our luxurious spa bed during a soothing full-body massage and uplifting head massage.
Monday – Thursday: HKD 3,800
Friday – Sunday: HKD 4,100
Contouring detox experience
A deeply effective firming treatment, this detoxifying journey is ideal for those suffering from the excesses of the good life, water retention and frequent flying. An energizing salt scrub boosts your circulation, then an application of specially prepared spirulina, coffee and green clay, performed in the steam room, detoxifies and re-energizes the body. Your skilled therapist then applies a snug wrap of bandages and our Bodyslim thermal blanket to generate warmth and stimulate water release. To expel any remaining toxins from your newly toned body, a lymphatic massage provides the finishing touch.
Monday – Thursday: HKD 3,000
Friday – Sunday: HKD 3,300
Botanical Cure
A natural solution for the fast paced urbanite, this holistic ritual begins with wrapping you in an infusion of organic healing herbs while being cocooned in a heat blanket to sweat for 15 minutes. Your body is then scrubbed with a re-mineralising organic honey and sea salt mixture to lift dirt and toxins. Standing in the treatment room's private steam shower, the remaining herbs and infused warm water are then poured over your body in a spiritual bath. Left in the steam and without washing off the herbal cleanse, you will enjoy lomi lomi nui massage facing down on the treatment bed. This intensely powerful form of massage requires intense training and can only be performed by expert therapists who have not only the technical skills but a deep sense of spiritual care and well-being.
Monday – Thursday: HKD 4,000
Friday – Sunday: HKD 4,300
Mothers Love
At a time when you are the most precious, Mother's Love pre and post–natal treatments are developed to reward your body physically and strengethen your mind emotionally. Using only natural, organic oils, these treatments are entirely safe and developed by our Senior Spa Director during her own pregnancy. They are executed by our most caring therapists who have a strong spirtual touch and sense of motherhood. Choose from either Pre–natal or Post–natal.
Monday – Thursday: HKD 2,500
Friday – Sunday: HKD 2,800
Pre–Natal – Lying on a uniquely designed pregnancy massage mattress, you will be able to lie on your front, with full protection to your growing belly. A scrub of salt and honey begins the treatment, to boost circulation and wake the skin, ready to absorb the healing properties of aloe in the proceeding wrap. Followed by a full body, 90–minute massage, this nurturing treatment will alleviate general fatigue, reduce swelling, soothe an acting back and leave you feeling cherished and renewed. The treatment is for those already in or past the second trimester.
Post–Natal – Targeting your problem areas, as well as remind you of the importance of your own body at a time when your thoughts are all about your newborn, the post–natal Mother's Love is a combination of a body mask with bandages, a herbal wrap and a full–body massage. Using ginger, turmeric, cloves, rosemary and cinnamon, it will assist with your slimming, toning and detoxification of cells, while restoring your Qi energy, soothing your nerves and relaxing aches and strains. You deserve to be adored!
Oriental Head Massage and Rhassoul
This unique therapy begins with a traditional head massage with a warm hair mask that is applied to open the meridians and relieve tension and stress across the head, neck and face. While your head is wrapped in soft linens you then journey to the Rhassoul. Here you are painted from head to toe in a signature rose, Baltic and marine mud. For 20 minutes you are seated to experience dry heat, which turns into hot steam and ends with a warm rain shower. This treatment is ideal for anyone suffering from emotional exhaustion, sinus and hay fever issues and will leave you with a sense of open mindedness and relief.
Monday – Thursday: HKD 1,900
Friday – Sunday: HKD 2,100
*We regret that the rhassoul portion of this treatment is only available for our female guests.
Be Present Day of Beauty
This half-day experience brings busy people far from work and family obligations and into a full state of mindfulness. The process of opening chakras and releasing toxins begins with a full body scrub utilising aromatic ginger, cinnamon, clove and salt. A lymphatic massage and the application of a warm herbal poultice work to release tension, purify, and tone the body. A traditional Ayurvedic treatment deepens the state of relaxation as a steady stream of warm oil is poured in the centre of the forehead opening the third eye. The pampering continues in the Nail Bar with an Expresso Manicure and Pedicure. Finally, guests complete the journey to the present over a healthful al fresco lunch at the Pool Terrace watching the boats on Victoria Harbour drift gently by.
Touch of Gold and Silk
Start with a full body exfoliation using a fragrant Four Seasons salt and lotus oil scrub, followed by a shower. Next relax into the Four Seasons signature back, neck and shoulder massage, using Carol Joy's sublime Touch of Silk skin cream.
The facial that follows is a symphony of Carol Joy products that cleanse, tone, polish, mask, boost and protect, including the signature Myo Col Lifting® technique of Pure Collagen Mask applied with a Myofascial massage to sculpt and lift. You will glow, literally, from head to toe by the end of this fountain of youth treatment.
Monday to Thursday – 150 minutes – HKD 3,990
Friday to Sunday – 150 minutes – HKD 4,450
Note: Prices and treatments are subject to change without notice. Prices are subject to a 10% service charge and vary from weekday to weekend. Friday to Sunday prices will be applied on public holidays.