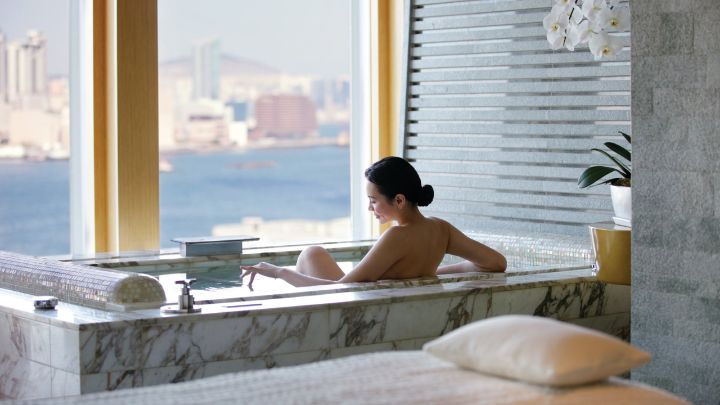 Pamper yourself or someone special with a day of indulgent spa treatments at the Spa at Four Seasons Hotel Hong Kong. Our spa packages are carefully designed and delivered, providing the ultimate in elegant escapism. Customized packages can be designed for special occasions or groups, adding even more enjoyment to memorable events.
Be Present Day of Beauty
This half-day experience brings busy people far from work and family obligations and into a full state of mindfulness. The process of opening chakras and releasing toxins begins with a full body scrub utilising aromatic ginger, cinnamon, clove and salt. A lymphatic massage and the application of a warm herbal poultice work to release tension, purify, and tone the body. A traditional Ayurvedic treatment deepens the state of relaxation as a steady stream of warm oil is poured in the centre of the forehead opening the third eye. The pampering continues in the Nail Bar with an Expresso Manicure and Pedicure. Finally, guests complete the journey to the present over a healthful al fresco lunch at the Pool Terrace watching the boats on Victoria Harbour drift gently by.
Monday – Thursday: 180 minutes - HKD 4,520
Friday – Sunday: 180 minutes HKD 5,080
Chi Mineral Therapy
Stress can deplete essential minerals that are vital for maintaining health. This therapy employs elemental ingredients to improve blood circulation, ease joint pain and decrease inflammation. Remineralizing begins with an herb-infused foot ritual. The treatment continues in a private steam room on a marble table with an herbal body wrap scented with ginger, cinnamon and clove to stimulate Chi energy. A thick layer of Dead Sea mud is massaged into the body before wrapping in a final layer of spice scented cloth. The mud is rinsed away in a monsoon rain shower. Any remaining tension will slip away as the treatment concludes with a full-body Deep Tissue Massage using mineral rich signature oils.
Monday – Thursday: 120 minutes - HKD 4,000
Friday – Sunday: 120 minutes - HKD 4,500
DOUBLE SERENITY
Perfect for couples, friends, and mothers and daughters to experience together, this decadent experience begins with a mood-setting bubble bath and a glass of champagne. Relaxed and cleansed, choose your full-body scrub then enjoy our Four Seasons Jade Stone Therapy. This deeply comforting and skin-softening journey will leave you feeling soothed and serene.
Monday – Thursday: 150 minutes - HKD 6,150
Friday – Sunday: 150 minutes - HKD 6,820
Chinese Wellness Ritual
An exquisite Asian therapy that takes place on a heated marble table within the steam room, this treatment begins with a warming scrub using cinnamon, honey and rice to prepare your body. Warm rice milk is then poured along your spine and over your shoulders before an indulgently warm poultice, dipped in a creamy honey mixture, is smoothed over your skin, opening the meridian channels. This rich cocoon is washed off under a steamy monsoon rain shower, and your treatment ends with a reviving full-body massage. This treatment can also be performed dry on one of our spa beds.
Monday – Thursday: 150 minutes - HKD 3,990
Friday – Sunday: 150 minutes - HKD 4,430
Botanical Cure
A natural solution for the fast paced urbanite, this holistic ritual begins with wrapping you in an infusion of organic healing herbs while being cocooned in a heat blanket to sweat for 15 minutes. Your body is then scrubbed with a re-mineralising organic honey and sea salt mixture to lift dirt and toxins. Standing in the treatment room's private steam shower, the remaining herbs and infused warm water are then poured over your body in a spiritual bath. Left in the steam and without washing off the herbal cleanse, you will enjoy lomi lomi nui massage facing down on the treatment bed. This intensely powerful form of massage requires intense training and can only be performed by expert therapists who have not only the technical skills but a deep sense of spiritual care and well-being.
Monday – Thursday: 180 minutes - HKD 4,200
Friday – Sunday: 180 minutes - HKD 4,650
COMPLETE ORGANIC CLEANSE
Designed to help increase energy levels while ridding your body of the effects of external pollution and internal toxins, this treatment starts in a private steam room on a heated marble table, where you'll receive a full-body polish using an organic salt and eucalyptus scrub. The mixture dissolves away before a heating mask of vitamin-rich fucus seaweed clay is painted onto your body. As the ingredients nourish your skin, your therapist delivers a refreshing facial cleanse and mask. The heated portion of this treatment ends with a monsoon rain shower. Finally, relax on our luxurious spa bed during a soothing full-body massage and uplifting head massage.
Monday – Thursday: 150 minutes - HKD 3,990
Friday – Sunday: 150 minutes - HKD 4,430
Mothers Love
At a time when you are the most precious, Mother's Love pre and post–natal treatments are developed to reward your body physically and strengethen your mind emotionally. Using only natural, organic oils, these treatments are entirely safe and developed by our Senior Spa Director during her own pregnancy. They are executed by our most caring therapists who have a strong spirtual touch and sense of motherhood. Choose from either Pre–natal or Post–natal.
Monday – Thursday: 120 minutes - HKD 2,630
Friday – Sunday: 120 minutes - HKD 3,030
Jet Lag Solution
Say goodbye to sluggish mornings with this two part jet lag solution. Awaken in the morning with a mint and Tahitian sand scrub and an invigorating massage. Come back in the evening to relax with the soothing strokes of a tension-melting massage performed with a rich chamomile cream and then slip into slumber in the embrace of a heated body wrap.
Monday - Thursday: 180 minutes – HKD 4,200
Friday - Sunday: 180 minutes – HKD 4,650
Immune Defense
This 90-minute face and body treatment uses propolis, a polyphenol-rich sap produced by bees and known for its anti-inflammatory and antibacterial properties. It is ideal for those with compromised immune systems or sensitive skin.
Monday - Thursday: 90 minutes – HKD 2,630
Friday - Sunday: 90 minutes – HKD 3,030
Reiki Crystal Healing
The power of energy transfers and sound therapy come together in this subtle energy treatment. Working with crystals, reiki and singing bowls, our expert therapist harnesses universal energy, transferring it to the guest for deeper levels of healing. For those seeking spiritual release and emotional ease as well as physical relaxation, this therapy will open chakras and restore the spirit for complete peace of body and mind.
Monday – Thursday: 120 minutes - HKD 2,630
Friday – Sunday: 120 minutes - HKD 3,030
Note: Prices and treatments are subject to change without notice. Prices are subject to a 10% service charge. Friday to Sunday prices will be applied on public holidays.