At Four Seasons Resort Koh Samui, experience a gourmet paradise, where abundant varieties of fish and exotic herbs are coupled with Thailand's sophisticated culinary traditions.
Eat Local
Four Seasons Koh Samui relies on local waters and gardens for the freshest fish and produce.
The Beach House
Pop-Up Dining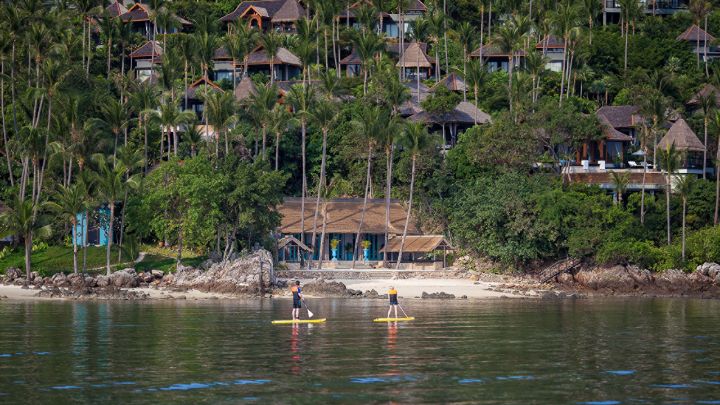 Spend a casual evening at The Beach House, which becomes the backdrop for our nightly Pop-Up Dinners just steps from the edge of the ocean. With an open-aired deck shaded by a thatched roof, tables are set in the sand surrounded by beach bonfires and tiki torches. Our Pop-Ups alternate each evening, with featured pop-ups including the Burger Shack, the Seafood Barbecue, and seasonal pop-up themes depending on where the mood takes us. All pop-up dishes will be cooked on-site, right on the private beach.
Burger Shack
(Mondays and Thursdays at The Beach House)
A touch of Route 66 right on the beach offers a unique experience for guests to indulge in a wide selection of grilled burgers. Australian Wagyu Beef, Tiger Prawn, and Spicy Jalapeno Burgers are only a few of the menu prepared American-style and served with chunky homemade fries. An ideal place to hang out for the rest of the evening, this dining experience is available on Mondays and Thursday.
Seafood Barbecue
(Tuesdays and Fridays at The Beach House)
Seafood is best served seaside. Indulge in the freshest barracuda, seabass, or prawns served with a classic Mediterranean-style seafood soup and a seabass ceviche prepared a la minute. A perfect evening with the freshest catch, this dining experience is available on Tuesdays and Fridays.