Beating to the pulse of China's cultural heart, Four Seasons Hotel Beijing showcases a landmark residence from which to connect to the prestige and vitality of this compelling capital city.
May we help you plan your stay with us?
About
Four Seasons Hotel Beijing
Local Time:
•
Local Temperature:
18°C / 64°F
Four Seasons Hotel Beijing, 48 Liang Ma Qiao Road, 100125 Chaoyang District, Beijing, China
Tel.

+86 (10) 5695 8888

Fax.

+86 (10) 5695 8889
Exuding all the warmth and flair of its surroundings, the Hotel in Beijing is a welcoming enclave that instills a sense of pride and belonging. Its location within the Liangma area of the Central Business District, close to the Third Embassy Precinct in northeastern Chaoyang, places the Hotel in the city's most dynamic business and entertainment area. Two signature restaurants, a spa and the city's finest event venue unite like-minded sophisticates from Beijing and beyond, attracted by an ease of service and comfort that is uniquely Four Seasons.

LEARN MORE ABOUT OUR ACCOMMODATIONS
reviews at a glance
from

See all reviews
reviews at a glance
from

See all reviews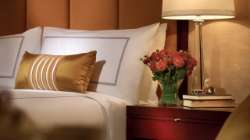 BED & BREAKFAST
Spend a night in the comfort and gracious ambience of Four Seasons Hotel Beijing and the next morning enjoy a delicious breakfast for two.
24-hour fitness facilities
Indoor swimming pool
Nearby golf
Dedicated function space
In-Room and Poolside massages
Spa Suites
Babysitting services
Children's amenities
24-hour Executive Club
24-hour business services
Family activities
Home to some 22 million residents, 6 UNESCO-accredited sites, over 100 museums, world-famous entertainment, high-end shopping, robust business and finance sectors, and vast markets, Beijing is nothing if not impressive.

Read More
Further Reading
Discover Old Beijing
Exploring Beijing's hutungs offer a glimpse into a side of the city not often seen by visitors.

Concierge Recommends: Beijing
From its famed palaces and temples to the timeless hutong neighbourhoods and contemporary sky towers Beijing is one of Asia's most compelling capital cities.

The 798 Art District
The open and industrial space of Beijing's 798 Art Zone makes it an eclectic setting for art galleries, design firms and cafés.

A Fresh Take: Beijing's Best Bowls

See The Story

Find Tranquility in Beijing

Enjoy hidden gardens, peaceful parks and intimate dining experiences

See The Story

Beijing's Craft Beer Scene

Microbreweries and brewpubs in Beijing

See The Story
From 1 June 2015, tobacco smoking in the hotel is prohibited by the law, which includes all guestrooms, restaurants and public areas within Hotel premises.