Restaurants
Butcher & Still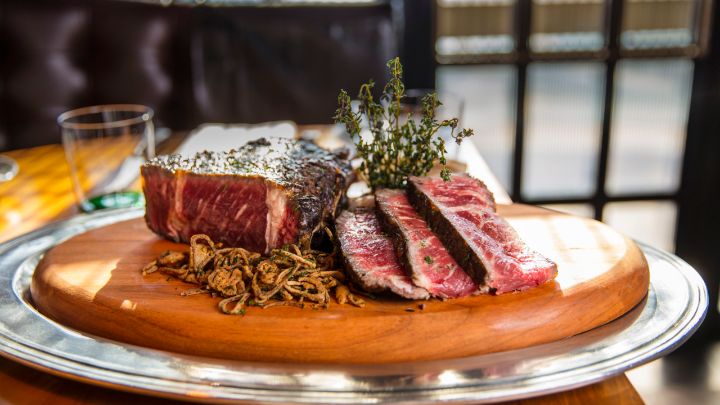 Butcher & Still transforms the steak restaurant experience with its rustic, retro design inspired by a 1920s Chicago steakhouse. Enjoys views of the city's waterfront as you dine on prime-cut steaks, flown in from specially selected farms in the United States. Pair your steak with an array of side dishes, exclusive sauces and homemade bread. Then wash it all down with an inventive cocktail – the restaurant boasts an antique "Tanqueray No. 10 Imperial Martini Shaker," one of five in the world and the only one to reside in the Middle East.
Butcher & Still is not only known for its supreme steak experience, but also for the unique atmosphere it provides. Rich wooden floors, leather banquets and bathroom tile work accented by bullet casings all echo the era of Al Capone. The restaurant also houses "secret" features, like a retractable wall that opens to an outdoor patio. And a private elevator takes guests down two levels into an ultra-private dining room.
Hours
Dinner
Daily

6:00 pm – 12:00 am
Bar & Lounge
Daily

4:00 pm – 2:00 am
Ramadan
A roaring three-course Iftar menu at Butcher & Still
This Ramadan, Butcher & Still invites guests to a sizzling Iftar experience. Indulge in a special three course Iftar from Abu Dhabi's roaring steakhouse, including an appetizing choice of starters, succulent cuts and decadent desserts.
Prices start from AED 250 per person, inclusive of water and a delicious assortment of dates and dried fruit favourites.
To make a reservation, please call +971 02 333 2444
Quick Reference
Cuisine
Steaks and sides
Location
Lobby level
Seats
136 indoor / 98 outdoor
Attire
Smart casual
Reservations
Recommended