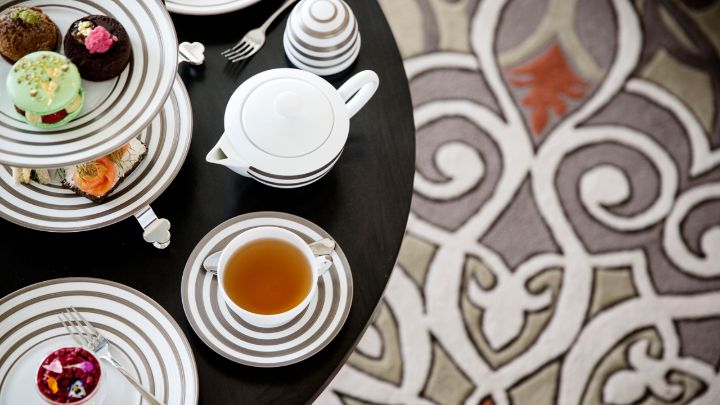 Sophisticated yet unpretentious, this is the "living room of Abu Dhabi," where comfortable sofas and armchairs will make you feel as though you're lounging at home, in a modern majlis setting. Enjoy the sunset through the wall of windows or outdoor terrace as you dine on tea, coffee and Middle Eastern cuisine with innovative twists.
Hours
| | |
| --- | --- |
| Daily service | 9:00 am – 1:00 am |
Afternoon Tea
Exuding warmth and sophistication, our lobby lounge is a must-do spot for enjoying Afternoon Tea in Abu Dhabi while listening to live music. Enjoy our traditional Afternoon Tea menu or discover our special Arabic afternoon tea, featuring delicious local specialties, a selection of freshly made sandwiches, warm scones and delightful choices of cakes and pastries.
Ramadan
Intimate Iftar and Suhoor gatherings in Al Meylas, the "Living Room of Abu Dhabi"
Iftar
True to its name, Al Meylas gathers families and friends in a relaxed Middle Eastern elegance to savour a refined four course Arabic Iftar experience with a mouth-watering selection of authentic delights.
Prices start from AED 175 per person, inclusive of water and a delicious assortment of dates and dried fruit favourites.
Suhoor
Guests are welcomed to the "Living Room of Abu Dhabi" to enjoy evening Suhoor treats as they gaze out at the glowing city lights and play card games as well as chess and backgammon.
Prices start from AED 175 per person, inclusive of water.
Quick Reference
Cuisine
Coffee, pastries, small plates and Afternoon Tea
Location
Lobby level
Seats
84 indoor / 20 outdoor
Attire
Smart casual