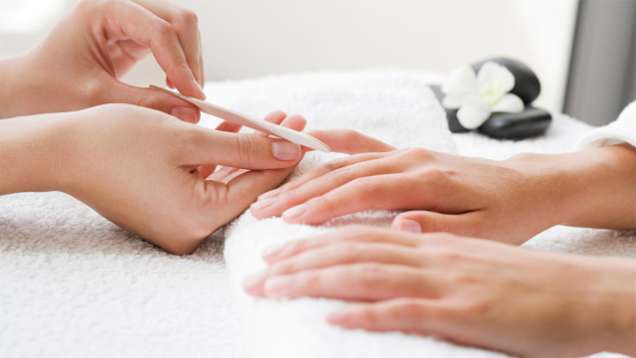 Online spa booking
Book your spa journey or other spa service online. Reserve now for your preferred treatment time.

PREPARE FOR YOUR WEDDING
Our make-up artists and hairstylists are at your disposal for a trial session, helping you find the perfect style for the most special occasion of your life. Then on your actual wedding day, you will be pampered by the same artists, recreating the look you have chosen. Your manicure and pedicure may be completed the night prior or on the same day. For your bridesmaids a special offer is available.

This bridal package includes:
Trial hairstyling
Bridal hairstyle/long or short hair
Make-up/light or sophisticated
Express manicure
Express pedicure
799 EUR
EUR 799
Call 33 (0) 1 49 52 72 10
jet lag recovery
After long travels, this balancing treatment for the face and body promises to boost energy, while reducing jet lag and fatigue. First you experience an invigorating body brushing that stimulates circulation. Sodashi's purifying mask is then applied to your body to relieve sluggishness and congestion. This ritual concludes with a facial that is rich in marine extracts to awaken and rejuvenate your complexion.

110 Minutes - 360 EUR
110 Minutes
EUR 360
Call 33 (0) 1 49 52 72 10
All about chocolate
This deliciously decadent package is a chocolate lover's fantasy. Begin with an energising chocolate body scrub, followed by a deeply nourishing body wrap using a smooth chocolate blend. To finish, experience a relaxing massage featuring warm cocoa shea butter before tasting a delicious choice of chocolates from our patisserie.

2½ Hours - 410 EUR
2½

Hours

EUR 410

Call 33 (0) 1 49 52 72 10
It's a man's world
The perfect preparation for any man who needs to feel his best. Be completely pampered by a Swedish massage, then enjoy a cleansing facial to help you look rested and glowing. This special spa experience ends with either a warm manicure or pedicure.

3 Hours - 450 EUR
3

Hours

EUR 450

Call 33 (0) 1 49 52 72 10
24-carat gold
This luxurious beauty package highlights gold in many
different forms. Aside from providing a glowing and healthy
appearance, gold offers unique anti-aging effects. This golden session consists of a relaxing facial, followed by a body, scalp and face massage, and ends with a moisturising hair treatment and blow-dry.

110 Minutes - 510 EUR
110 Minutes
EUR 510
Call 33 (0) 1 49 52 72 10
Romance forever
This fantasy package makes the perfect wedding gift for both the bride and groom. Invite the couple to relax together in the romantic privacy of the Royale Spa Suite, including a whirlpool, sauna and steam room. Here, they will each be pampered with a relaxing massage, and a facial before enjoying one hour private use of the Suite. This unforgettably romance experience is also perfect for anniversaries or any other special celebration.

3 Hours - 860 EUR
3

Hours

EUR 860

Call 33 (0) 1 49 52 72 10
Vision of beauty
This full-day treatment starts the experience with a body exfoliation, followed by a relaxing massage and a complete body wax. After your body is fully pampered, it's time for a facial, combined with a manicure and pedicure. Then complete the transformation with a haircut, blow-dry and make-up application. Lunch is included and is served in the serenity of our Spa Lounge.

7 Hours - 999 EUR
7

Hours

EUR 999

Call 33 (0) 1 49 52 72 10
First beauty session
The smartest first step to beauty for our youngest guests. Through a lesson with one of our make-up artists, learn which make-up products best flatter your skin and how to apply them for maximum advantage. After the makeover session, one of our beauticians will show you how to give yourself the perfect manicure and nail polish application.

90 Minutes - 249 EUR
90 Minutes
EUR 249
Call 33 (0) 1 49 52 72 10
Note: Prices and treatments are subject to change without notice. Treatments are available after 9:00 pm for an addition 50%, after 11:00 pm for an additional 100% and in-room for an additional EUR 40.00.