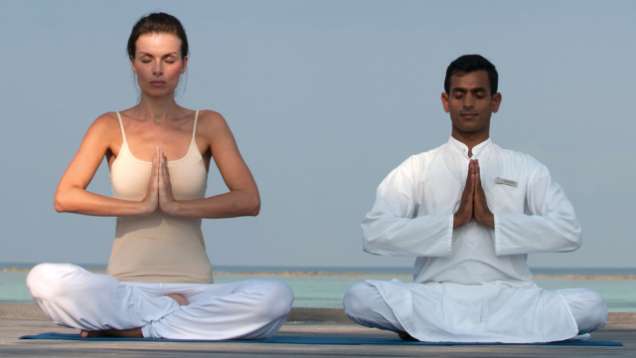 Yoga is a holistic, ancient science that unites and exercises the body, mind and spirit. Our yogi offers complimentary group classes every morning and evening, as well as private, individual sessions that are tailored to suit personal preferences and ability. Please contact the Spa to discuss the best program to suit your needs.
Private sessions: 60 to 90 minutes – USD 100.00 to USD 375.00

Asanas
Although yoga is best used as preventive medicine, it can also offer relief from conditions including back pain, scoliosis and arthritis. This beginner to intermediate session teaches yogic exercises, breathing and meditation techniques for both therapeutic purposes and to help promote a healthy body-mind balance.
60 - 90 Minutes
Call (960) 66 44 888
Couple's
Couple's yoga is a form of hatha yoga in which partners support one another in modified sequences of postures. This private yoga workshop explores restorative and challenging poses designed specifically for couples with a mix of Thai yoga massage. It helps both individuals to move beyond self-limiting ideas of what each can and cannot do and to develop a deeper connection to one another.
60 Minutes
Call (960) 66 44 888
Pregnancy
During pregnancy, gentle yoga asanas (postures) can play an important role in keeping the body supple and active. This carefully crafted session teaches the powerful ways in which yoga can help ensure a smooth pregnancy, natural childbirth and rapid return to a pre-pregnancy body shape.
60 Minutes
Call (960) 66 44 888
Pranayama
Pranayama refers to the eight different breathing techniques with mudras (energy-influencing poses or gestures), which help to improve and balance the flow of Prana (vital life force) and relax the Mana (conscious mind) and Chitta (sub-conscious mind).
60 Minutes
Call (960) 66 44 888
Meditation
Meditation refers to the state in which the body is soothed and relaxed while the mind is made calm and composed. Since ancient times, meditation has been used to restore harmony and heal the mind, allowing it to release stress and fatigue. Meditation helps to remove the subtle mental barrier within ourselves, enabling us to better understand our personality, thought processes and surroundings.
60 Minutes
Call (960) 66 44 888
Group classes
Rise with the dawn and join our yogi for a series of asanas (postures) to stretch for flexibility, strength and balance, or join the evening Meditations and Pranayama. These daily complimentary group sessions are ideal for anyone wanting to learn about yoga, continue with their regular practice or improve their flexibility.
60 Minutes
Call (960) 66 44 888
Please note: Prices and treatments are subject to change without notice. Prices will be subject to 23.2% combined taxes and services charges.