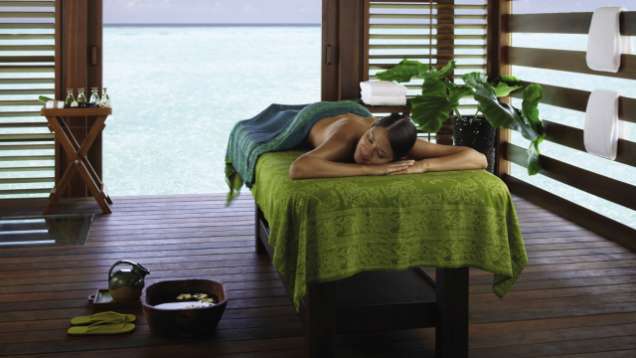 Sink into intuitive and healing massages that draw on ancient traditions and techniques to reinvigorate strength and vitality. All massages are available as 60-, 90- or 120-minute sessions.
Maldivian Hathareh
This is the ultimate massage experience, with two skilled therapists working in perfect tandem for a healing and sensorial indulgence.
Herbal oil
This gentle, restorative massage uses warm herbal oil for deep relaxation.
Traditional Balinese
This relaxing massage combines long kneading strokes, thumb circling and skin rolling with Sodashi's serenity oil – an indulgent blend of vetiver, mandarin, petigrain and cardamom plant essences.
Deep tissue
In this intense therapeutic treatment, your therapist uses highly targeted deep-pressure techniques to relieve muscular tension, drain toxins and aid the recovery of strained muscles after sports activities.
Traditional Thai
Stretch and stimulate pressure points along the body's energy meridians with a traditional Thai massage. The treatment also boosts energy flow, improves flexibility and eases tension.
Lava shell
Submit to the healing warmth of natural Indian Ocean seashells, heated with a blend of dried kelp and rich algae minerals. Feel tension melt away as the shells are used in conjunction with a traditional Swedish massage focused on long, repetitive strokes.

Kuda Huraa
Combined with the healing benefits of virgin coconut oil, our unique blend of specialized massage techniques from all over Asia – including Thai pressure point, Filipino hilot and Malaysian urut – is ideal for soothing aches and pains.

Please note: Prices and treatments are subject to change without notice. Prices will be subject to 23.2% combined taxes and services charges.