SPA
Kuda Spa for Kids and Teens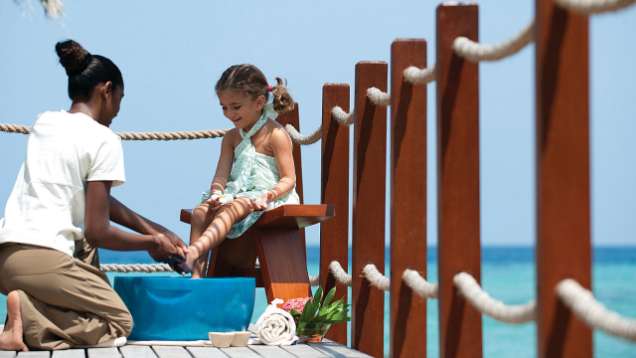 Welcome to Kuda Spa, where island-inspired treatments have been designed specifically for young bodies and minds.

As any grown-up will tell you, spa treatments make you feel great. But did you know they can also help your body and mind run at their best? Here at the Island Spa we've squeezed nature's magic into a series of treatments just for you: discover mud that cleans, miracle shells, and flowers and fruits that will leave you smiling from the inside out. And with our special interactive sessions, you'll learn that your health really is in your hands.

Dream massage with oil-blending session
From eucalyptus to lavender, essential oils come from fruit, flowers, bark, wood, roots and leaves. Create your own personal blend of essential oils, then drift into dreamland as we massage you from top to toe.
Magic shell massage with activation session
Discover the natural wonder of lava shells! Watch in awe as the self-heating marine mixture warms up, then kick back as the tiger-striped clam shells work their magic on your muscles.
Mummy and me
Share some special island-time in your own over-water pavilion with the application of nail varnish on your fingers and toes as well as a hair treatment.

Sole mate
Treat your feet with this divine honeysuckle and pink grapefruit soak, pink grapefruit moisturizer and glamorous polish. Toe-tally gorgeous!
Go nuts coconuts
Discover why islanders call the coconut palm the "tree of life." From the scrub and the oil to the hair cream and drink, everything in this healing ritual comes from coconuts!
Fabulous fingers
Warm compresses, a gentle vanilla exfoliation, lemon-scented massage cream and a mini manicure – it's simply fabulous. We'll even add glitter and nail art for maximum beach chic.
My Family Time
A fun and insightful bonding experience for parents and children. Learn yoga and massage techniques, prepare your own nut and chocolate scrub and share an indulgent vanilla and strawberry bath.
Please note: Prices and treatments are subject to change without notice. Prices will be subject to 23.2% combined taxes and services charges.