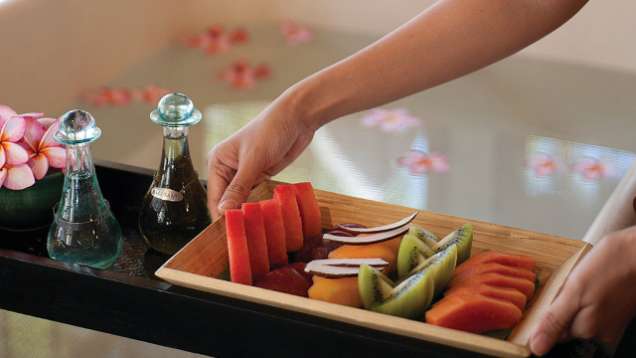 Sink into the restorative bliss of an aromatherapy bath, prepared by your very own Bath Butler in the comfort of your guest room, and discover the synergistic benefits of warm water and pure essential oils. Whether enjoyed as a leisurely morning or afternoon soak or a romantic after-dinner indulgence, bath rituals are available to prolong your spa experience at any prearranged time between 10:00 am and 10:00 pm. Soak in solitude, enjoy as a couple or add to any treatment on the menu for an enhanced spa experience.
Sea Lavender Salt Bath
A soothing, relaxing bath infused with deeply moisturising gigartina flakes, fragrant coastal sea lavender and mineralising sea salts.
Gigartina Beauty Bath
A beauty-boosting bath that hydrates, softens and tones skin. With the purple-hued powder of organic gigartina to restore radiance and undaria to stimulate collagen production.
Super Green Marine Bath
Cleansing and anti-ageing – this therapeutic super soak uses undaria algae and Maldivian sea grass to reduce water retention, hydrate skin, improve circulation, and firm and hydrate at the deepest level.
Tropical aqua garden
Sink into the scents of the tropics and reconnect with your inner power in your very own aqua hortus (water garden). Accompanied by a fresh coconut drink, a fruit platter and a ylang-ylang-scented face towel, this vibrant soak sets the mood for tropical romance.
Biorhythm recharge
Improve circulation and combat jet lag with this earthy and balancing bath. With ZEAL massage oil and a mint herbal poultice for a self-shoulder rub, this bath is ideal after a massage, or on alternate days to keep skin youthful. The ritual includes fresh multivitamin juice and sparkling water.
Sodashi purifying mud
Offering the deep-cleansing properties of French green clay, this warm, detoxifying bath draws out impurities while refreshing and healing the skin. Apply the face mask and cucumber eye pads, then sink back with the accompanying cucumber and celery virgin mojito for complete invigoration.
Love
Designed to balance the heart chakra, this sensual, candle-lit ritual evokes a deep sense of comfort, inviting you to indulge all of your senses. Warm rose-scented face towels, flower-scented loofahs, rose massage oil, champagne and chocolate-dipped strawberries round out this truly romantic experience, perfect for two.
Cleopatra's secret
Discover Cleopatra's secret to eternally youthful skin with this healing combination of milk and natural extracts. Soften dry and rough skin from head to toe with a pumpkin pulp and egg-white face mask, a honey and brown-sugar exfoliating scrub and an olive-oil hair mask, then sink into deep relaxation with a frankincense-scented face towel. During your soak, enjoy a selection of Egyptian delights and fresh carrot juice.
Dynamic detox cleanse
This refreshing, deep-cleansing bath features rose to open the pores, seaweed and arnica to cleanse and mint and rosemary to heal aches and strains. Excellent after a day of intense physical activity and to restore clarity to body and mind, this revitalizing soak is complemented by herbal loofah soap, a peppermint-scented face towel, a ginger root Lomi Lomi drink and vegetable crudités.
Please note: Prices and treatments are subject to change without notice. Prices will be subject to 23.2% combined taxes and services charges.