My Four Seasons
Portuguese Art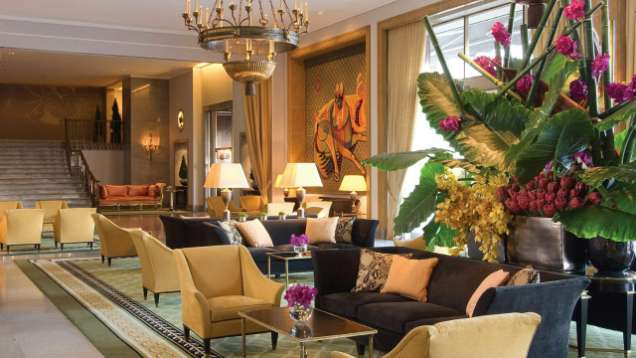 Part of a city's wealth are its galleries and museums, but we believe art should be lived with every day as well. Here in the Hotel's public and private spaces, discover an eclectic mix of tapestries, sculptures and paintings, specially commissioned from national artists and carefully curated to celebrate national values and the independence of the Portuguese spirit. At Four Seasons Hotel Ritz Lisbon, we are proud to hold the largest private collection of contemporary Portuguese art in the city.
Almada Negreiros Lounge, for instance, named for the famed Portuguese artist, displays three handmade Centauros tapestries that feature bold lines and bright colours. Another Negreiros work, an oversized gold-and-graffiti engraved marble wall called "Harvest," can be seen in the Lobby Gallery. Tapestry artist Pedro Leitao created several hangings especially for the Hotel, including "The Bar," commissioned for the Ritz Bar. (The Ritz Bar is also home to his piano, autographed by celebrated artists.)
The decorative arts are also in evidence in select guest suites—the Foundation One-Bedroom Suite, for example, offers delicate frescos painted in the 18th-century Pillement style, and incredible replicas of Queen Mary II furniture, crafted by artisans and craftspeople from the renowned Foundation Ricardo do Espírito Santo.
Tapestries, sculptures and paintings throughout the Lobby are now joined by the colourful glazed ceramic piece "The 7 hills" ( of Lisbon) by Estrela Faria. This work dates back to 1956.
Whether you're fascinated by delicate handiwork, exhilarated by vibrant modern art or simply moved by the city's blend of colour, architecture and light, you're sure to find inspiration right within our walls.
More Four Seasons Stories