Las Vegas is a city that's larger than life, with dazzling architecture and sparkling lights that showcase world-class gaming, dining and entertainment. Most hotels are major tourist attractions in their own right – you can visit an Egyptian sphinx, relax at the beach, or ride a roller coaster around the Manhattan skyline, all in a single afternoon.
Shark Reef at Mandalay Bay
Get up close and personal with the ocean's most dangerous predators and rarest creatures – from sharks to sawfish, endangered green sea turtles to the rare golden crocodile – in 1.6 million gallons of water.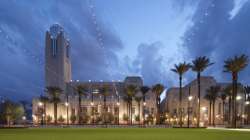 Smith Center
Located in historic downtown Las Vegas, the Smith Center is a performing arts venue that features performances by local arts groups, first-run touring attractions and Broadway productions. Resident companies include the Las Vegas Philharmonic and Nevada Ballet Theatre. For additional information or ticketing assistance, contact the Concierge at (702) 632-5300.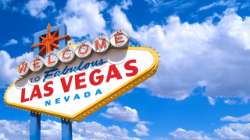 The Strip
Stroll along the famous Las Vegas Boulevard, also known as the strip, and experience some of the world's most famous landmarks and exotic destinations. A photo in front of the iconic Welcome to Las Vegas sign is a must!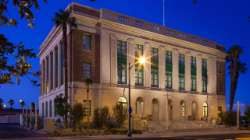 Mob Museum
The Mob Museum is an interactive Museum dedicated to the history of organized crime and law enforcement. The museum presents a bold and authentic view of organized crime's impact on Las Vegas history, as well as its unique imprint on America and the world.
Gambling
Las Vegas is the gambling capital of the world, with the majority of the world's largest casinos all centred on the Las Vegas strip. Want to try your luck? Options include poker, craps, blackjack, baccarat, roulette, slot machines and much more. Las Vegas is also home to the popular World Series of Poker.
Nascar
NASCAR Weekend is held at the Las Vegas Motor Speedway each March. Highlights include the Hauler Parade, in which large trucks carrying gear for the event make their way down the world-famous Las Vegas strip, and the Neon Garage, an on-site area that provides unprecedented access to NASCAR drivers and teams.
Downtown Arts District
Located in historic downtown Las Vegas, the Arts District features a diverse mix of art galleries, quirky shops, bars and restaurants. The district is conveniently located just a short walk or bus ride from Fremont Street.
Ultimate Fighting Championship (UFC)
Las Vegas is home to the Ultimate Fighting Championship (UFC), with an ongoing schedule of top bouts in the city throughout the year. Many UFC fights are filmed for live television. Guests can also enjoy fan expos and other exciting interactive events with the assistance of our Concierge.
Live Music & Events
Visitors to Las Vegas can enjoy live music events ranging from large-scale arena tours to intimate concerts, limited engagements and resident shows. The Mandalay Bay Events Center, located within Mandalay Bay, welcomes arena concerts and events while other venues within the Mandalay Bay complex feature a roster of world-class DJs, visiting artists as part of the Mandalay Beach Concert Series and resident performances such as Carlos Santana.
National Atomic Testing Museum
In the desert north of Las Vegas, experience what it felt like to observe a nuclear test in Ground Zero Theater and learn the history of the Nevada Test Site at the National Atomic Testing Museum, an affiliate of the Smithsonian Institution.