SPA
Nourishment Treatments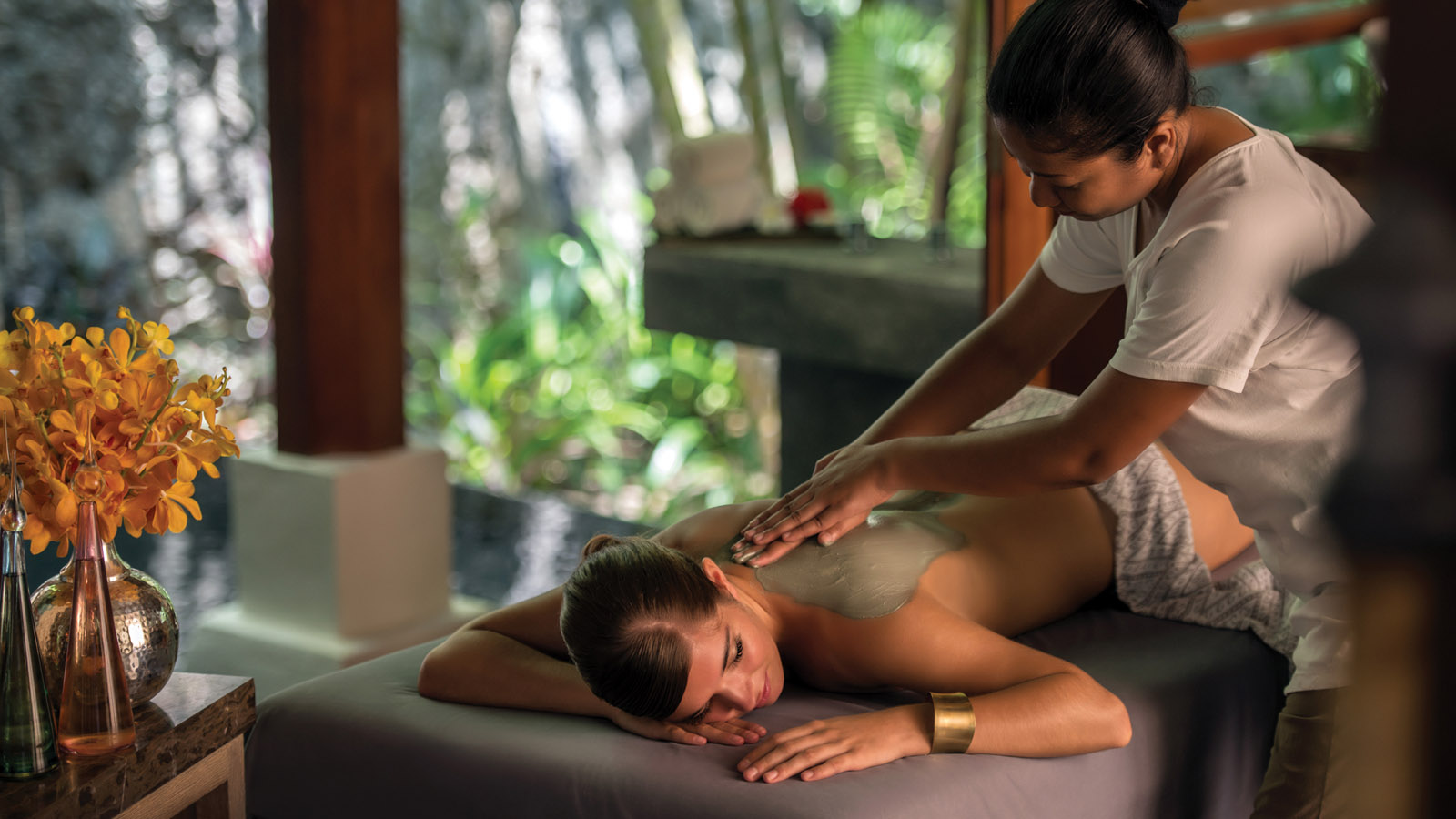 When our inner earth element is lacking, we feel unsure, insecure and disconnected. We may struggle to sleep, leading to exhaustion and irritability.
The Nourishment treatments at the Spa at Four Seasons Resort Langkawi combine the hidden energies of the earth's crystals, rocks and mud with techniques that target the nervous system. Together they calm, nurture and ground the body and mind, distributing nourishing energy where it is needed most.
Urut Melayu
Long, rhythmic strokes, kneading and the use of grounding oils epitomise the urut technique, used by Malays for generations to relieve tension, release endorphins and lull stressed bodies and minds into peaceful slumber. During the 90-minute session, our signature massage also incorporates indigenous buah pelaga, kayu manis and bunga chengkih poultices to promote deep relaxation.
Ananda Face Therapy
Meaning "divine bliss" in Sanskrit, this delicate yet nourishing treatment uses purest ayer mawar, an essential oil that is deeply regenerative for both body and mind. Gentle connection with specific energy points removes tension and toxins, opening the energy centres of the face and working with the body's blissful higher energy to restore inner harmony and glowing skin.
Earthlight Ritual
Nurturing and grounding, this ritual begins with a "salt of the earth" scrub featuring halia, cedarwood, akar wangi, kayu manis and bunga raya. Next, a Tibetan massage using warmed jade, aventurine, jasper, snowflake obsidian and rose quartz crystals, along with Langkawi black marble, delivers sensuous warmth and healing. Earthy akar wangi oil induces a sense of stillness and understanding, anchoring and calming body and mind.
Kundalini Back Treatment with Gem Poultices
This gently nurturing treatment activates the kundalini, the dormant energy at the base of the spine, to realign the body's rhythm and restore a balanced state. A nourishing mix of tourmaline, jade, pearl, sapphire, amethyst and garnet gem poultices help remove blockages and strengthen the body's energy fields. This treatment is ideal for emotionally exhausted souls and profoundly restorative for both the sympathetic and parasympathetic nervous systems.
Geo Crystal Foot Reflex
This deeply grounding foot treatment combines specialist zone therapy techniques with a therapeutic salt scrub, acupressure, nourishing mud mask, and ila's unique Rainforest Renew serum. Relaxing and invigorating, it relieves stress and tension, improves circulation and helps distribute nurturing energy throughout the body's systems.
Bunga Melur & Pearl Body Renewal
Fatigue and energy depletion are common 21st-century ailments, exacerbated by computers, smartphones, TVs and air travel. The pearl and bunga melur in this heavenly full-body scrub invoke stillness and harmony. Combined with pure Himalayan salt crystals, their trace elements brighten skin tone and texture while restoring energy, mental clarity, well-being and strength.
Amethyst Gel Wrap
The amethyst wrap draws deep toxins from the cells and astral body. It revitalizes and purifies the skin, lymphatic system and bioenergy field and can promote profound emotional and energetic healing. This treatment also incorporates a Bunga Melur & Pearl Body Renewal, mini crystal face massage and a beautiful oil composed of kenanga, halia, rose geranium and manoi (Tahitian gardenia).
Mimpi Indah
This soporific treatment draws on essential oils, marma massage and chakra healing to deeply relax the nervous system and restore the natural rhythm of sleep. Based on the knowledge that cellular growth and repair is faster during sleep, the treatment combines rejuvenating local herbs of akar wangi, bunga melur and nilam with slow, rhythmic body and face work to induce a dream-like state.
Keluarga Family Ritual
A beautiful bonding experience for parents and children, this nurturing, unifying ritual for up to four family members incorporates a blissful salt scrub, mud wrap, family bathing (cleansing bath salts), crystal massage and special celebration of togetherness. Indigenous local herbs of serai, akar wangi and halia help ground and unify.
NOURISHMENT ENHANCER
Bioenergy Scalp Therapy with Bliss Salt Scrub
Suitable as an enhancer for all Nourishment treatments, this 45-minute scalp therapy helps release negative ions, cleansing the aura and thoughts while treating the hair with bioenergy mud and essential oils.
In-room Bathing Experiences
Soak in the tranquillity of your guest room or suite with Mimpi Manis Dream Time Bath Salts with bamboo leaf followed by Dream Time Oil.
Resort Activities to support Nourishment treatments
Asian cooking class
Mangrove safari cave excursion
Hatha yoga
Private yoga sessions
Note: Prices and treatments are subject to change without notice. Prices are quoted in Malyasian ringgits and are subject to a 10% service charge.