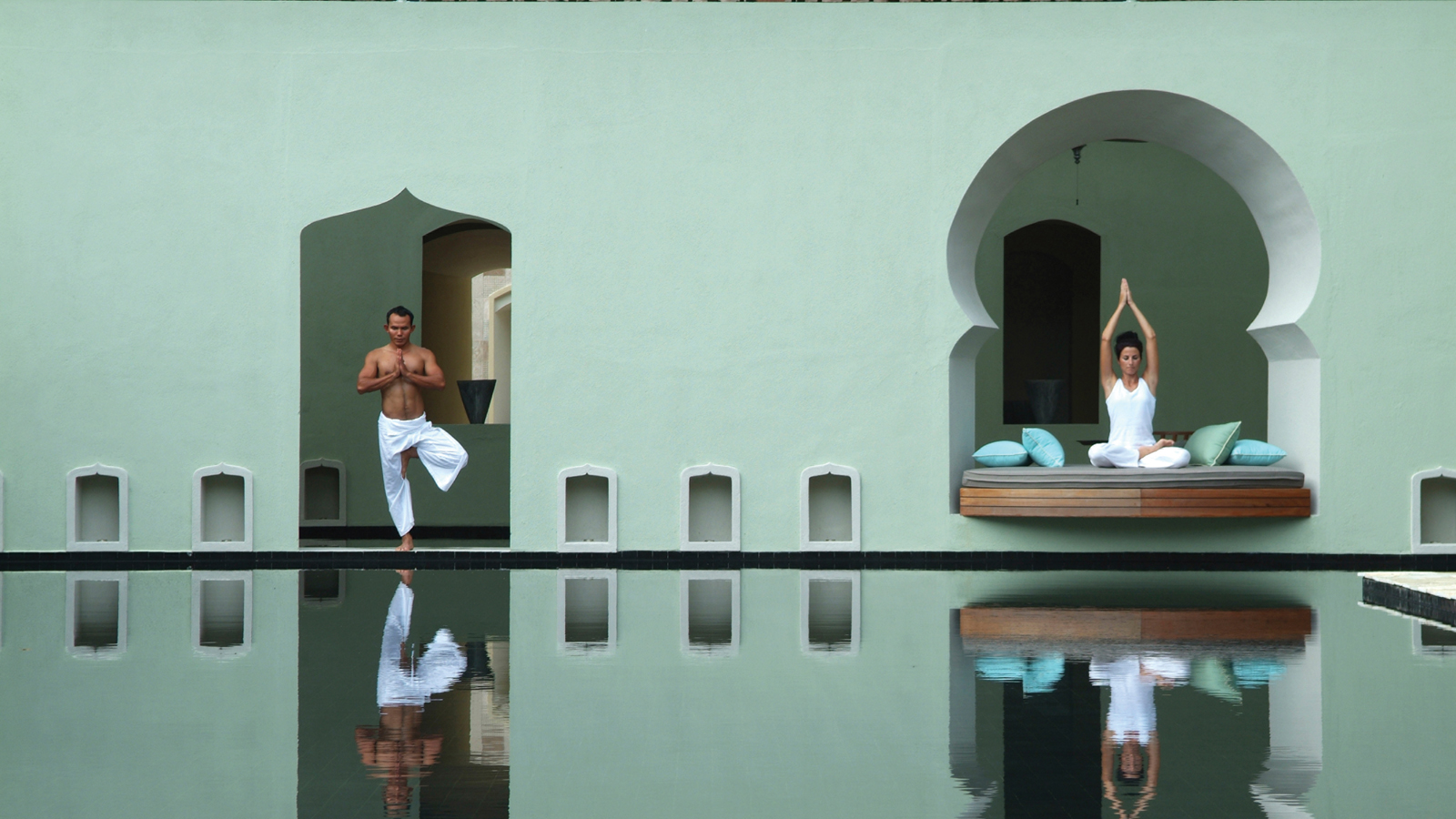 Yoga is a practical system of self culture with an exact science and aims at the balancing and harmonious development of the body, mind and emotions. By doing the practices of yoga, one starts to attain an increased energy, immunity, vitality, long life and high standard of wellbeing.
Group Therapeutic Back Care Yoga*
Therapeutic back care yoga is a set of yogic movements that nurtures the back muscles to prevent injuries to the spine and helps to maintain a healthy and nourished back. It can also cure some common back ailments, such as: back aches, spasms, and sciatica.
MYR 80 + 10% service charge per person
Thursdays and Sundays at 3:30 pm at The Geo Spa Yoga Pavilion
STAND-UP PADDLE YOGA
Improve balance and core strength, enhance mindfulness and focus, and perfect yogic alignment with this rejuvenating practice – experienced afloat on a stand up paddle board at sea.
MYR 150 + 10% service charge per person
Wednesdays and Saturdays at 11:30 am at Water Sports Centre.
Complimentary Geo Yoga Experience
A personal invitation to all our guests to learn and embrace the spirit of wellness through handed down yoga movements from the enlightened sages of Vedic Age, which helps generate Prana, the subtle energy, to activate the psychic body.
Sunrise Yoga
Sunrise Yoga postures are designed to integrate and benefit the whole body by lengthening connective tissues, expanding the range of motion and improving physical posture. With the help of synchronized breathing, yoga movements bring the different bodily functions into perfect coordination, to prepare the body for the long day ahead and with a great start to the day.
Everyday 7:30 am at the Lotus Pond
Moonrise Yoga & Meditation
Delight in our beautiful sunsets with a set of pre-meditation yoga poses, followed by a Moon salutation yoga sequence; all preparing your body to sit for an extended period of time in a relaxed mediation pose. This achieves a clear and calm mind, expanding your awareness and discovering the wisdom and tranquility within yourself.
Saturdays at 6:30 pm at the Lotus Pond
Jiva Yoga (Air)
Jiva yoga embarks on an emotional journey to realize that a universal force resides in our lives. Through the concentration of the heart region during this yoga, one begins to love the people around us and objects of the world for what they are. One begins to accept their nature with its faults and positive qualities.
Tuesdays at 11:30 am at The Geo Spa Yoga Pavilion
Joythi Yoga (Light)
Joythi means the 'light within the universe' from the solar plexus. Through this practice one gains concentration and control over our inner energy experiences, in the form of light radiating from the spine to behind the navel and its mainly concerned with the vital process of digestion and food metabolism in the physical level. It is also associated with ambition, the will and ability to rule in the psychic level of our body.
Thursdays at 11:30 am at The Geo Spa Yoga Pavilion
Dhara Yoga (Water)
Enhance your awareness of the water element, situated on the region of the perineum, this helps to maintain a harmony between your body, your subconscious and unconscious mind with its storehouse of mental impressions. By practicing these yoga postures, it will assist you to purify the toxins out of the body and increase the performance of your kidneys and the glands around them.
Fridays at 11:30 am at The Geo Spa Yoga Pavilion
Prithvi Yoga (Earth)
This yoga practice will focus on the base of the spine and help your mind to begin to reconnect with the earthly elements of your body and create a sense of calmness and steadiness in your mind. It is associated with emotions and will help you to 'ground' your physical body to achieve the feeling of security around your world.
Sundays at 11:30 am at The Geo Spa Yoga Pavilion
General guidelines for yoga
Practise on an empty or nearly empty stomach.
Wear loose, comfortable clothing.
Take time to breathe, and pay attention to your body.
Adjust your practice to your schedule and biorhythms.
Be aware of the effect of the poses on your mood and energy.
Note: Prices and treatments are subject to change without notice. Prices are quoted in Malaysian ringgits and are subject to a 10% service charge.