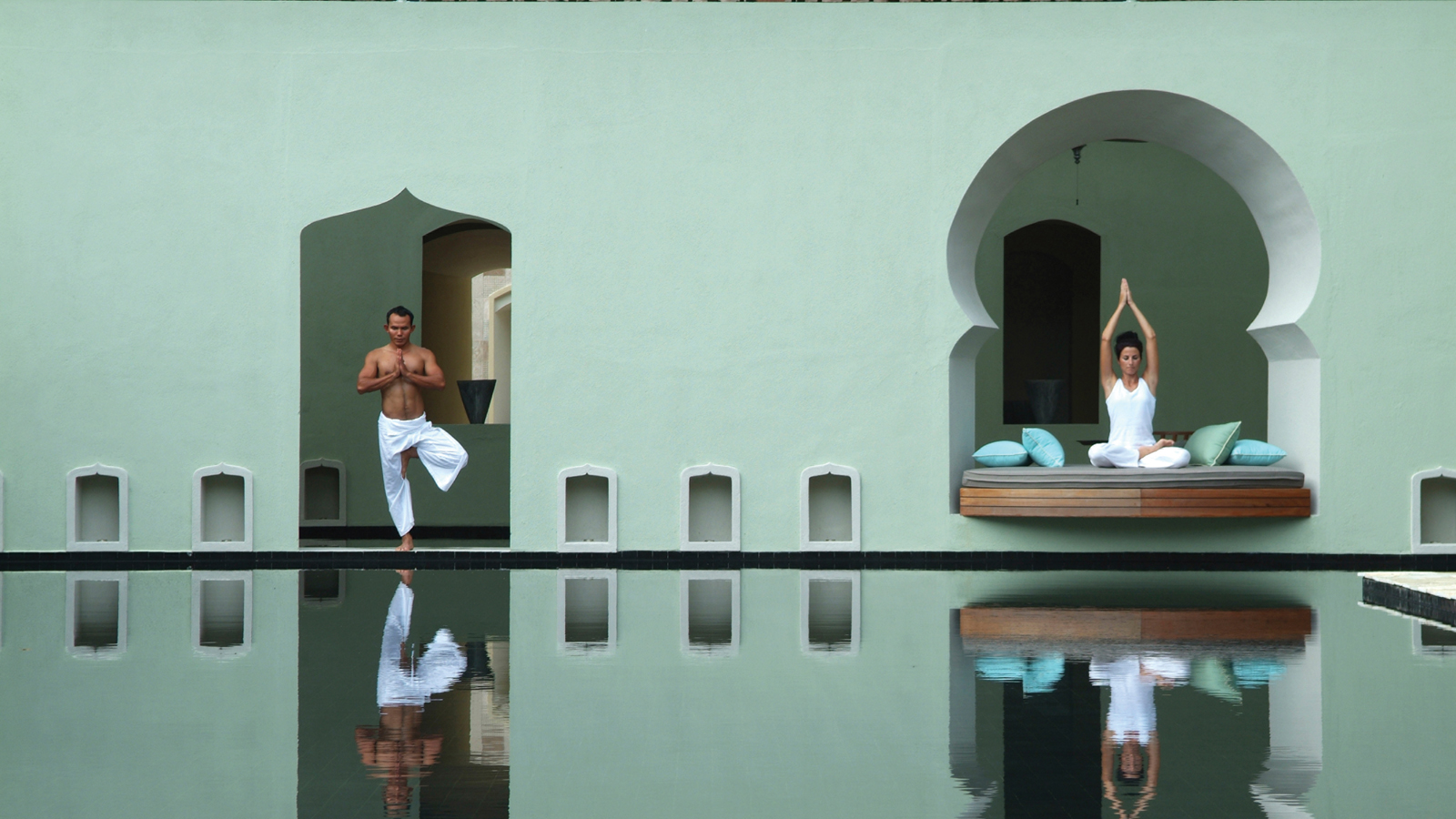 Yoga
Yoga, which means "union" in Sanskrit, is a family of ancient Indian health-promoting practices that are seen as a means to enlightenment. We offer complimentary daily morning sessions in disciplines including hatha yoga, yin yoga and pranayama. Ideal for emotional balance, physical fitness and mental clarity, yoga harmonizes and rejuvenates mind, body and soul.

Private 60- or 90-minute sessions are also available for individuals, couples or groups; these are customized to your experience level and interests, based on a consultation with our yogi. Fees apply. Please contact the Geo Spa for more details.
Hatha
Hatha is the most popular branch of yoga. It incorporates asanas (postures) and pranayama (breath control) to energize the nadis (subtle energy channels). Its combination of movement, awareness and breathing is used as means to integrate body, mind and spirit, leading to inner peace and renewed clarity. Hatha yoga is the ideal accompaniment for our Nourishment treatments.
Yin
Yin yoga is specifically focused on strengthening and stretching the connective tissues of the hips, pelvis and lower spine. Using a series of gentle sitting and lying poses, held for long periods of time, it enhances the natural range of motion in the joints and helps regulate the flow of energy – or chi – through the meridians. Yin yoga is the ideal accompaniment for our Water treatments.
Pranayama
The art of breathing control – "prana" is the breath or vital energy in the body, "ayama" means to extend or draw out
– pranayama is the name given to the series of yoga breathing exercises used to clear and cleanse body and mind, resulting in a multitude of benefits from increased energy to improved relaxation. Pranayama is the ideal accompaniment for our Light and Air treatments.
Children's Yoga
Children's yoga involves practising simple asanas (poses) to promote healthy bodies and peaceful minds from a young age. Other benefits include improved physical and mental strength and flexibility, enhanced concentration and improved confidence.
Private Yoga
One 60-minute session – MYR 280
Three 60-minute sessions – MYR 750
Five 60-minute sessions – MYR 1,170
Additional person – MYR 60
General guidelines for yoga
Practise on an empty or nearly empty stomach.
Wear loose, comfortable clothing.
Take time to breathe, and pay attention to your body.
Adjust your practice to your schedule and biorhythms.
Be aware of the effect of the poses on your mood and energy.
Note: Prices and treatments are subject to change without notice. Prices are quoted in Malaysian ringgits and are subject to a 10% service charge.