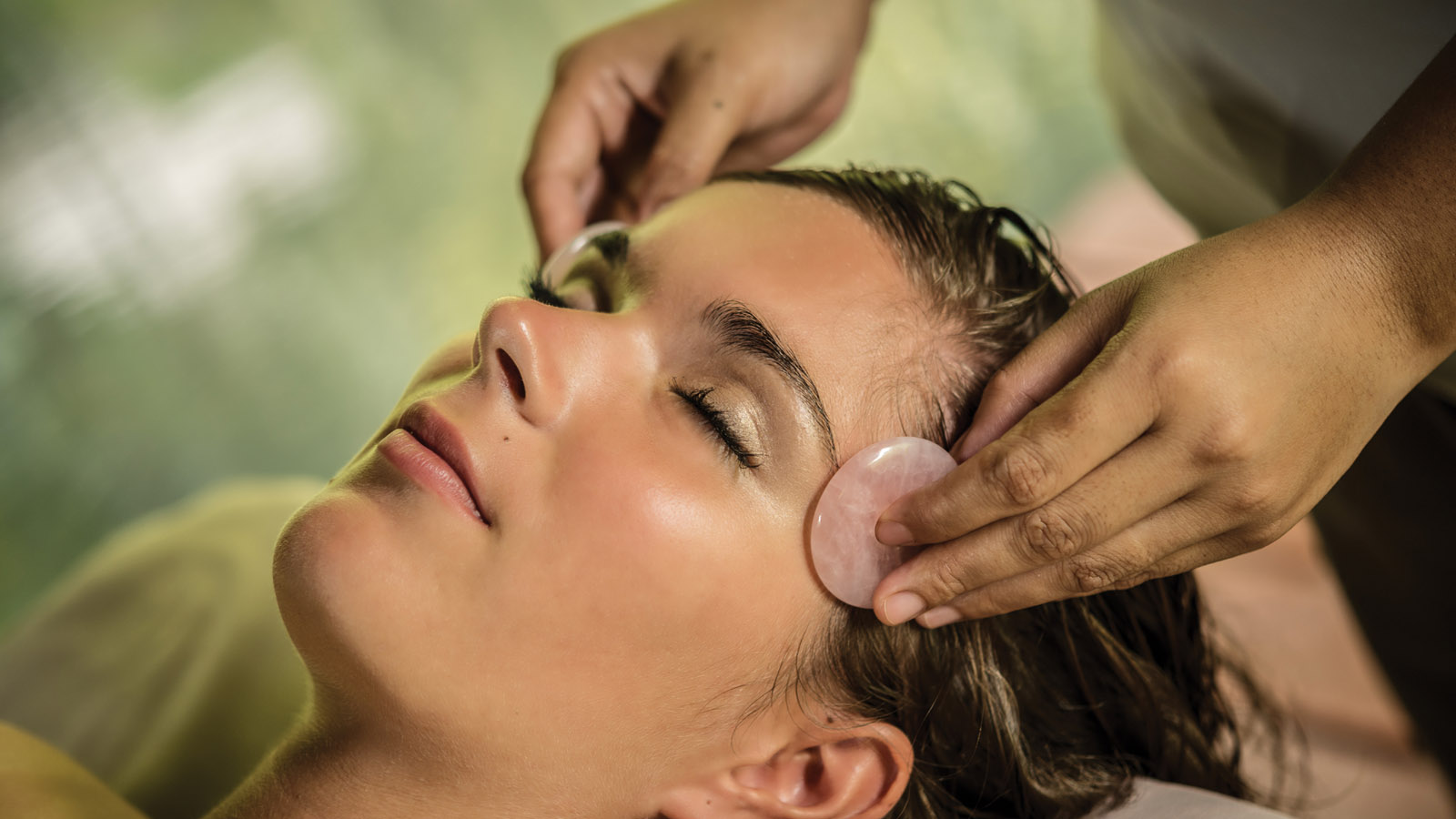 Treatments to energize and illuminate
Most of the earth's energy comes from sunlight, a mixture of seven visible colours each with its own wavelength, frequency and benefits. Sunlight also radiates thermal energy, while our spiritual body radiates its own light and fire energy.

The light of Langkawi possesses a quality unique to the archipelago, from the ever-changing colour of the Andaman Sea to the extraordinary clarity of the rays reflecting off it. Our Light treatments explore these many guises and benefits, bringing energy and illumination to body, mind and spirit.
Keringanan Lightness Massage
Showing compassion to others and ourselves brings an unmistakable lightness of being. This deep tissue massage, performed with compassionate healing intent, uses energy-boosting pegaga to soften the muscular system and stimulate energy flow. With strengthening and restorative shilajit, cedarwood, chendana and arkar wangi oil, the treatment results in a feeling of lightness not usually associated with sports-style massages.
Crystal Face Treatment with Electro-Crystal Therapy
During this gentle, non-invasive treatment, electromagnetic light frequencies, colour therapy and the subtle energy of crystals combine to release facial tension, rejuvenate the complexion and raise the vibrational energy of the skin. Lymphatic drainage eliminates toxins and reduces puffiness in the face, while marma-point massage with warm rose quartz crystals and targeted light therapy deliver energy where it is needed to balance the body and bring forth innate beauty. This facial is completed with a cooling jade mask, helping to reduce the appearance of fine lines and wrinkles.
Biorhythms
This powerful treatment restores the body's natural biorhythms. An ionizing energy scrub and mud wrap charge and renew the biomagnetic energy field, enhancing the body's receptivity to the marma-point body and face massage that follows. The treatment ends with a kundalini back treatment to awaken and channel the cosmic energy at the base of the spine.
Manipura
Meaning "beautiful, shining jewel" in Sanskrit, manipura refers to the solar plexus (navel) chakra – our inner centre of fire and sun energy that ignites our health and vitality. This treatment uses marma massage and lymphatic drainage alongside healing poultices of pure sea salt, buah pelage, bunga chengkih and kayu manis to stimulate and balance the body's inner energies.
Energizing & Detoxifying Body Renewal
Using the ionising properties of the purest sea salt crystals, this body renewal is the ideal treatment for cellulite, stress and exhaustion. On a physical level, it stimulates circulation and toxin elimination; on a subtle level, it cleanses and strengthens the bioenergy fields, leaving mind, body and spirit uplifted and illuminated.
Bioenergy Mud Wrap
An energizing and detoxifying scrub is intensified by the addition of a bioenergy mud wrap, drawing deeper toxins from the cells and astral body. It deeply revitalizes the skin, lymphatic system and bioenergy field and can promote profound healing in the energetic body.
Chakra Well-being
Based around seven blends of chakra-balancing essential oils, each bespoke Chakra Well-Being involves sensuous lymphatic drainage, subtle chakra healing and the pouring of warm oil over the third eye to restore and relax every sense. Balancing the chakras aligns us with our true nature, illuminating the spiritual body and setting us on the path to enlightenment.
In-room Bathing Experience
Soak in the tranquillity of your guest room or suite with cleansing bath salts, with fresh serai, halia and lime slices, followed by Vital Energy Oil.
Recommended Resort Activities to Support Light Treatments
Barbecue and campfire on the beach under the stars
Bike treks
Beginners' yoga
Private yoga sessions
Note: Prices and treatments are subject to change without notice. Prices are subject to a 10% service charge.