My Four Seasons
Once in a Blue Moon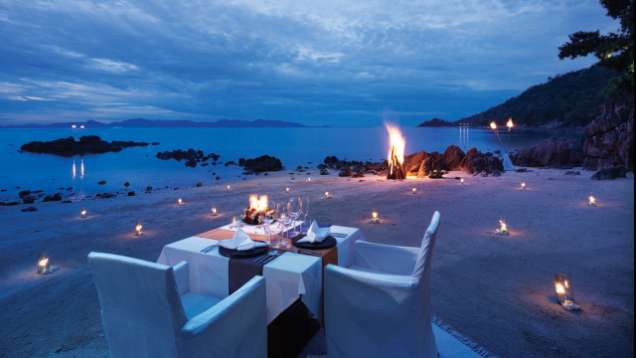 In time for sunset let tiki torches light the way to your own private cove adjacent to the main beach for a romantic dinner exclusively prepared for one couple. The four-course Thai or western menu includes wines and a glass of champagne on arrival. Candlelight and live Thai music inspire you and your significant other to create memories to last a lifetime. At the end of the evening release a 'Khom Loy' traditional Thai paper lantern into the night sky to carry your good luck wishes to the moon.
And if you wondered what exactly a Blue Moon is: according to definition, it is the second full moon to occur in a single calendar month. The average time between full moons is about 29.5 days, whilst the length of an average month is roughly 30.5 days. This makes it very unlikely that there will be two full moons during any given month, though it does sometimes happen. On average, there will be 41 months in every century that will have two full moons so arguably one could say that 'Once in a Blue Moon' actually means once every two-and-a-half years.
This dining experience starts from Baht 14,000 plus service charge and taxes per couple.
So go ahead, become 'moonstruck' and contact the Resort on +66 (0) 77 243 000 or reservations.kohsamui@fourseasons.com to book your own private Blue Moon.