Romantic Inspirations
Epicurean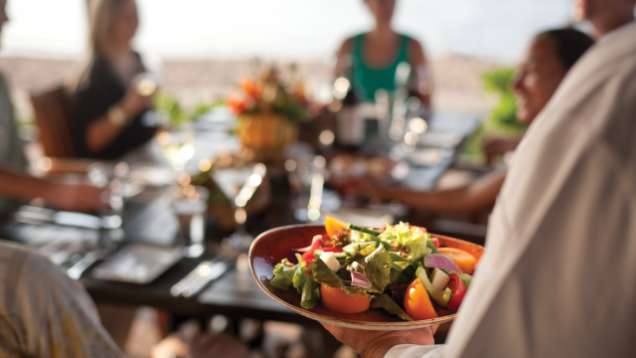 Cesar Chavez
If you really want to make a friend, go to someone's house and eat with them... The people who give you their food give you their heart.
Chef Ricardo's Cooking Class

Ricardo Jarquin, chef de cuisine at 'ULU Ocean Grill + Sushi Lounge will work with you to choose the dishes you'll create together, while sipping Champagne. Lesson includes basics on knife skills, seasoning and saucing. Enjoy your creations with wine pairings to complete this culinary experience.
Chef's Counter

One of the most unique dining experiences you'll ever have! We put your table inside the Beach Tree Kitchen, where you interact with the chefs, create your menu together and work together to create a spectacular meal. As you eat and drink your paired wines, you'll see and hear exactly how a fine dining kitchen operates from the inside!
Farm to Table

Experience our weekly dinner event, showcasing the bounty of amazing ingredients we get from the 160 farmers and fishermen we work with on Hawaii Island. This is a social dining experience, where you'll engage with other couples at your table, meet the farmers and chefs, and even help prepare some of the dishes, if you choose! The evening begins with a cocktail reception with pupus on the beach, before seating for a spectacular dinner.
Romantic Dinner under the stars

A table for two awaits, set on the sand at the foot of the surf, while the stars shine in the warm sky above. Tiki torches glow, Hawaiian flowers and décor adorn, while you are escorted to your intimate "Dinner Under the Stars". The evening begins with a personalized escort to your private dining location, where you will be greeted by your dedicated server who is there to look after your every need. After toasting with a glass of Champagne, you will begin your epicurean journey as your spectacular four-course dining experience begins. A menu that has been customized just for you, created by the Chef's during a private consultation. This is the ultimate in romantic dining, a must-do for those looking to celebrate their love in grand fashion.
Private Mixology Classes at Palm Grove Pool

Love a good cocktail, but don't know how to create a taste of Hualalai back home? Our expert mixologist will teach you some great recipes, based on your preference – without even leaving the pool! You'll pick herbs, mix spirits and of course taste your newly-learned creations.