My Four Seasons
Waiakauhi Pond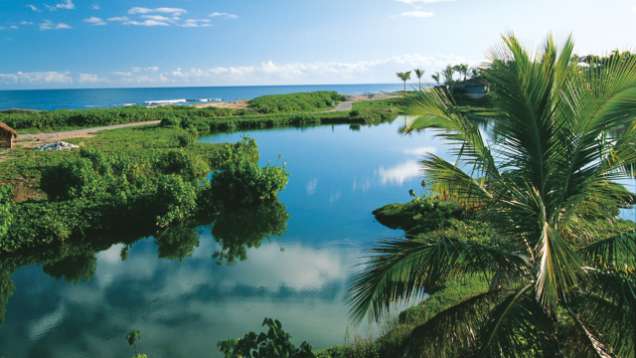 Scattered along its coastal lava flows, the Big Island's anchialine ponds once fed generations of early Hawaiians, with landlocked pools of water stocked with ocean-fresh seafood. Connected to the ocean via underground caves, these rare habitats are found only in Hawaii - and increasingly endangered by encroaching development.

When we first surveyed the Hualalai property, the two acre Waiakauhi pond on our southwestern edge was a tangle of weeds and overgrown mangrove forest. Reclaiming Waiakauhi was the first piece in what became a larger vision to restore historic Ka'upulehu's rich fishing traditions, and to establish cultural and ecological balance on the grounds.

For David Chai, the biologist we enlisted to nurse Waiakauhi back to health, it was an exciting mission--and given his native ancestry a personal one. "Hawaiian culture was deeply tied to these fertile areas. In fact, fishponds here were considered a sign of wealth." Restoration would involve a delicate, time-consuming process: Fringing native grasses along the pond's perimeter, building islands to protect nesting birds, and stocking its channels with indigenous fish.

Today, after 14 years of encouragement, our Waiakauhi Pond is once again viable, home to a thriving community of awa, 'ama'ama, moi, and 'opae 'ula, as well as the endangered ae'o, a native Hawaiian bird.

It's not the only rich wildlife habitat you can explore on our property. King's Pond's ocean water "aquarium" sports thousands of tropical fish swimming freely with guests--including a spotted eagle ray. It's certainly the most colorful swimming pool anywhere, a psychedelic rainbow bursting with exotic color.

Just as with the Waiakauhi Pond, we're constantly fine-tuning the fragile equilibrium. The recent tsunami actually added to King's Pond's mix, bringing in porcupine and striped pufferfish, yellow tailed goat fish, flame angelfish, and dozens of belted wrasses. What better opportunity, we thought, to collect even more unique species? Our three bellmen (also skilled fishermen) were more than happy to assist, gathering leather skin jacks, blue trevally, bird wrasses--even our state fish, the humuhumunukunukuapua'a.