Entrust your wedding in Houston to the exceptional, personalized care of Four Seasons Hotel Houston. One of our experienced wedding professionals works at your side to bring every detail to life – from décor for your reception to a suite for your proud parents. We can even arrange special accommodation rates for your out-of-town guests, who will be a short stroll from an array of entertainment and shopping choices at GreenStreet, the world-renowned Theatre District and Discovery Green Park. All you need to do is relax and enjoy one of life's most beautiful moments.
Four Seasons Ballroom
Legendary attention to detail by the expert Four Seasons staff is matched by the elegance and pedigree of ballroom decor – with hand-blown Venetian glass chandeliers and fixtures throughout, and luxurious wall coverings.
Function Rooms
Whether you're planning a grand event or an intimate gathering, your wedding venue at Four Seasons Hotel Houston will feel exclusively your own.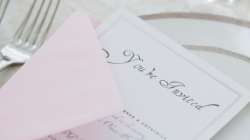 Wedding Planning
From invitations to wedding cakes, floral creations to memorable farewells, trust Four Seasons Houston to simplify your wedding planning.