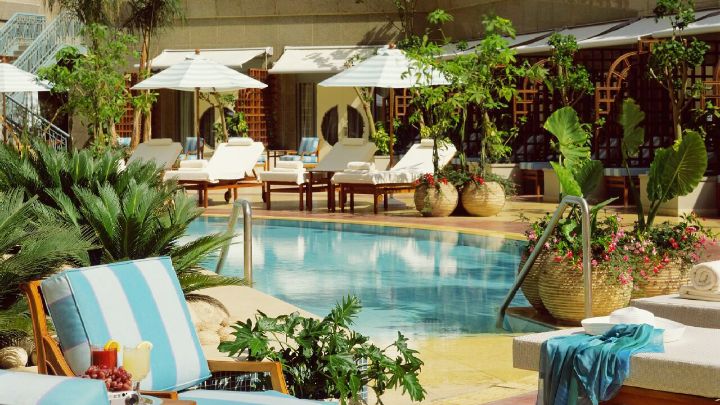 You'll find yourself drawn to the shaded seating and resort-style atmosphere beside our three outdoor swimming pools. Once there, open the menu and get ready to enjoy some simple, tasty fare.


Specialties
The Pool Grill is the perfect place to start the day with a light Continental breakfast. For lunch and dinner, sample the grilled fish and meat, or the wide selection of Oriental mezze. Either are enough to satisfy a swimmer's (or a sunbather's) appetite throughout the day. During summer months, don't miss the Pool Grill's delightful ice cream station.
Later on, head over to our Shisha Corner, where you can savour the latest water pipe flavours, including exotic tastes like Cappuccino and Fruit Cocktail, while sipping away on a Moroccan tea or Arabic coffee.
INDIA BY THE NILE FESTIVAL April 24 – 30
From the aromas of authentic Indian cuisine to amazing traditional Indian dance, the India by the Nile Festival comes alive at the Pool Grill restaurant this April!
Starting April 25 for seven days, Indian celebrity Chef Vikram Udaygiri joins forces with the Four Seasons expert culinary team at the prominent Pool Grill restaurant to bring to Cairo the most authentic Indian flavours with a special buffet and a fabulously diverse range of dishes and desserts. The India by the Nile Festival will delight the palates and tastes of all culinary adventurists. Daily live Indian dance will further transport guests all the way to the heart of India.
6:00 pm – 12:00 midnight


Hours
Beverage service
Every day
8:00 am – 1:00 am
Continental breakfast
Every day

8:00 am – 11:30 am
All-day menu
Every day

11:30 am – 1:00 am
Shisha
Every day

12:00 noon – 1:00 am

Quick Reference
Location
Fifth floor

Indoor seating
58
Attire
Casual footwear and cover-up for seated area
Reservations
Not required